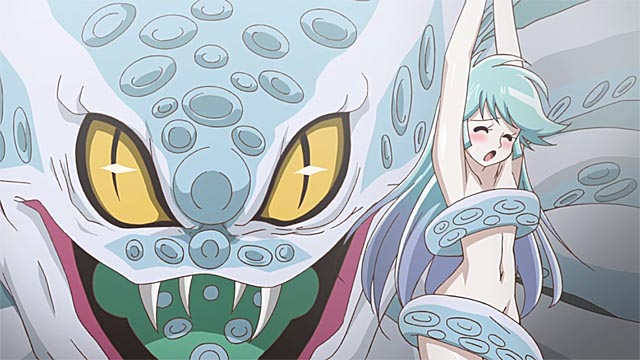 NIS America aficionados may have noticed a schism between the publisher's interactive output and their growing library of anime. While their games habitually incorporate capricious scenarios peppered with lascivious situations and a reliable sprinkle of double entendre, the company's animated box sets have habitually focused on more poignant plotlines. From Katanagatari's impassioned reimagining of Edo-era Japan to the one-two punch of anohana: The Flower We Say That Day and bunny drop's heart-wrenching melodrama, NISA's recent localization efforts have been decidedly mature.
That trend comes to an incendiary halt with the release of Ghastly Prince Enma Burning Up, an unabashedly silly, feverish, and delightfully risqué twelve episode romp. The series inaugural entry introduces viewers to the Demon Patrol, an incongruous team tasked with locating and apprehending any yōkai that are hell bent on trashing humanity.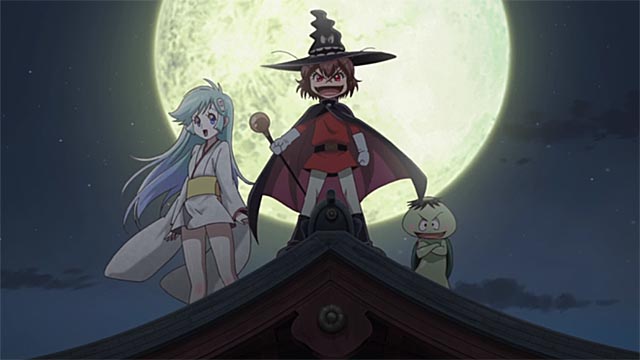 Harumi, who stumbles upon the rest of the squad while skulking around her school, serves as the resident compassionate character. While the teen is willing to indulge the group's oft-ridiculous ruses, she frequently requires rescue. Enma is the series' comic lead and perpetual pervert; although his assignment is to merely capture demons, he habitually kills them, instigating massive amount of property damage in the process.  Enma's principal object of ogling is the ice princess Yukiko, who stubbornly refuses to wear undergarments under her kimono. Wrapping up the team are an anthropomorphic hat and a kappa that functions as reoccurring recipient of physical punishment.
Although Ghastly Prince Enma's episodes methodically deliver new fiends to function as Demon Patrol fodder, that's largely where the series' predictability ends. Unambiguously poking fun at anime trope, Enma's roster of heroes and heretics routinely break the fourth wall to question the implausibility of a situation or speak directly to the viewer. Closing credits roll in the middle of one episode, critiquing the dumpy dénouement dispensed by certain serialized productions. Admittedly, the series' frenzied pace can be initially off-putting; the opener's in medias res approach is meant to depict Harumi's entry to the netherworld. Yet, viewers will likely be scratching their heads as they encounter side-characters like an old woman who spins her drooping breasts around like a set of propellers.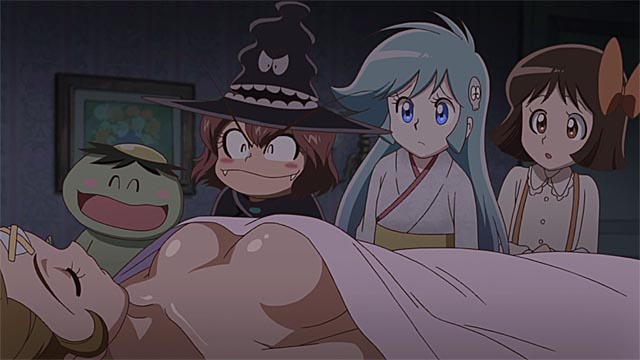 Gradually, the series' cadence becomes palpable, delivering set pieces based on side-splitting innuendo, rapid fire successions of pop-culture references, and sequences which overflow with absurdist creativity. The only content-based caveat is that some of the series' more salacious situations might be a bit off-putting to American sensibilities. Still anyone with a working knowledge of tentacle erotica should find Enma's libidinous attitude riotously comical. With monsters that extend phallic horns from their pelvis and a few buxom characters that are in perpetual state of disrobe, Ghastly Prince straddles between fan-service and self-parody, making the series best suited for ardent anime watchers.
On Blu-ray, Enma is encoded in 1080p, MPEG-4 format with a consistently pristine image and color qualities. Divulging no noticeable anti-aliasing and producing a proficient 2.0 audio output, Blu-ray is clearly the medium of choice, but a short perusal of the bundled DVD copies revealed no significant visual loss. Considering the series' range of stylistic aesthetics, which range from a slight haze to depict nostalgic or surreal sequences, the organic textures of children's etching, and raging scenes which demonstrate the wrath of Enma's mighty hammer, the sets encryption is commendable.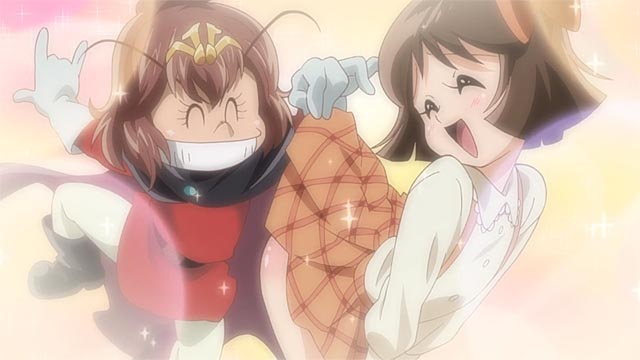 Beyond the set's attractive full cover case and set of slim-line media cases adorned with series artwork, the collector's edition comes with a gorgeous thirty-six page book. Divulging the details behind the series' environments, characters, and adaption from original '70s series, the text also provides interviews with the Enma's production staff and vocal team. While NISA customarily offers this kind of supplement with their premium editions, the book which accompanies Ghastly Prince Enma Burning Up is exceptionally welcome given the anime's precipitous pace.