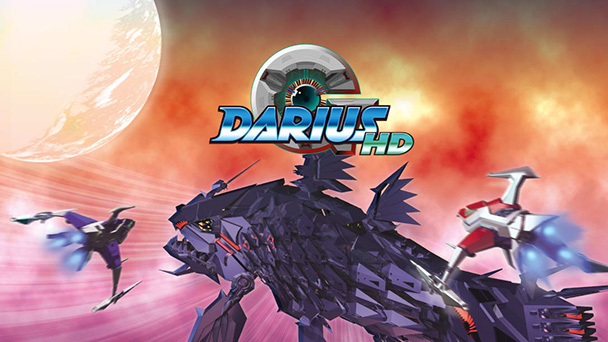 G-Darius' polygonal visuals might seem ordinary nearly a quarter century on. But G-Darius HD reminds us that the game's shift to three-dimensional graphics as well as a mechanic where you harness the power of your enemies, deserves recognition.
G-Darius HD
Platform:
Switch and PlayStation 4
Developer:
Taito, M2
Publisher:
ININ Games
Release date:
September 28th, 2021 (digital)
Price:
$29.99 via digital distribution and physical media
Availability:
Nintendo
eShop
,
PlayStation Store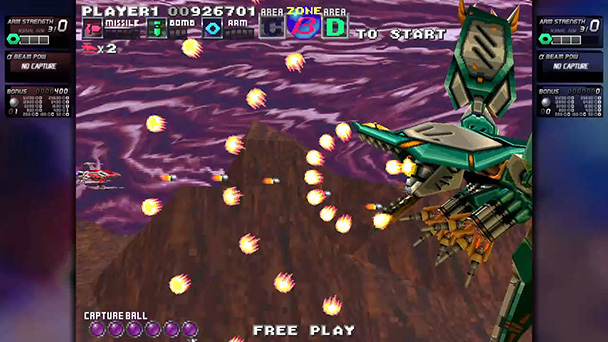 Taito's Darius series has often incorporated cutting edge technologies. The original 1987 coin-op employed a trio of thirteen-inch monitors. Mirrors were used to create a seamless, unified playfield that mimicked the panoramic perspective of the human eyes. More importantly, it provided players plenty of time to react to the eccentric enemies that would dance and dart about.
The game's aural output was every bit as astounding. Speakers were positioned underneath the player bench. Offering what the developer referred to as "body sonic", the speakers reverberated in time with the music. In execution, the warning of an imminent boss battle could be felt in your legs, inspiring a sense of dread. Hisayoshi Ogura's pulsating soundtrack veered into experimental territory, adding a sense of intrigue. If you plugged in a set of your own headphones into the cabinet, you would be immersed in the spectacle of mecha-aquatic warfare. Playing Darius in 1987 must have felt like a glimpse into the future.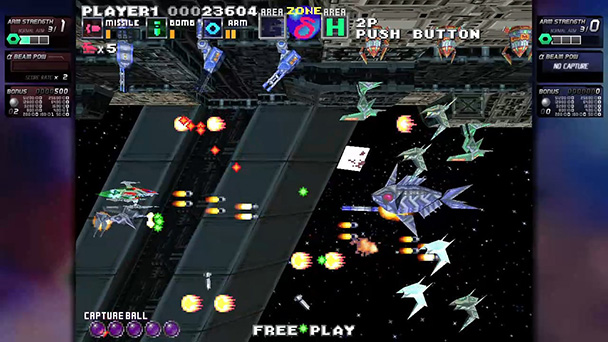 Built on Namco and Sony's Joint Venture
As the fourth installment in the franchise, 1997's G-Darius offered both technological and creative innovation. The former was rooted in the game's shift away from bit-mapped graphics. G-Darius was built on the same Namco System 11 arcade board that was used in everything from 1994's Tekken to 1996's Xevious 3DG. Instead of the traditional sprite-based visuals, the hardware could push 360,000 polygons per second.
Revisiting the 1997's arcade title in 2021 might be initially underwhelming. If you own a PlayStation 5, Xbox Series X, or a PC with a high-end GPU, you have a machine that's roughly 4,000 times more powerful. But back in 1997, seeing gigantic, three-dimensional adversaries rotate and whirl around the screen was captivating. Sure, G-Darius might have lacked the visual charm of hand-drawn sprites. But sporadically, players would engage in 'beam duals' with bosses. These visual showdowns channeled the spectacle of Dragon Ball Z's ki blasts.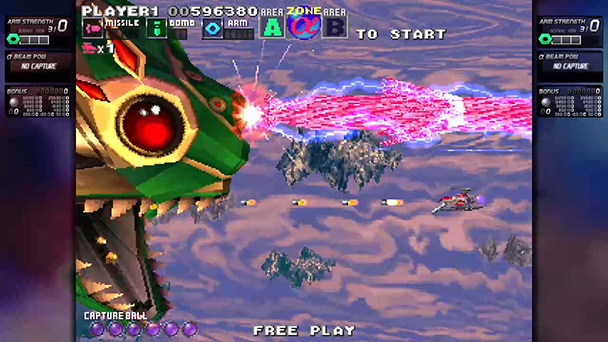 Gotta Catch Them All
Head into either the original 1997 arcade title or the upscaled remaster found in G-Darius HD and you'll find more than just lapsed visual delights. Adeptly, G-Darius advances Darius Gaiden's mini-boss collection system. Here, you're outfitted with a small number of capture balls than can be shot at most enemies, recalling the signature mechanic from Pokémon. If you successfully trap a foe, it fights alongside the player's ship, providing assistance. While some forms of enemies increase your offensive output, others might act as shields, protecting you from projectiles.
Much of the fun stems from learning the abilities of each opponent and exploiting them to advance through G-Darius' branching campaign. Pleasingly, M2's port includes a convenient 'Capture Gallery' that tracks the data and behavior of each apprehended antagonist. There's even habitat information to help fill out the tables of common- and mini-boss enemies.
Expectedly, there's the color-coded power-ups of previous iterations. Spherically shaped, these can augment your main shots, bombs, provide shielding, or even provide additional capture balls. But that's hardly the end of G-Darius' offensive abilities. You can convert a captured unit into a screen-filling bomb, as well as fire what are called alpha- and beta-beams. The latter are deployed when a boss foreshadows an energy-based attack, offering a possibility of a rapid victory. It can be exhilarating when you're able to harness the ability to best a boss, summoning all your button-mashing prowess. But it's not easy and there's a fair chance of embarrassment.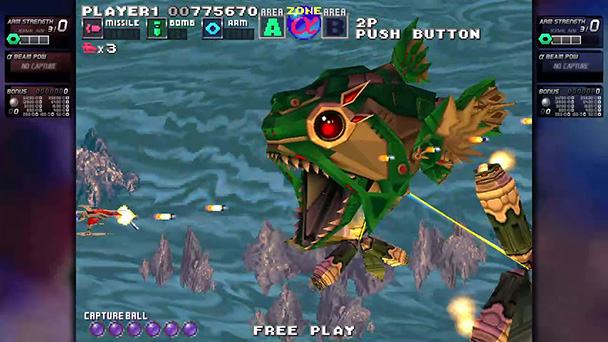 Beginners Beware!
But not everything about G-Darius HD has aged as well as the capture mechanic. Although the second revision of G-Darius added a three-zone beginner's mode, that's missing here. There's an in-game manual that explains the fundamentals, but no hands-on tutorial. Given the relative complexity of the game, a bit of assistance would have been welcome. And given the multitude of strategic possibilities of the capture system, videos showcasing the skills of professional players would have been a worthwhile additional, too.
More contentious is the speed of the game's enemy projectiles. Although G-Darius is a far moved from the screen-filling tendencies of many contemporary STGs, bullets move rather fast. What's more, some of the munitions blend in with the color of explosions, constraining reaction times. Losing a life to a merciless fish-sniper in the late game can be detrimental. Your 'Silver Hawk' ship is stripped of power-ups and your captured ally, making it far more grueling to wipe out your opponent's numbers especially in the latter half of the game.
A complete playthough is a five-zone trek, which should take about thirty to forty minutes. While that might seem fleeting, know that you can tackle fifteen different stages, thanks to the series characteristic pyramid structure. Although the game's HD version improves the game's resolution, don't expect a remaster that's build from the ground up. G-Darius HD resembles an upscaled iteration of 1998 PlayStation port. Fortunately, the game's soundtrack was crafted by Taito's celebrated in-house band, Zuntata. Mixing industrial rhythms and inventive melodies, it probably deserves a stronger presence in the game's default sound mixing. Fortunately, the game's options let you fix that.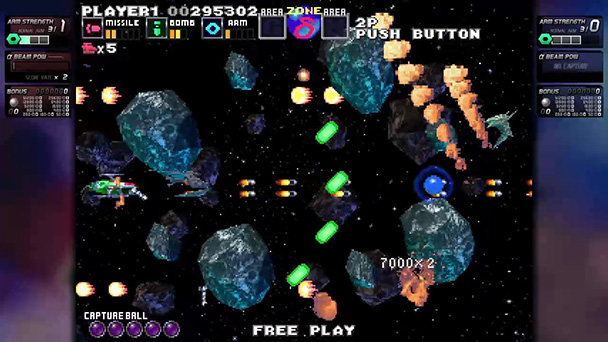 Conclusion
G-Darius HD's thirty-dollar retail price is a bit disproportionate, given the lack of essentials like the Version 2 adaptation or the lack of a tutorial. As such, the title feels suited for hardcore STG fans and those who have been collecting the various Darius' compilations. Those who haven't spent countless hours fighting the deadly mecha-fish of the Belsar empire should probably wait for a price drop.
G-Darius HD was played on Switch with
review code provided by the publisher
Review Overview
Summary : A trek through G-Darius HD involves a wealth of set-pieces and a multitude of different strategies as you conscript enemies to fight on your side. Just don't expect a radical revision of the original game; this is an attractive upscale.