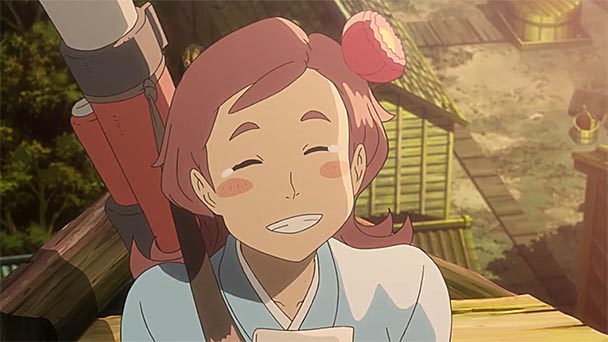 As a gainfully employed adult living in the United States, I frequently have to justify my appreciation for anime. Woefully, many still associate animation with children's entertainment. A typical response involves a discussion between the differences of Western and Eastern narrative- where anime often articulates the tensions that are habitually neglected by stateside storylines. The recent release of Fusé: Memoirs of a Huntress is a textbook example of this distinction, with a plotline that explores everything from the interdependent relationship between humans and animals, Japan's isolationistic past, as well as the instability of narrative. Yet, despite these more cerebral elements, Memoirs of a Huntress is an altogether accessible work- capable of entertaining viewers with a wide range of cultural and historical fluencies.
The 2012 film (known as Fuse Teppō Musume no Torimonochō in Japan) is loosely based on Kyokutei Bakin's Nansō Satomi Hakkenden – a nineteeth century novel which spanned 106 volumes and took twenty-eight years to complete. Naturally, Memoirs of a Huntress doesn't attempt to encapsulate the entire saga, but focuses on a handful of humanoid characters as well as human/dog hybrids which gamers might remember as the eight Satomi canine warriors from Clover Studio's Ōkami. Intriguingly, Memoirs of a Huntress often flaunts its inconsistencies with its source material. While Bakin and his daughter-in-law have brief but edifying roles in the movie, other times director Masayuki Miyaji (assistant director, Spirited Away) draws attention to the infidelity of the script. At once, Miyaji's offers commentary on the mutability of history, while also extending consideration on the relationship between the counterfeit and the real. As such, Memoirs of a Huntress stands up to multiple viewings, especially for those who have delved into Bakin's prolific work.
The film's opening introduces viewers to Hamaji, an affable fourteen year-old protagonist who grew up as a hunter in a mountainous region. As she stalks a wild dog, a voiceover describes the delicate bond between predator and prey- a notion which is explored throughout the duration of the film. Wisely, Memoirs of a Huntress shirks a simple sympathetic perspective, where the hunter commiserates with their target. Instead, the relationship is rendered with intricacy, with Hamaji both forming an attachment as well as pursuing fuséonce she moves to Edo to accompany her big brother Dousetsu.
While the film's foreword warning about the graphic depiction of violence against real and fantastical animals, the caveat is hardly necessary. Memoirs of a Huntress' carnage carries repercussions and speaks on the respect between oppositional opponents. Unlike the violence in most films, here killing (and also restraint) has gravitas, especially when it's done by the characters we identify with.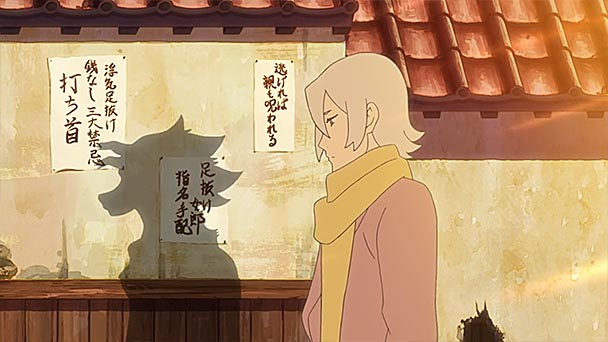 Beyond Fusé's rumination on hunter and hunted, the film other relationships also offer substance. Watching Hamajo reunite with her samurai-in-training sibling is a minor delight, while the rapport between the huntress and two different Fusé is equally affecting. While the majority of the film avoids having a traditional antagonist, once a villain is represented, the decisive final battle delivers unexpected results. What's more likely to haunt viewers, is the plight of the fusé- creatures which become outcasts because of their genetic impurity. It's a notion that's also explored in Mamoru Hosoda's magnificent Wolf Children, where the metaphor explores the isolation and attempts at concealment by konketsuji.
Considering Memoirs of a Huntress' musings on nature, it's not surprising that the anime exquisitely captures Edo amidst the Tokugawa period. The setting allows for a number of a juxtapositions, where Fukagawa's merchants live alongside fauna-filled streams while the heart of Yoshiwara is alive with the commotion of courtesans and their prospective suitors. Numerous high-angle shots reveal the layout of Edo, with the sprawl of the city surrounding the shogun's castle, revealing a picturesque beauty that's rare even in Tokugawa-context anime. Complementing the films' scenic arts is near-faultless animation that's only undermined by the sporadic specter of CG hyper-sleekness. Character design is proficient, with rendering that occasional verge on exaggeration, if only to reveal facets of secondaries with limited screen time.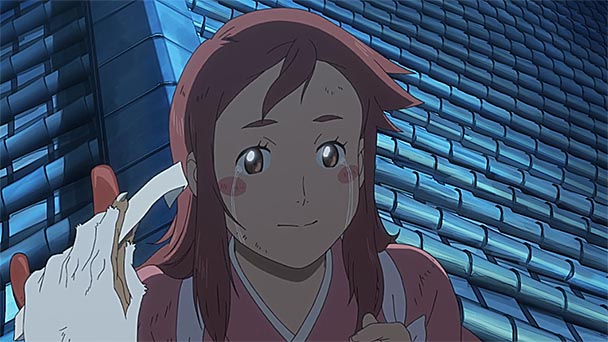 NIS America's premium edition of Memoirs of a Huntress comes housed in a sturdy cardboard exterior; the box adorned with front and back illustrations along with a hint of silver embossing. Inside, viewers will find the film in Blu-ray format, stored inside a slimcase. Recalling the fidelity of NISA's previous anime efforts, picture quality is exceptional- with the 1080p picture articulating the beauty of the film. Likewise, the DTS 5.1 Japanese-language soundtrack is spotless, exhibiting both the quality of Fusé's voice acting as well as the intermittent ambient noises which lend ambiance to a number of scenes.
Also in the box is a sumptuous thirty-two page art booklet which depicts character portraits, pencil sketches, notable landmarks from the film, as well as an insightful interview with the director. Considering Memoirs of a Huntress' variety of locations and exertions to capture the splendor of Tokugawa-era life, this book is more than that just a simple collectable. In essence, the text exposes the exertion which went into creating a convincing sense of place whether in the interior of a kabuki theater or from the lofty vantage point of a fire tower.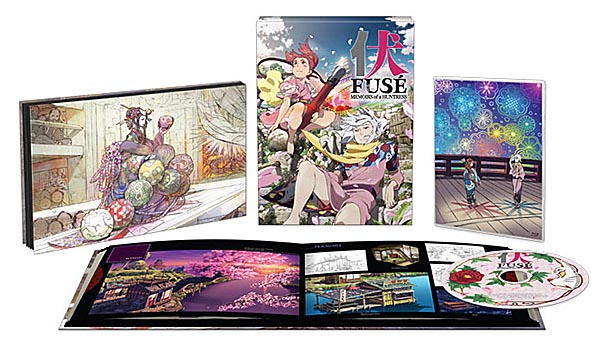 Considering Masayuki Miyaji's experience working with Hayao Miyazaki, comparisons to the acclaimed Studio Ghibli director are inevitable. Like many of Miyazaki-san's films, Fusé: Memoirs of a Huntress depicts an uneasy but ultimately symbiotic tension between humankind and nature. Similarly, lead character Hamaji subverts typical gender roles- offering a resilient, likable protagonist who'll likely stay with viewers long after the final credits have rolled.