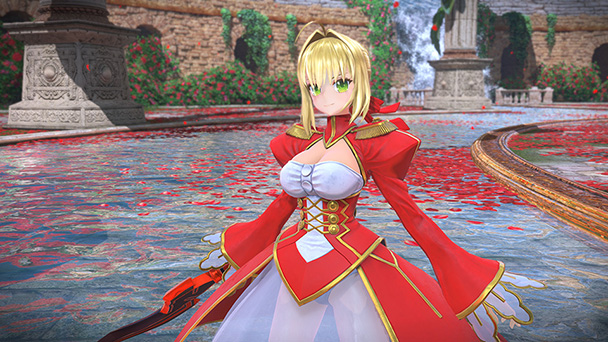 With lore which traverses several mediums and revolves around different universes, the Fate franchise might seem impenetrable to newcomers. Paradoxically, that's part of the allure. Immerse yourself in Type-Moon's well-liked visual novels, manga, anime, games and even sound dramas and you'll discover a collaboration between writer Kinoko Nasu and artist Takashi Takeuchi that basks in both breadth and depth. Satisfaction stems from making sense of it all, as you discern Fate's methodically scripted mythos.
Typically, that amount of narrative sophistication would elicit a caveat, with gratification hinging on an encyclopedic knowledge of the source material. But that's not a requisite for the recent PlayStation 4, Switch, Vita, and PC release of Fate/Extella Link. Sure, familiarity with the franchise will undoubtedly elevate your level of enjoyment, but between the streamlined storyline and the nimble musou-based mechanics, almost anyone can jump in and have a good time with the game's roster of twenty-six playable characters.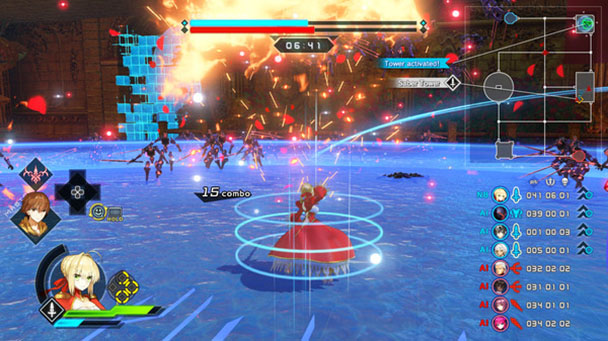 Undoubtedly, you'll glean many of the rudiments of the Fate franchise. Masters are the moniker given for practitioners of Magecraft, a discipline that unites the fields of magic and science. By obtaining a trio of Command Spells, Masters can summon and become bound with Servants- powerful familiars that are culled from the annals of history. Building on the narrative of 2017's Fate/Extella: The Umbral Star, Extella Link recontextualizes the lore in a digital simulation called SE.RA.PH, hosted by supercomputers stationed on the moon.
Inside the sim, the game's protagonist meets Charlemagne, a new character to the Fate franchise. Favoring expositional sequences that are considerately shorter than the info dumps of Umbral Star, you'll soon learn of a hazard that's threating to upset the balance of SE.RA.PH. Matters grow even worse when once trusted friendlies become corrupted, making for a perilous situation that provides motivation across the next twenty hours of storytelling, enemy eradication, and intense boss battles. Pleasingly, there's an in-game glossary that can help clarity many of Fate's more arcane elements.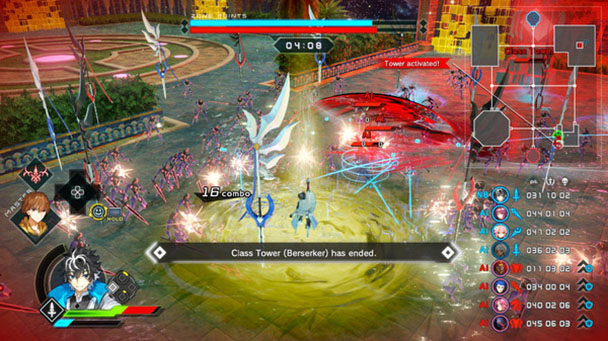 In lieu of Umbral Star's trio of storylines devoted to Nero Claudius, Tamamo no Mae, and Altera, Link delivers a single plotline, that splits into three branches. Sure, there's the semblance of choice during stage selection screens, but largely these have little effect on the central plotline. And while that might sound like a criticism, the design decision helps to boost Extella Link's accessibility.
More importantly, the title really lets its cast shine. From Nero Claudius's Roman jingoism and love for grandeur to Tamamo no Mae's cheer that masks an undercurrent of regret, there's a sophistication to the recontextualized historical figures and playful gender swaps. Even if you're not familiar with the lore, because Fate draws on so many notable historical figures, getting up to speed isn't too difficult. The franchise's intermingling of science, magic, and history is undoubtedly one of the greatest assets. While it should probably seem ridiculous seeing a busty reimagined Roman emperor defeat a legion of cybernetic foes with a storm of rose petals is a wonderfully salient moment; one that demonstrates the sheer creativity of Japan's premier artists.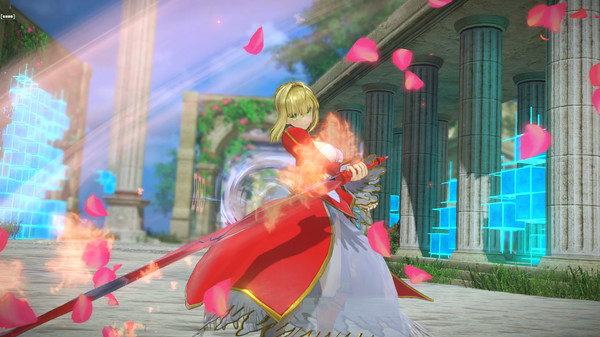 Pleasingly, Fate/Extella Link has more than enough playability to uphold its imaginative plot. Step into one of the game's stages and you'll undoubtedly notice an upsurge in both the intensity and speed of combat. Like Umbral Star, the basics of your offensive output a light and heavy attacks that can be strung together to form a multitude of punishing combos. With Extella Link, they're augmented by character-specific Active Skills. While each playable will unlock up to seven of these abilities, you can only have a quartet of them equipped at you head into battle. Regulated by a cool-down timer, your Active Skills are best employed when confronting the guards that protect each chamber in the early Dynasty Warriors-like labyrinthine levels. As such, successful skirmishes are just as much about managing your arsenal of abilities as they are about tapping out horde-defeating combos.
Smartly, some of Umbral Star's minor frustrations have been excised. Previously, stages had elemental dangers, which resulted in the gradual decay of health if you didn't have the proper defenses outfitted. Filling up the Noble Phantasm meter no longer forces players to scour the stage for items. Now, the devastating attack is fueled by eliminating enemies, allowing it to be deployed several times on a stage. If you're a fan of over-the-top attack animations, you'll undoubtedly appreciate Extella Link sequences, which channel the potency of signature moves in the very best shōnen. A skybound church acts as your basecamp this time out, permitting the acceptance of side missions or using the rewards from these optional duties to push your characters toward level caps.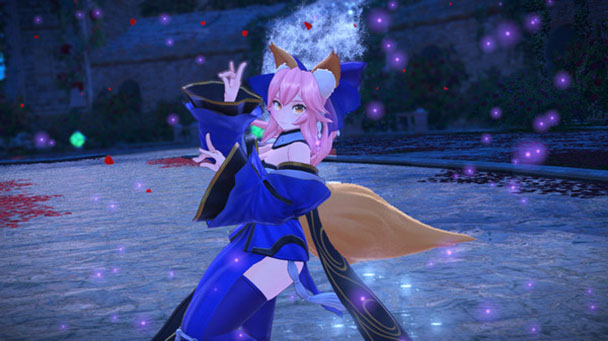 Several factors contribute to the enjoyment of Extella Link's gameplay. First, you'll be hard-pressed to find a character that doesn't feel like an absolute powerhouse. Whether you opt for the sixteen returning servants or any of the ten new additions to the roster, every personality brings a gratifying sense of distinction to the battlefield. From Scáthach, a Warrior-Queen marshalled from Irish mythology (and Fate/Grand Order) to Fate/Apocrypha's cross-dressing lady's man, Astolfo, servants bring equal amounts of formidability and fun.
Fate/Extella Link only misstep is found in the game's four-on-four competitive multiplayer component. The idea of a King of the Hill-style showdown where you striving to retain control of an area sounds good, especially since the game aims for parity by pitting completely powered-up characters against each other. But in execution, matches revolved around spamming attacks, turning battle isn't a disorienting onslaught of color and fury. Worse, ranged-based characters seemed to have a distinct advantage, undermining the component's ambition for balance.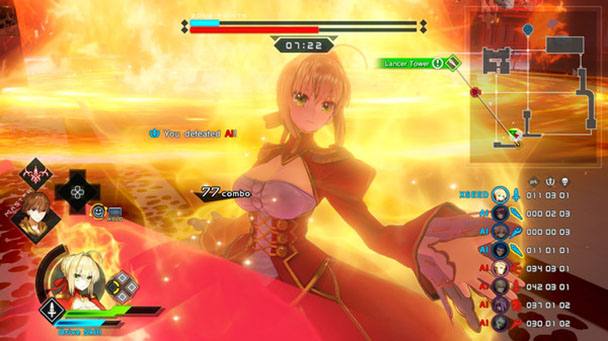 Treat Fate/Extella Link's multiplayer as a kindly bonus rather than a foundational part of the package and you'll be hard-pressed to find any additional fault. For Fate fanatics, the game is an absolute delight, putting cherished servants in a musou-style gameplay that rivals Koei-Tecmo's best efforts. Amazingly, even if you're unacquainted with the property, Extella Link is gratifying gateway into the franchise's depths.
Fate/Extella Link was played on PC with review code provided by the publisher. 
Review Overview
Summary : Uniting delightful interpretations of historical notables and engaging musou mechanics, Fate/Extella Link is the exceedingly rare property tat's good enough to warrant a look from those unfamiliar with the property.