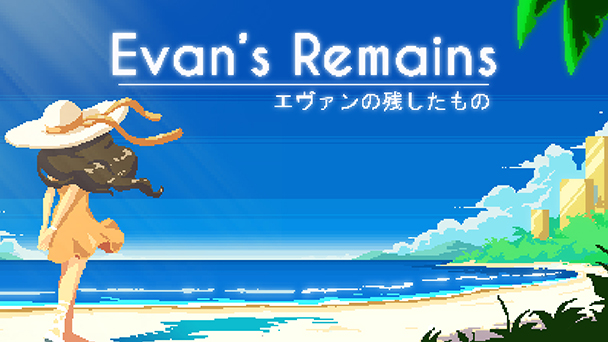 Give the affordably priced Evan's Remains about three hours of your time and you'll find a succession of pretty good puzzle. You'll find a worthwhile plotline that asks just a few more questions then and it provides answers, and that's a thing of beauty.
Evan's Remains
Platform:
PC, Switch
Developer:
maitan69 (Matías Schmied)
Publisher:
Whitethorn Digital
Release date:
June 11th, 2020
Price:
$6.99 via digital download, currently $6.29 (PC)
Availability:
Steam
,
Nintendo eShop
Evan's Remains make a modest first impression. Sure, the visual convey pixelated charm, with lead character Dysis set against tropical, parallax-scrolling backdrop. Clad in an oversized sunhat, the chibi sprite scampers across beaches and meadows of lush flora, evoking a Polynesian setting. When Dysis uses a high-tech communicator to speak with her colleague Nikola, Evan's Remains used large, well-drawn, and reasonably animated character portraits to convey conversations. But all these qualities have been a part of other games.
Soon you'll encounter Monuments, single-screen sized puzzles. The object of each of these is to get Dysis over a lofty wall on the right side of playfield, so she can continue her journey. Pleasingly, Remains adopts an additive approach to its riddles. Initially, you'll encounter platforms that shift on and off every time you jump on them. But gradually, the game adds new mechanics, with flooring that teleports Dysis or even sends her soaring through the air when descends on them from a high fall. Another upside is there's no way to fail. If trial and error doesn't eventually solve the puzzle, you have the option to skip them.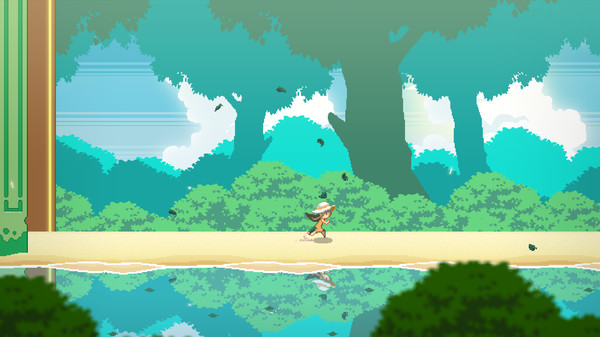 A Slow Start, A Fascinating Finale
And then there's Remains introductory dialog. It's so deliberately vague, it can be frustrating. Early on, we learn that Dysis has been sent to this mysterious and seemingly uninhabited island from by her employer, Up-Bring. Her task is to find out about the company's young prodigy, Evan who disappeared a while ago. Soon, she meets Clover, a mysterious young man who is too preoccupied with talking notes to assist Dysis with her undertaking. Periodically, we're privy to Clover's own interactions, without any context. Are they happening concurrently? Are they flashbacks?
Then Evan's Remains drops a bombshell on players. Some even more revelatory disclosures follow.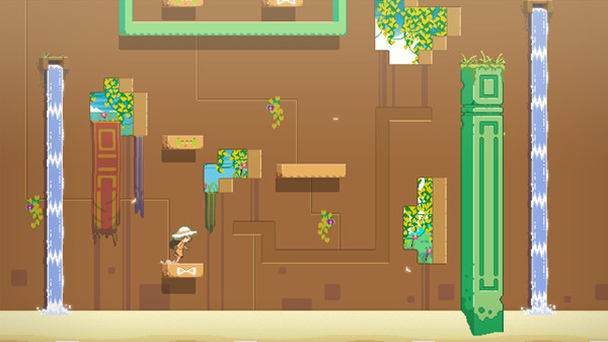 Honestly Speaking….
The first instance is such a powerful and unexpected reveal that Remains seizes your attention. Steadily, all those strategically ambiguous bit of information gel together into a plotline that's reminiscent of heady visual novels like Steins;Gate or one of narrative strands found in the first two Danganronpa entries. Saying too much would be doing a disservice to solitary developer Matías Schmied (aka maitan69). But suffice to say, Remains poses some really fascinating ethical questions that are poised to stick with you after completion.
As Schmied's first commercial effort, Evan's Remains demonstrates a lot of promise. The thirty-odd Monument puzzles are a bit homogeneous and can slow the speed of the exposition. While a bit more diversity and visual variety would have been welcome, they endow the game with a drip-feed of gratification. Had Remains opted to be a visual novel, it would have lacked the attraction of watching adorably animated sprites scoot about and reveal emotions though body language.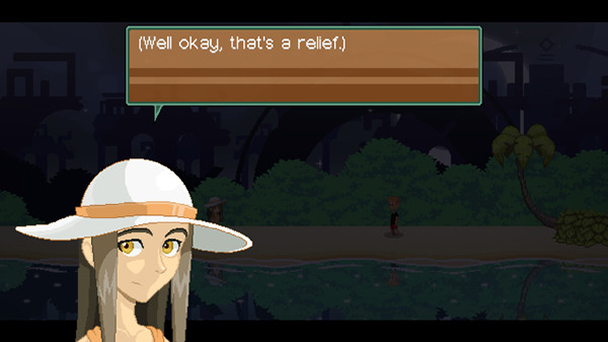 Conclusion
As such, it's hard to not walk away from Evan's Remains with not only a sense of satisfaction but with a yearning for what Schmied will tackle next. We occasionally overlook the artistry of adept storytelling, and Evan's Remains is about as good as three-hour indie experiences get. Coupled with some proficient coding and an eye for visual charm, I most excited for what the future hold for this wunderkind.
Evan's Remains was played on PC with review code provided by the publisher.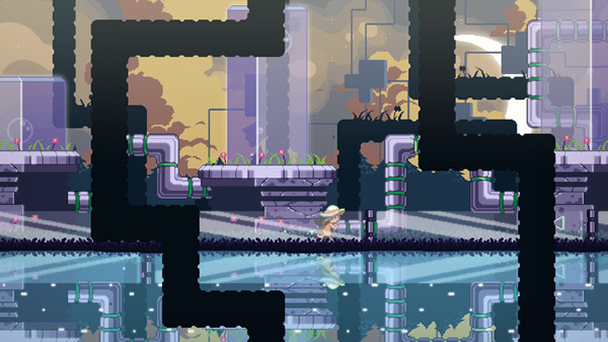 Review Overview
Summary : One of the surprise indie gems of the summer, Evan's Remains drops you off on a tropical island. You might just return with a slightly different point-of-view.