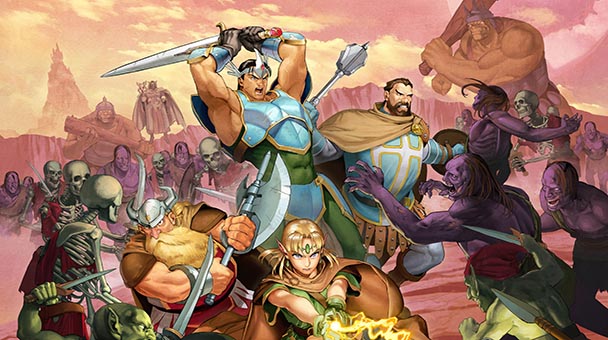 Last month, the president of Microsoft's Xbox division explained why the company's upcoming console omitted backward compatibility. According to Don Mattrick, only five percent of customers actually played older games on a new console- demoting historical gaming to a niche diversion. "If you're backwards compatible, you're really backwards", he stated, seemingly oblivious to the current surge of retro anthologies as well as the inevitable stream of digital collections destined to appear on the Xbox One. If Mattrick had any spare time in his strenuous public relations schedule, we'd invite him to spend an hour enjoying the contenting charms of Dungeons & Dragons: Chronicles of Mystara. This collection of two indispensable beat 'em ups stunningly demonstrates why games from bygone eras still matter.
Admittedly, if players jump right into 1993's Tower of Doom, they might side with the Microsoft chief's assertions. Building on Capcom's experience with Final Fight, The King of Dragons, Knights Of The Round, and Cadillacs and Dinosaurs, the coin-op seems rooted in archetypical brawler mechanics. But after a few visits to the 'Game Over' screen and an essential journey to GameFAQs, the game starts revealing its nuances. While basic attacks will funnel gamers through the first few limbs of the branching storyline, before long an advanced skillset is essential. Uncovering the fighting styles and abilities of each character, players will also have to learn complex actions such as blocking, crouching, turning and dashing attacks if they hope to see the conclusion of the adventure.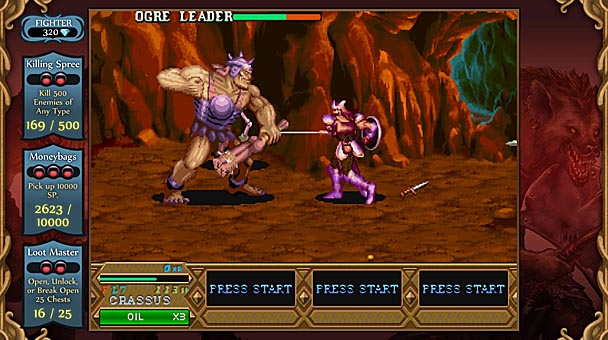 Sequel Shadow over Mystara pushes fighting complication ever further, urging players to master the repertoire of six different character classes. Additionally, Shadow integrates more of a role-playing element into the pugnaciousness, with a leveling system, equipment management, and an item collection component for added depth. While character persistence didn't quite gel with most arcade denizens, maximizing your combatants at home added longevity to a title brimming with secrets. Most interesting are some of the variations which weren't part of the original arcade cabinet. When playing with a group of local or online adventurers, hosts can create their own house rules, toggling policies such as degenerating weaponry or a small health reward for the defeat of foes.
Net-based play uses GGPO middleware, accommodating four-player matches with a modicum of on-screen lag and input delay. This is especially important for Shadow over Mystara, where gamers will use Street Fighter II-esque quarter circles and up/down combos to initiate special attacks. With options to search for compatriots by ping ranges, matchmaking is convenient with drop-in/drop-out functionality working flawlessly.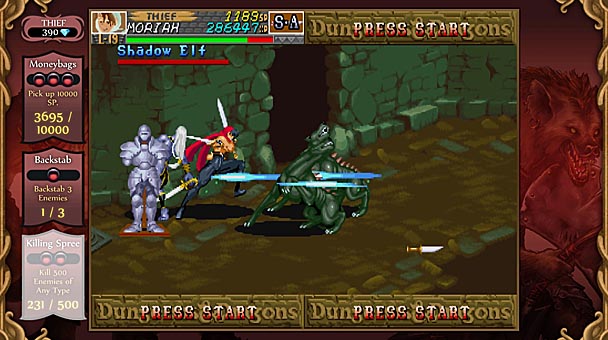 Likewise, the team at Iron Galaxy Studios (Darkstalkers Resurrection, Marvel vs. Capcom Origins) gives gamers an abundance of visual options. Purists can imitate the arcade experience by opting to emulate the curvature and scanlines of the original dual CRT coin-op while those seeking to exploit the capability of their HDTV may opt for a stretched 16:9 or authentic 4:3 output. Beyond viewing the game's hand drawn spites in their original form, players may also choose one of two filters to assuage some of the collection's pixelation. Owners of arcade sticks will appreciate the ability the remap any of the four action buttons. Regretfully, advanced commands such as blocking (accomplished by holding attack and moving the stick back) cannot be assigned to keys, though.
Another stylish supplement is the inclusion of player data tracking. In-game achievements challenge adventurers to perform tasks such as accumulating a thousand pieces of treasure or exterminating a specific number of enemies. Typically this information is extended on the borders of the screen, utilizing the margins of the screens. Accomplishing these tasks pays out currency which can be used to unlock a compendium of conceptual art, gameplay options, and even a survival mode. Along with leaderboard support, Iron Galaxy used every conceivable gameplay hook to keep players coming back to Chronicles of Mystara.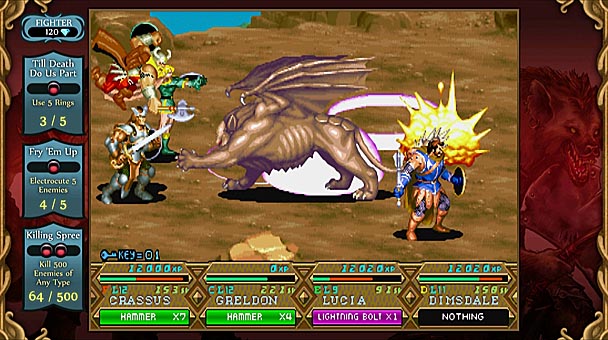 Once restrained to Saturn owners able to endure the expense of import, the two games on the Dungeons & Dragons: Chronicles of Mystara collection are now available to Xbox 360, PlayStation 3, and PC owners (with a Wii U build forthcoming). For fifteen dollars, gamers are able to revisit these beloved beat 'em ups, while enjoying an abundance of extra which escort the titles into the modern age. Although Tower of Doom and Shadow over Mystara aren't timeless, the titles serve as a reminder that enjoyment isn't limited to leading-edge offerings.
PlayStation 3 review code provided by the publisher.
Review Overview
Summary : Bringing together Tower of Doom and Shadow over Mystara, this collection is an obligatory purchase for fans of retro beat 'em ups. Developer Iron Galaxy Studios delivers another consummate port.