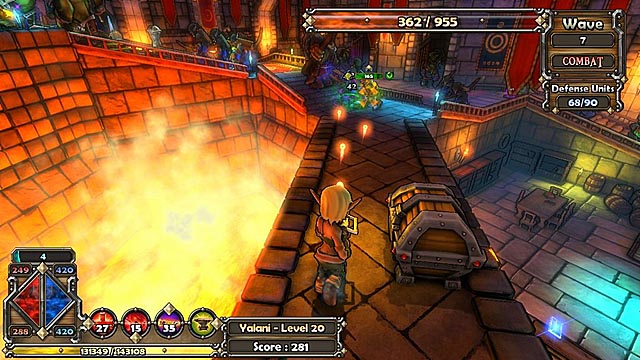 What is the concept? As titles such as Toy Soldiers, Monday Night Combat, Trenched and Orcs Must Die have demonstrated, the action/tower defense genre has proliferated across Xbox Live Arcade. Yet, associating the recent release of Dungeon Defenders with the aforementioned titles would be a rash oversight. Despite sharing rudimentary gameplay mechanics and a comparable visual aesthetic, Trendy Entertainment's title offers a substantially more intricate experience which rewards players who delve into the game's byzantine depths.
Players start by choosing from a selection of four fantasy archetypes. There's the stalwart Squire who favors melee weapons and defensive devices such as a column of whirling blades or the Apprentice who specializes in pillars which eject brilliantly hued colored fireballs or arcs of lightning. The Monk manipulates auras, creating areas where opponents are slowed or allies can be healed, while the Huntress is a master of ranged combat and explosive traps. While each character offers a distinct collection of pleasing combative and defensive-building capabilities, are heroes are not equivalent. Dungeon Defenders' selection screen articulates the challenge of cultivating each character by ranking them on a scale of 'novice' to 'master'. In execution, solo players with aspirations of being either a Huntress or Monk will be forced to replay levels to increase their stats.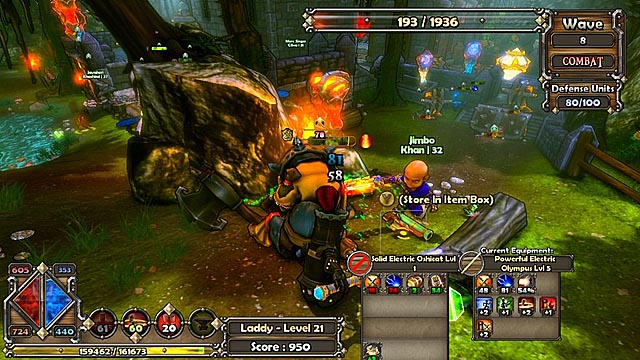 Unlike most tower defense titles, which provide players with a rigid protagonist, Dungeon Defenders has a robust role-playing component. Not only does every level elevation award points to spend on augmenting their individual attributes, but players can also spend their windfall on improved with durability, strength, range, or speed on their defensive structures. Additionally, a stout selection of loot invites improvement, with any surplus in currency gained by defeating enemies allowing players to enhance their armor or weapons. Essentially, forging items isn't far removed from Disgaea's item world, permitting dedicated players to bolster the capability of their favorite items by doing a bit of innocuous grinding.
Would I enjoy the game? While casual gamers may be challenged by Dungeon Defenders' intricate amalgam of game types, players with a bit of experience with Diablo or Torchlight as well as familiarity in the tower defense genre should be able to quickly grasp the title's complexities. Although the game's protracted tutorial explains the fundamentals, many of the Dungeon Defenders' nuances may initially elude players whose vehicular does contain expressions like 'DPS' (Damage per second). Conversely, this level of intricately means that gamers won't grow tired of the title too quickly. With variables ranging from difficulty setting, character class, and skill selections, each new playthrough of Defender's thirteen campaign maps and unlockable challenges stages offers a slightly different experience.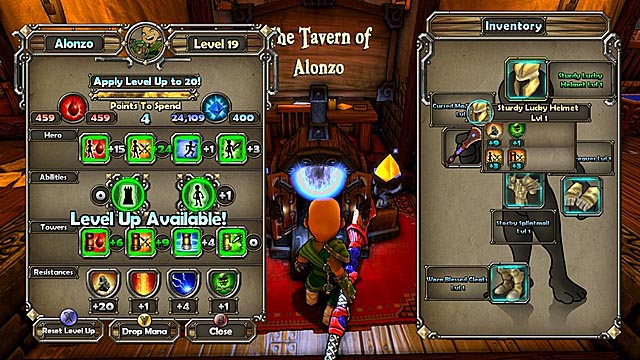 What are the game's strengths? By utilizing the Unreal engine, Dungeon Defenders environments are rich with details, with well-textured landscapes and a far-reaching draw distance. Character art recalls World of Warcraft's cartoonish aesthetic- with endearing details like the Apprentices' oversized hat which obscures his face or the sinister scowl of a Dark Elf Archer. Amazingly, the game's framerate rarely falters.  Even went a quartet of heroes slay a horde of foes amidst a path of discharging inferno traps, the game sustains its thirty frame-per-second delivery. The title's netcode is equally adept, showing only an intermittent sputter of lag across a dozen online, four-player matches.
What could have been improved? Dungeon Defenders sole blemish lay in the game's inability to successfully scale to party size. Before beefing up their player and defensive structure skills, solitary participants will likely succumb to the enormous parade of beasts which assault the map from multiple directions and pathways. While a single player diligently repairs traps and fights hallway-filling crowds, it's not uncommon for a flock of flying Wyverns to circumvent any snares, heading directly to the Eternia crystal, which requires protection or else the game ends. Alternatively, matches with a foursome of advanced adventurers can be cakewalks, where players are compelled to fight weaker beasts when a stage has reached its limit of defensive towers. In essence, solo and cooperative games feel completely different- with the former being exceedingly tense, while the latter can be an easygoing, social affair. In the game's favor, Dungeon Defenders does a good job of conveying information to players, by way of a pull-up map or defensive traps which show their vitality through game walls.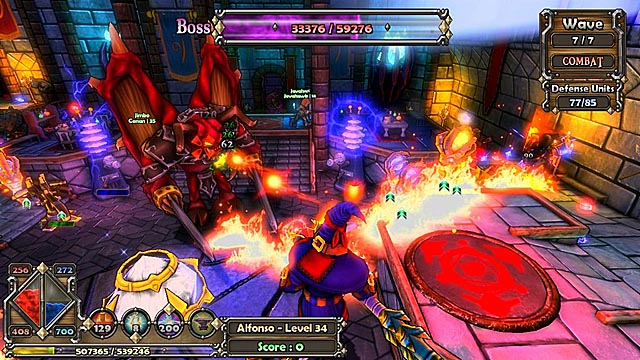 While it's a minor quibble, ranged combat isn't always precise. When there are large groups of adversaries, the game tends to lock-on to milder foes and occasionally will take a few seconds to target a cluster of foes at all. Likewise hit detection by some of the enemies seems off, with the reach of some larger beasts a bit exaggerated.
Is it worth the money? With more depth which outshines the average retail boxed game and a comparable visual quality, Dungeon Defenders is easily worthy of its fifteen dollar price tag. Even for players who have grown fatigued on the tower defense genre, the title offers enough new facets to warrant a trial. When choosing between the console and Windows versions (the game is also available on mobile platforms) the edge goes to the PC which supports modding through the Unreal Development Kit.