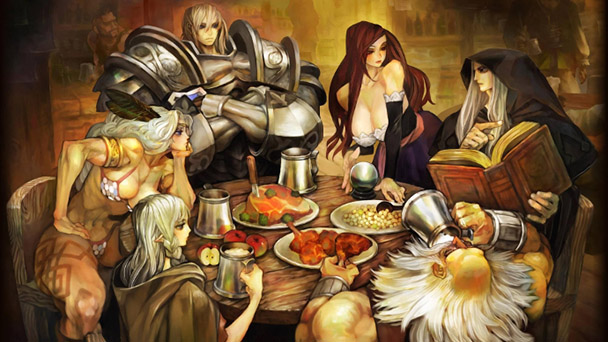 During the heyday of the coin-op era, the brawler enjoyed an extended period of quarter-gorging success. The reason for the genre's popularity was clear: titles like Double Dragon, Final Fight, and Bad Dudes offered visceral action, transforming each button press into potent punches, kicks, and throws. Thrashing foes become a wonderfully cathartic experience, at least until the quarter circles and joystick gyrations of fighters introduced a newfound sophistication to virtual pugnaciousness. Subsequently, brawlers (aka beat 'em ups) become beset by stagnancy, and depended on the power of basic tenets to subsist.
While contemporary such as Double Dragon Neon and 99Vidas have extended various amounts of modernization, most current attempts at revitalizing the genre have relied on irony to make a connection with gamers. Vanillaware's Dragon's Crown took an astute approach, supplementing the core fisticuffs with a variety of involving mechanics poised to catapult the brawler into the twenty-first century. Five years on, the title returns for the PlayStation 4, sporting upscaled 4K visuals and a remastered soundtrack performed by a live orchestra. And while it's a spectacular experience for those who missed last-gen's game, veterans will undoubtedly wish Dragon's Crown Pro delivered new content.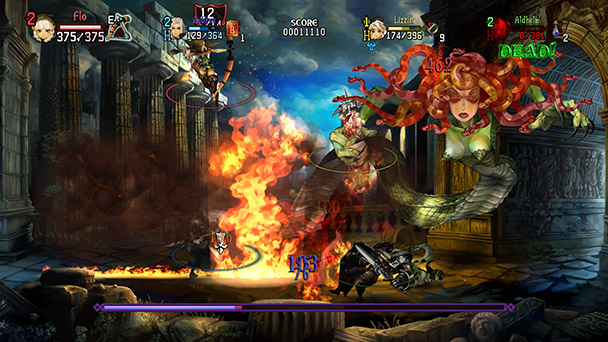 Quite often in beat 'em ups, protagonist selection is largely cosmetic, with divergence articulated through character speed or a few distinctive attacks. Dragon's Crown's roster of six playable adventurers feels notably dissimilar, with fundamental differences between the basic classes. Not only does character selection endow the title with innate difficulty levels (until gamers unlock a tangible challenge setting), but character decision defines play style. While both Fighters and Dwarves are best at close-range combat- with secondaries that perform devastating strikes, the latter reveal dissimilarity through an adept set of throws. Meanwhile, ranged magic users such as the Sorceress and Wizard oblige distance from foes, as they need to sporadically replenish their mana for magic missile shot. Elves offer an imperiling amalgamation of melee and ranged attacks, with a more sophisticated move-set and weak defense making them a choice for advanced players.
As characters progress through the campaign, they'll earn more than just basic stat bonuses. Both character specific and general skill trees provide a plethora of perks, offered in a visually lavish presentation which resembles a pack or tarot cards. Loot collected through the opening of treasure chests offers its own economic gradations, taking players with either appraising or selling items based on general assessment grades. Unlike many involved role-playing games, choosing to have each item evaluated isn't a smart financial practice. Although appraisal raises the value, the process is costly- forcing players to deliberate on each decision. Once worn or carried, armor and weapons depreciate in quality, yet another small mechanic which offsets any monotony derived from hours of hacking and slashing.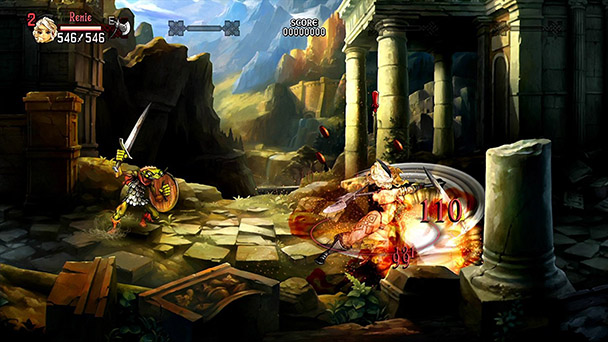 Beyond these choices, managing the adventuring party can also be involving. The game's inn allows players to recruit any AI assistants or reserve spots for online acquaintances. Pleasing, the title's drop in/drop in functions flawlessly, even substituting a CPU drone for a departing player. While the size of the original audience might have diminished, Dragon's Crown Pro permits cross-play across platforms, which is a compassionate addition.
Locating piles of bones which are scattered throughout Dragon's Crown's levels allows gamers to resurrect fallen allies, allowing up to three AI drones to assist players, each with a distinct identity and equipment. Generally, these subordinates offer a nice helping of offensive power, although they do seem oblivious to environmental objects like traps. Mirroring the intricacy of the title's other components, these CPU-power companions even level up along with players.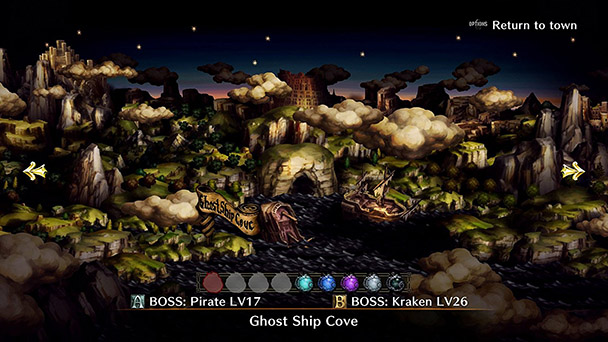 While Dragon's Crown Pro peripheral elements are adept, enjoyment for any brawler hinges upon the core combat mechanics. Here, the title is successful, albeit with a few niggling blemishes. Across the range of classes, battles provide engaging beat 'em up fundamentals, from launching opponents skyward to initiate a succession of aerial attacks, ground pounds, and dashing strikes. For better or worse, combat uses a Smash Bros. type control scheme, tendering an arsenal of attacks from a simultaneous press of the square button and an analog stick direction. While this means skirmishing is intuitive, the scaled back input method has a few drawbacks. Guarding as the Fighter or Amazon involves holding the square button down, which can leave the character open for attack for a fraction of a second. Although adventurers can either teleport or evade with a press of the right trigger, dodging isn't instantaneous, waiting until characters complete their current animation routine.
That said, the game's structured itinerary of quests provide some interesting nuances. From ghosts that are best attacked with the flames of wall-mounted torches, a lamp which players can seize to summon a giant genie, and a bevy of hidden treasure and multiple pathways, errands offer a number of intriguing number of gambits. Uniting the title's mission is an overarching twelve to fifteen hour storyline, teaming with treachery and accomplished voice work. Although Dragon's Crown offers a bit of story branching, forking is woefully limited to inconsequential consequences which don't influence the overarching narrative.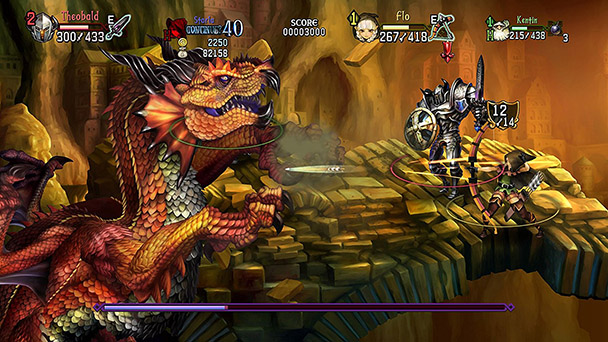 Building on the PS3 and Vita iterations, Dragon's Crown Pro performs admirably, outputting sixty frames-per-second, and for PS4 Pro owners, at an unbelievably crisp, 4K fidelity. The title's visuals, guided by art director George Kamitani, are wonderfully opulent, radiating from displays with a fluidity and splendor that pushes the title into the visual pantheon. Beyond the well-done voice acting, the game's soundtrack is sporadically dazzling, highlighted by a map screen which evokes the ethereal tones of Dead Can Dance.
The only real gripe with Dragon's Crown Pro is that the game doesn't extend any new content or tweaks. For those who undertook the journey five years ago, the improvement to fidelity is pleasing, but may not be enough of an incentive for pennywise players to take a double-dip. But for newcomers, the title is recommended, ushering the brawler into the contemporary era.
Dragon's Crown Pro was played on the PlayStation 4 Pro
with review code provided by the publisher
Dragon's Crown Pro
Platform: PlayStation 4
Developer: Vanillaware
Publisher: Atlus 
Release date: May 15th, 2018
Price: $49.99 via physical or digital
ESRB: Teen
Review Overview
Summary : While Dragon's Crown Pro combat is entrenched in brawler tradition, the game's light role-playing elements elevate the game to must-play status, especially if you missed the 2013 release.