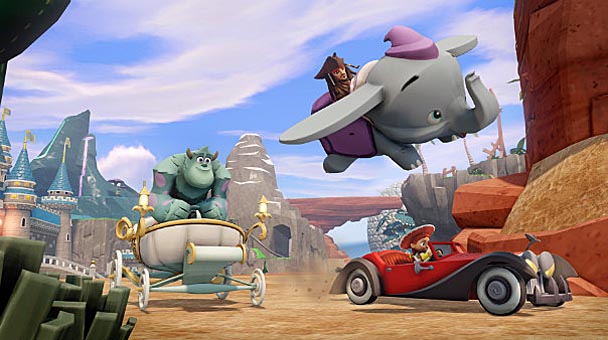 Although reputation is important for any publisher, for the Walt Disney Company- it's imperative. As one of the largest transnational multimedia firms in the world, the corporation has cultivated its empire by crafting consistently top class, family-friendly, entertainment. Yet, Disney's undertaking into the realm of interactive entertainment hasn't quite matched the success of its theme parks or Pixar films, occasionally blemishing the integrity of the firm. For every outstanding game like Pure or Where's My Water?, the company has put their moniker on sub-standard fare such as G-Force: The Game and Bolt. When Disney Interactive Studio's announced it was creating an experience which blurred the line between traditional toy play and guided game, many assumed that the firm was unimaginatively mimicking the blueprint fashioned for Activision's Skylanders series.
Although Disney subsidiary Avalanche Software, (the studio which created the engaging Toy Story 3: The Video Game as well as the aforementioned dud, Bolt) duplicates Toys For Bob's basic technology, the title's ambitions trump Activision's property. At times, Disney Infinity is a rousing success, shirking the traditional paradigm that has driven the game industry for decades- facilitating a blissfully autonomous type of play. Even when the game follows a more conventional path- giving goals and propelling participants with the lure of collectables, the title largely succeeds thanks to a massive, but still incomplete assemblage of Disney lore.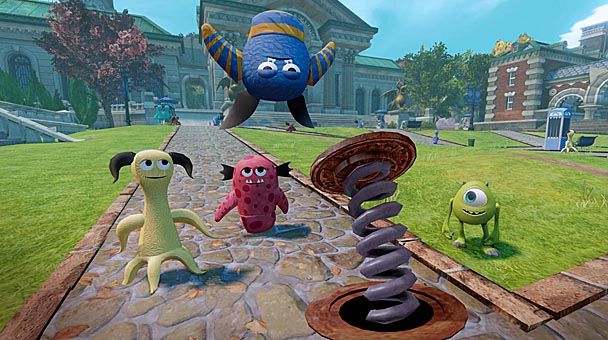 At the core of Disney Infinity is the base peripheral, which ships with the $75 Starter Pack. Once plugged into the USB port of the Xbox 360, PlayStation 3, or Wii U, the device uses RFID (Radio-frequency identification) technology to read and write data to accompanying figurines, allowing characters to be summoned on-screen and for these well-crafted statues to retain player progress. Additionally, Play Set pieces usher in new environments and up to three power discs can be stacked to introduce variations, stat-boosting perks, or additional items into the game. While the Starter Pack provides an equitable sample of Infinity's feature set, the incentive for additional purchases is undeniable. Small kiosks are scattered into premade worlds (and drop into your created ones) flaunting the abilities of supplementary characters while an additional figurine must be purchased to enjoy some of the game's cooperative stages. Although I customarily shirk buying in-game DLC, the lure of purchasing virtual content that offered a tangible form proved irresistible, and I quickly found myself scanning message boards for the best retail deals. Such is Infinity's meta-game.
The figures that ship with the starter pack grant access to three, well-conceived worlds, which act as four-to-five hour standalone games. The Monsters University milieu places players in the midst of a rivalry between Mike and Sully's school and Fear Tech. From elementary stealth missions and impish toilet paper adorning assignments, the segment succeeds by transcending the storyline of the recent film. For The Incredibles Play Set, gamers are given an open world and laundry list of heroic tasks to complete. Essentially, the section is a hodge-podge of fundamental play mechanics as players drive, climb, and build a base to defend from Syndrome's attack. Echoing the LEGO game franchise, bits of visual humor are the highlight- such as when Mr. Incredible hurls citizens from a burning high-rise, and they rescuees float to safety with a concealed parachute.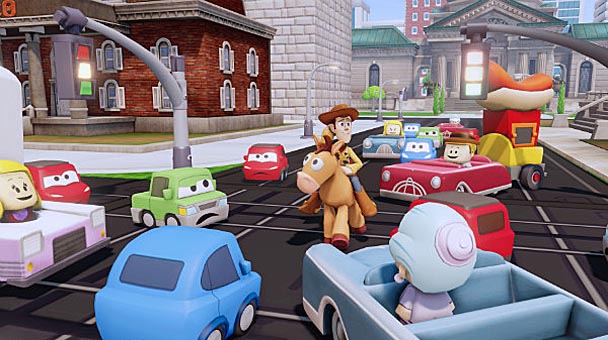 By far, the Starter packs best preconceived thrills come from the Pirates of the Caribbean Play Set, which does an admirable job of recreating the swashbuckling thrills of the film series. Mixing environmental navigation culled from the Uncharted series with Assassin's Creed III's naval warfare, Captain Jack escapades are gratifying and conclude in a particularly satisfying coda. Beyond replaying the Play Sets for additional experience and to uncover collectables, Disney Infinity also extends character-themed challenges to players. Regretfully, these timed-based challenges can be frustrating and often reveal the fissures in each Play Set's mechanics. Fighting a couple of Omnidroids during campaign missions can be enjoyable. Yet, when a crowd of the foes surround players, Mr. Incredible can get locked into the same fall down animation- which seems destined to aggravate Infinity's younger audience.
Play Sets provide canonical Disney experiences, so it's not possible to bring Sully into Jack Sparrow's domain. For that type of universal play, players need to venture into Infinity's Toy Box absorbing component. Here, Avalanche gives gamers carte blanche, using the collectable doodads gathered and gained as building blocks. Remarkably, the developer confers a great deal of capacity, offering tools capable of crafting everything from complex Rube Goldberg-esque machines to basic landforms which feel culled from Minecraft.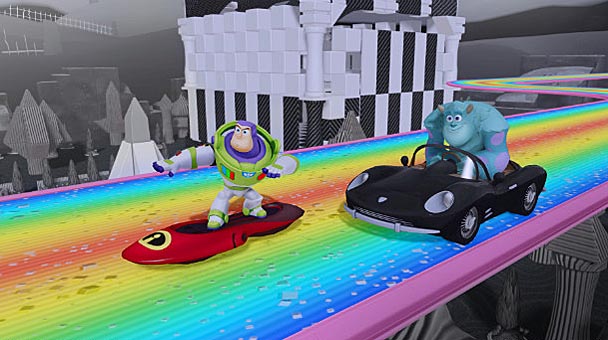 Obviously, the developer faced a gargantuan dilemma, pitting player potential against user-friendliness; Infinity tries its best to bridge the gap. Youthful gamers can create a basic playground by dropping in famous Disney's monuments like Cinderella's Castle. More ambitious players can build racetracks which run through the palace, while those with a bit more leisure time can craft basic sidescrollers or shooters by using Infinity's switches. One snag on the game's sense of creativity is the user interface which requires builders to pick pieces from large lists and use unconventional navigational techniques. A smaller issue is that parts are unlocked through via a mini-game and budding designers may have to endure to obtain the tool they need to realize their ambitions. Hopefully, Avalanche can optimize Infinity's framerate, which can drop even when on-screen geometry is at a minimum.
That said, once players come to terms with the interface and allotment system, the Toy Box component becomes utterly engrossing, sustaining a wide variety of play styles. Those who like to watch destruction can create race tracks with land mines or jumps into oblivion. Gamers unmoved by wanton obliteration can create towering constructions with as much detail as time and the game's complexity meter will allow. It's this approach- which shows the convergence between traditional play and game logic, that elevates Disney Infinity.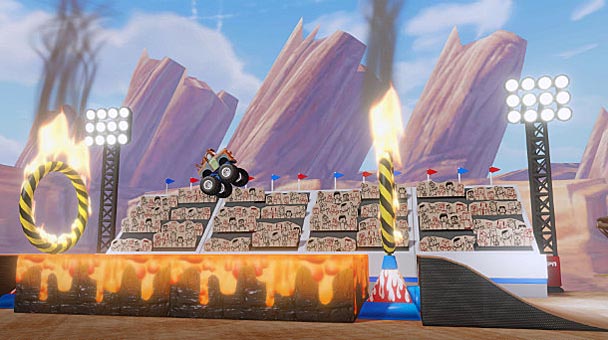 Disney Infinity was reviewed on the Xbox 360 with review code provided by the publisher.
Review Overview
Summary : Disney Infinity is at its best when it forgoes the traditional tenets of game design and lets players run wild with their imaginations.