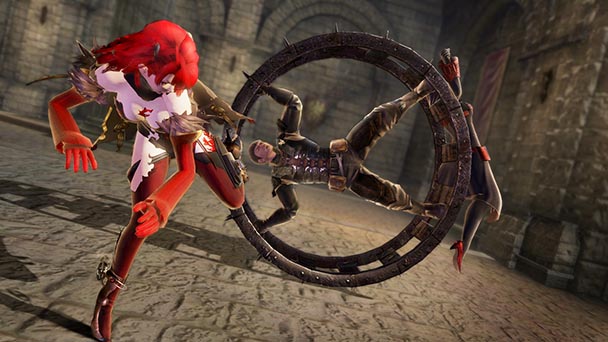 Summoning the Dark Prince is often a dour endeavor, involving messy sacrifices, tongue-twisting incantations, and the strong possibility of unintended side-effects. When Deception IV: Blood Ties was released for the PlayStation 3 and PS Vita, the Koei Tecmo title did away with most of the unsavory stuff, instead allowing players to build Rube Goldberg-esque devices that favored comedy over callous cruelty.
Flippancy was most evident in the roles played by Blood Tie's supporting ladies. Assisting the devil's daughter in her objective of waking up her grumpy old man were Caelea, Lilia, and Veruza- a trio of demon goddesses who represented the trinity of torture. Although players might have assumed that the provocatively-dressed trio were mere fan-service, their incorporation ended up enlivening Blood Ties' campaign. Between belittling the adventurers foolish enough walk into the title's ambush areas and congratulating players on their barbarous behavior, the goddesses' became provocateurs- goading players into action. Although Blood Ties had a constrained number of enemy character models, each goddess was endowed with personality- exhibiting strengths, weaknesses, a bit of backstory and often darkly comical death quotes.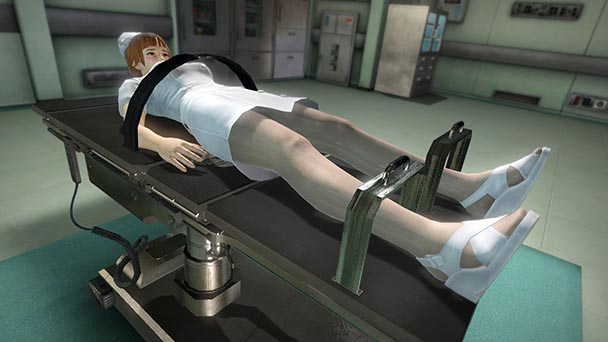 All three temptresses as well as their master, Laegrinna, return for Deception IV: The Nightmare Princess. A PlayStation 4, PlayStation 3, and PS Vita release that bundles the original game with an entirely new campaign, as well as an abundance of added traps- the game is a bountiful smorgasbord, offering a feast that's filled with comical sadism. For fans who can appreciate the game's mix of gratifying ensnarements, impish mischief, and a bit of Grand Guignol, Deception is a must-experience diversion.
Whether players select Blood Ties' original campaign, or escort the title's eponymous princess, Velguirie, through her own hundred stage quest, the tenets remain the same. Levels are situated in themed zones that range from timeworn castle entrances and courtyards to more modern contexts like a school gymnasium (woefully, The Nightmare Princess recycles a few milieus from its predecessor). At the start of each stage, a preset number of enemies wander about, whether its archers who remain stationary as they take potshots at players or a pack of melee-based enemies who leisurely follow the protagonist around the playfield.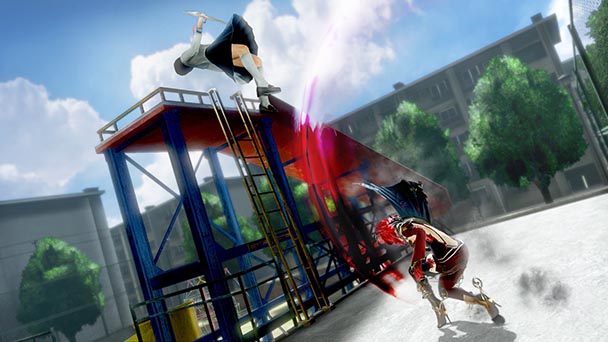 Pressing the circle button suspends the action, extending an overhead, gridded view of the zone, as well as an inventory of available devices. With a few addition button presses, players place their traps, picking from categories of ceiling, floor, or wall-based set-ups. Pleasingly, Deception IV does a commendable job at showing the range and direction of its encasements, with easily identifiable highlighting divulging the span of a swinging axe and well as offering an indicator showing where cleaved enemies will be launched.
These specifics are unquestionably needed, as success in Deception IV means sending adventurers through a procession of humiliating punishments. It's not enough just to entrap opponents in a clenching bear trap or between the breasts or a marble statue. No, that's just the start of the shaming as adventurers are catapulted through the air, skewered on a wall of arrows, flattened by rolling boulders, or send wandering into even more traps when a giant pumpkin-head plummets, Looney Toons-style, over their head. In modern contexts, the medieval mechanisms give away to even more laughable tricks, with adversaries sending soaring by behemoth-sized bidets or launched into basketball rims with the precision of a Michael Jordan twenty-two footer.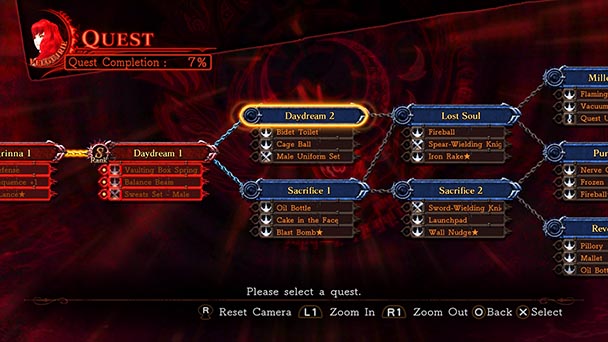 Ostensibly, Deception IV: The Nightmare Princess is a puzzler, tasking players with coming up with an elaborate torture system that would make a CIA operative beam with approval. But virtuously, the game also transcends the genre, requiring near-constant movement from the protagonist and the well-timed triggering of each trap piece. Unsurprisingly, the game rewards precision, offering bonuses for feats like skewering an airborne antagonist or at the very least- extending a torture chain as long as possible. Unlike most digital brainteasers, there are almost always multiple methods to dealing with each stage, making repeat play a possibility- as players try to tweak their giant appliance of agony.
The biggest difference between Blood Tie and Nightmare Princess is found in the abilities of the latter's leading character. No longer a defenseless damsel, Velguirie has the ability to kick enemies, which can trigger an event chain or even extend a combo.  The capacity (as well as additional ones like dashing) is tied to a cooldown timer, prohibiting players from turning Deception IV into a mindless brawler. The expansion's campaign is organized differently at well, with each step of a progress tree offering three optional sub-goals, such as using a particular trap or achieving an uninterrupted six-hit combo. Nicely, these optional objectives are incentivized, adding additional ruses into the player's arsenal. With new deceptions able to be deployed in previously-played stages, The Nightmare Princess truly caters to completionists- who will likely find themselves entangled much like one of the game's own adventurers.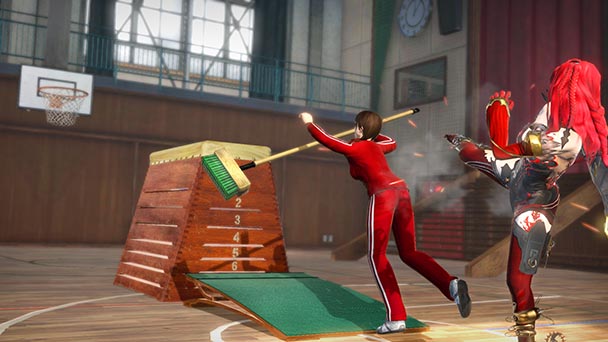 Unlocks also are a part of the Deception Studio, a playground where players can create their own levels. Gamers can customize enemies assigning health points, resistances, immunities, and weaknesses, and even name their nemeses. Then once foes have been forged, stages can be crafted around a configurable list of available traps. While it's not as comprehensive as we would have liked (customizable death quotes and 'brag' replays would have been great additions), the ability to share creations online endows the Studio with longevity.
One of the few downsides with The Nightmare Princess is the conundrum faced by those who own the PlayStation 3 or PS Vita version of Blood Ties. While Princess is a near-perfect complement to the previous title, the game exists as a premium-priced standalone. Ideally, Koei Tecmo would have offered more incentive to its loyal Deceptionists than a save import feature, possibly providing returning players with exclusive ensnarements. As it stands, the PlayStation 4 iteration of the game is the silver living, offering both campaigns with an enhanced 1080p, sixty frame per second output.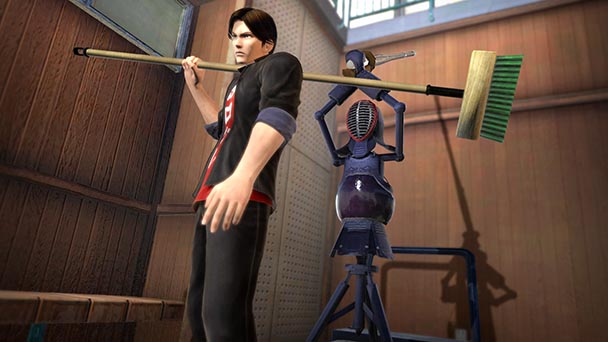 Players who bemoan that contemporary games lack originality need to experience Deception IV. The game's sadistic sandbox feels wonderfully distinctive, while flinging around adventurers like a cat toying with a half-dead mouse offers ghoulish, gratifying charms. Don't be surprised if your attempt to awaken the man downstairs ends up occupying your mind and soul.
Deception IV: The Nightmare Princess was played on the PlayStation 4 with review code provided by the publisher.
Deception IV: The Nightmare Princess
Platform: PlayStation 3, PlayStation 4, PS Vita
Developer:  Koei Tecmo
Publisher: Koei Tecmo
Release date: July 14th, 2015
Price at release: $49.99 PS4 retail or via PSN, $39.99 PS3 or Vita, via PSN
Language(s): Japanese voice/English text
ESRB: Mature
Review Overview
Summary : Combining Blood Ties campaign with a hundred additional quests and a stage creation suite, Deception IV: The Nightmare Princess represents a Faustian deal. Fans of the previous game and PlayStation 4 owners will likely want to give the devil his due.