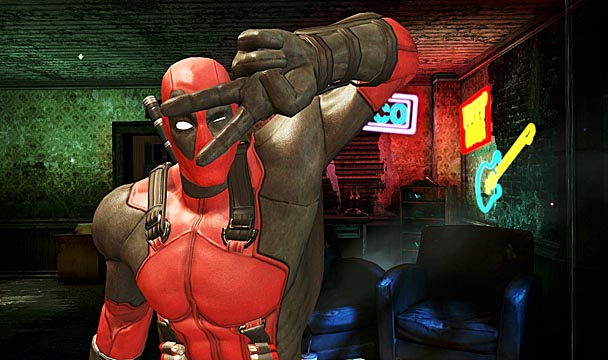 Parody is a burdensome task for interactive entertainment. While few will fault the film The 41-Year-Old Virgin Who Knocked Up Sarah Marshall And Felt Superbad About It for its clumsy cinematography, video game satire is burdened with cultivating laughs while concurrently offering captivating play mechanics. Such was the problem with Eat Lead: The Return of Matt Hazard and sequel Matt Hazard: Blood Bath and Beyond. While the titles effectively used fourth-wall rupturing and self-referential humor to skewer the oversized target of gaming clichés, both failed to match the sophistication of their subjects. In execution, players slogged through clumsy, tedious shooting segments just so they could catch the next wisecrack or game reference. Having a protagonist poke fun of the monotony of a stage, doesn't make the journey any less arduous.
The recent release of High Moon Studios (Robert Ludlum's The Bourne Conspiracy, Transformers: War for Cybertron) follows a tragically similar trajectory. Elevated by an admirable voice over from Nolan North and a capricious plotline that mirrors the impulsiveness of the main character, Deadpool adeptly captures the impetuous slapstick and playful pandemonium of its source material. But when it comes to articulating the Merc with the Mouth's finesse with swords, firearms, and explosives, the game succumbs to the type of drudgery that Deadpool typically despises. In one sequence, the anti-hero blows off his own head rather than listen to Cable deliver a long-winded diatribe. I can only imagine Wade Wilson removing a few digits to avoid playing some of his game's clumsy platforming and boss battles.
To its credit, Deadpool delivers an inspired opening. Set in the mercenary's grimy apartment, this sequence allows players to wander around the dwelling, optionally interacting with appliances, cabinets, and a computer. For players unfamiliar with Deadpool's backstory, this prologue divulges the requisite characterization: they'll learn of the protagonist's psychosis and disfigured body without sitting through a lengthy cinematic. Remarkably, this section- along with additional exploratory scenes, are one of Deadpool's core strengths. With interactions habitually rewarded with comical sight gags, these parts of the game recall WayForward's imaginative Looney Tunes: Duck Amuck, allowing players to freely play around with props. One puckish sequence serves as a test of player determination; as a comic luminary can be slapped dozens of times- with each instance dispensing a rib-tickling sound bite. As humorous as Deadpool's banter is, it still feels canned. Ideally, the character would have echoed Bastion's approach, remarking on the player's actions on a regular basis.
However, once Deadpool skulks the game's spartan skyscraper and jungle environments, delight disappears. Developer High Moon recreates Deadpool's signature loadout, offering melee and ranged combat through an upgradeable arsenal- but either way, combat feels stiff and lacks nuance. Using swords, hammers, or sai to slice away at adversaries feels satisfactory, if unremarkable, at first. Later, enemies are able to endure epic amount of damage, so encounters shift from amusing to aggravating. Using firearms to blast away at foes come with its own set of problems, such as a lazy lock-on system and restrained ammo capacity. Deadpool's most useful move is his ability to teleport short distances, which allows an advantageous Arkham Asylum-styled parry or a last-ditch save from a fateful fall. Unfortunately, the maneuver also throws off the game's camera, occasionally placing the protagonist in an obscured perspective.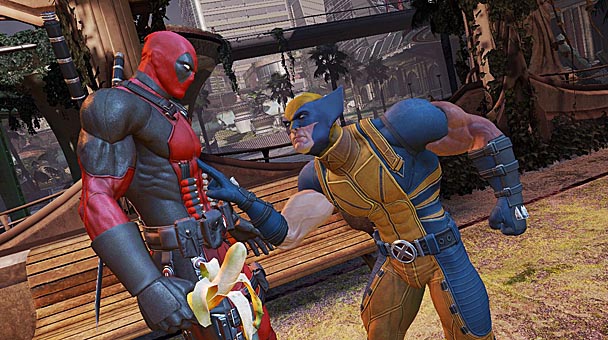 Although it's easy to get disoriented in the game's nondescript milieus, player will know they're on the right track when they stumble upon a swarm of opponents. As such, Deadpool has an irregular cadence which fluctuates between moments of heated combat and sequences where the character explores for the next trigger point. Boss battles against Mister Sinister Arclight, Blockbuster, and Vertigo are a bit disappointing, with players using basic tactic to subdue these baddies. Later in the game, Deadpool throws combinations of minibosses at players, which feels like an artificial hurdle for players to clear.
Recycling is also employed in the game's assets. Running on the Unreal Engine 3, Deadpool 's enemies and environments don't offer much variety; it's not uncommon to find yourself surrounded by a six or eight homogeneous foes. When these ambushes occur, it's not uncommon for the refresh rate to nose dive, often dipped into the teens near the end of the game. The one true visual standout in the game is the title character, whose manic moment and personality is captured in animation, while his costume convincingly shreds as he takes damage.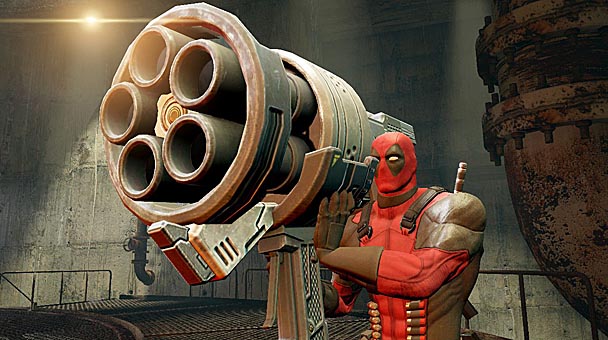 Deadpool's enjoyment comes from its absurdist humor rather than often awkward play mechanics. While the title should express the fluidity and efficiency of Bayonetta, more often the game's play mechanics channel the clunk of Bullet Witch. As such, the game's stimulus stems from hearing the next one-liner or seeing the next visual gag, rather than the appeal of gameplay. While the game's eight-hour expedition isn't ruinous, the joke might be on players who ante up the full fifty-dollar purchase price. Hardcore fans: do yourself a favor and play a bit of Marvel Heroes, will waiting for the Merc with the Mouth to go on sale.
Review Overview
Summary : Dull combat and inelegant controls mar an inspired meta-story, plenty of comic cameos, and an abundance of crude humor. We expect better from Cybertron developers High Moon Studios.