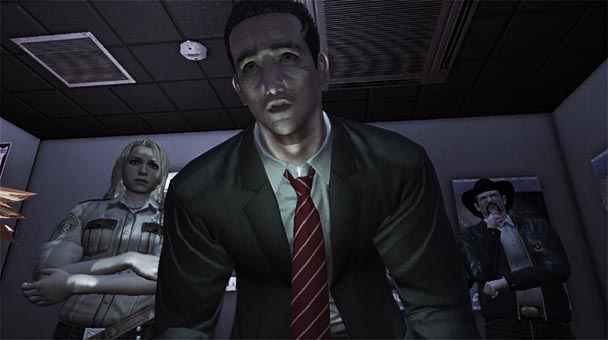 A quick scan of any video game message board is likely to demonstrate the polemic nature of our industry. Quite simply, a substantial constituency enjoys arguing about games nearly as much as they like playing them. That said, few contemporary titles have cultivated as much contentiousness as 2010's Deadly Premonition– a game which retains the Guinness World Record for 'Most Critically Polarizing Survival Horror Game'. Loathed and loved in equal measure, the title undoubtedly lacked aesthetic appeal, but demonstrated director Hidetaka "SWERY" Suehiro's capability of crafting a beguiling, delightfully eccentric world.
Three years later, Access Games' auteur has done the unthinkable- fashioned a director's cut which would seem to jettison the jank and awkwardness which once drew attention to the game. Commendably, this PlayStation 3-exclusive revision has applied polish to the right places- mending the original iteration's most frustrating elements while appending a few largely superfluous additions. Although Xbox 360 owners who have already peered into Greenvale's peculiarities won't find enough motivation for a return visit, open-minded PlayStation fans seeking an unconventional experience might want to give the game a try.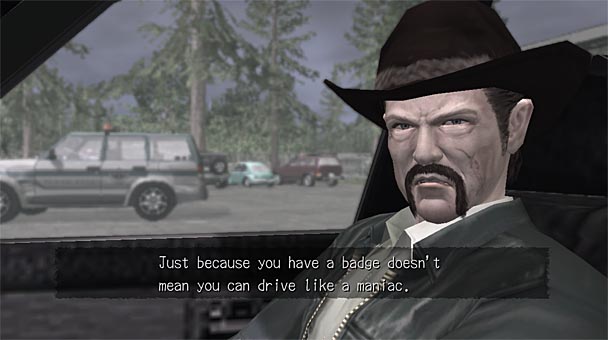 Much of Deadly Premonition's charm stems from its quirky protagonist, FBI Special Agent Francis 'York' Morgan. In town to investigate the ritualistic murder of a young woman, York questions the local citizens in the hope of averting any additional bloodshed. Yet, the agent's seemingly oddball behavior, which  range from having direct interchanges with the (unseen) player to isolating a suspect by peering into a cup of coffee, unnerve the equally unconventional townsfolk. For players, these curious behaviors help form Deadly Premonition's greatest virtue- a delightfully offbeat timbre. While the original game's Lynchian-vibe has been well-documented, few have observed the similarities to Brett Easton Ellis' American Psycho. Listening to York deliver in-depth ruminations about popular culture artifacts such as Attack of the Killer Tomatoes is bound to remind some of Patrick Bateman's satirical soliloquys.
One of Deadly Premonition's most glaring defects was the game's controls. On foot, York was unwieldy, while the title's driving model felt woefully disobedient. For the Director's Cut, the team has provided players with the ability to control the camera as well as improved targeting. While the game is still rooted in the survival horror tradition of either shooting or walking, stuffing Shadow enemies full of lead isn't quite as cumbersome. Police cruisers still feel bit sluggish thanks to the game's mandatory speed limit, but now steering doesn't feel like you're fighting the controls. Regretfully, the title's vehicular management system remains unchanged. As such, running out of fuel or damaging your car can force York to proceed on foot, as the game's world continues to move forward.
But players shouldn't approach Deadly Premonition expecting the adrenaline-drenched hijinks of sandbox-based titles such as Grand Theft Auto or Just Cause 2. The Director's Cut eliminates the difficulty selection of its predecessor, settling for a reduced level of challenge, acknowledging the title isn't a twitch shooter. Instead, Premonition favors an examination of the mundane- tasking players to shave and change clothes, lest York becomes a bewhiskered slob plagued by flies which perpetually orbit. It's in these moments, that the games faults begin to melt away, revealing an intriguing world where characters go about their day-to-day duties. Premonition's worldview is refreshingly unique in the medium, revealing a lack of any kind of universal 'normal'. The beauty of the game is that players soon echo this behavior; before long they'll be stealthy stalking townsfolk and attempting to peer into windows like the neighborhood Peeping Tom.
New to the PlayStation 3 iteration are stereoscopic output and support for Move controllers. However, both of these new amenities arrive with troubling caveats. Although the Director's Cut offers some remapped textures and improved lighting models, the new content doesn't quite mesh with the preexisting assets, creating an odd visual schism. A sense of depth doesn't help this situation, with 3D glasses accentuating groves of identical flora and the game's often stuttering framerate. Sony's motion controller is adequate for moving York about, but as soon as the Agent steps into a vehicle, frustration is certain to ensure.
Concerning new substance, Deadly Premonition: The Director's Cut offers only a handful of new trimmings- from an additional opening sequence and several new cinematics. The upside is that this content fits seamlessly into the game's established storyline. The downside is that the lack of new activities, missions, or side quests won't urge the game's veterans to return to Greenvale. When comparing the $39.99 cost of this version to the $19.99 MSRP of the original Xbox 360 version, players aren't likely to seen enough new content or improvements to justify the price.
Players preoccupied with aesthetics and polished play mechanics are bound to question the appeal of Deadly Premonition: The Director's Cut. However, those who can look past the game's decidedly stilted animations, incongruous music, and uneven graphical exhibition, are likely to find of the most striking curios in contemporary gaming. Far removed from the typical twitch-based action of most survival horror games, Premonition is propelled by captivating idiosyncrasy. Long after players have witnesses the closing cinematic, another, more taunting, mystery awaits: determining how much of the game's quirkiness is wholly intentional.
Review Overview
Summary : While the game's control fixes are commendable, the lack of any substantial new content means the Director's Cut is best enjoyed by those who haven't played the 2010 original.