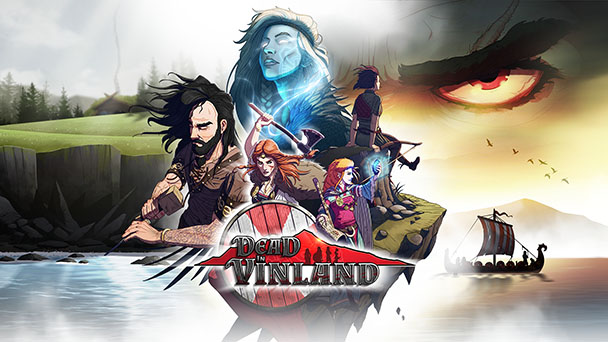 From Don't Starve, Ark: Survival Evolved, and two-thirdsof the Risen franchise, being stranded on a remote island is a popular premise for games, typically tasking players with keeping their cool during a set of increasingly hostile conditions. But few of these experiences reach the amount of bleakness or level of challenge offered by the recent PC release of Dead in Vinland.
As the sequel to 2015's Dead in Bermuda, the follow-up demonstrates developer CCCP Games ability to fuse an assortment of different mechanics, from resource management to light role-playing. Similarly, the game's tone is just as varied, with an overarching feeling of desolation and despair broken up with bits of gallows' humor. Yes, it can be tonally inconsistent and is blemished by a few irksome design decisions, but it's also surprisingly addicting across the first few play-throughs.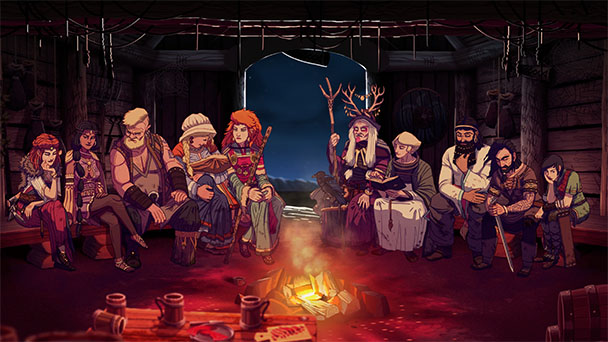 A cinematic sequence details a Viking family's ostracism, forcing a quartet to flee via a small ship following the torching of their home. A chaotic storm threatens to sink the vessel and family, but miraculously, they land on small island, and after three days of exploration, discover an abandoned settlement. While the premise might seem a bit formulaic, Vinland's characters offer enough idiosyncrasies to shirk cliché.
Eirik is the resident patriarch and is a stalwart protector of his kin. Before being banished, he sought a simple existence, enjoying humble rewards like tankard of mead at the end of the day. But now, his fibrous demeanor is undermined by a sense of guilt. Blodeuwedd is a crimson-haired, axe-wielding counterpart to Eirik, and while she's attempt diplomacy when conflict emerges, she'll not afraid of merciless violence when negotiations fail. Another shining example of female representation is Blodeuwedd's sister, Moira, who brings a dose on unconventionalism to the family with her witch-like ways and rejection of normative behavior. Finally, there's Eirik and Blodeuwedd's daughter Kari, who like her aunt resists expectation, which is usually expressed with a hint of teenage irritability.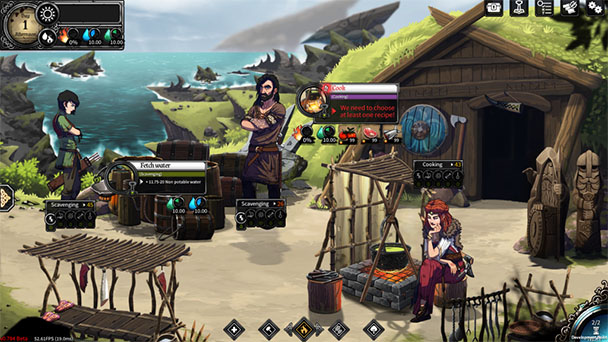 Wisely, Dead in Vinland doesn't frontload its early hours with long stretches of exposition, gradually revealing pivotal events in the eccentric family's past. Some of these occur randomly, and if you're curious about the Viking family, you'll likely have to play through the campaign multiple times, while other tidbits are hidden in menu screens. The downside of replay is that you're prone to seeing the same dialog each playthrough. And while you can speed up each screen of text, you're unable to completely skip previously read conversations. There's also the occasional anachronism that can be detracting, whether it's the use of modern vernacular or a Rolling Stones' lyric in the introduction.
The family's adventure begins with a choice of three difficulty levels, optional checkpointing, and a noncompulsory tutorial. Here, you'll discover that Dead in Vinland's days have three distinct phases. During mornings and afternoons, you can assign a multitude of tasks to the family and any characters who opt to join up. Evenings are a time of retreat, where you'll seek refuge in your makeshift shelter divvying up the incessantly sparse quantity of rations.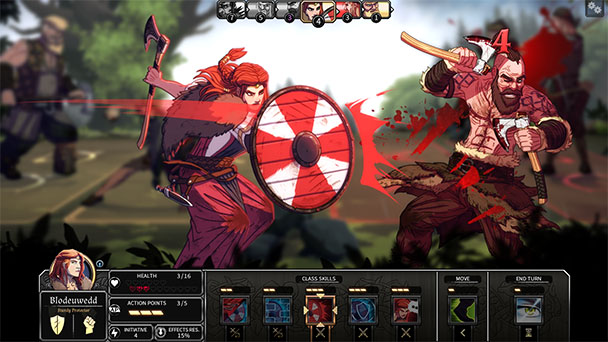 Unsurprisingly, conditions on the island influence the priority of different duties. Typically, food and water take precedence, and you'll need wood to make the river water safe from disease, while you'll likely need to scavenge new areas to maintain enough nutrients and wood for family members to continue working. As you progress, other needs emerge. Building and gardens deteriorate in the harsh island condition, requiring constant upkeep. Rest might become essential. Before long, a bully named Björn Headcleaver and his henchmen make an appearance, expecting players to ante up a portion of their death-offsetting essentials. Like much of Dead in Vinland the decision is yours to obey or oppose.
Pleasingly, there's almost always a strategy to employ. When assigning tasks, characters have different traits, meaning that some will be adept at cooking or fighting while others are handy at foresting. At first, duty assignment is straightforward, but when things inevitably go south, you'll be tasked with picking alternative (and often substitutes for your substitutes). And it's this kind of crisis management that makes Dead in Vinland so intense. While a single imprudent decision won't immediately lead to failure, it will often push you down a recalcitrant path.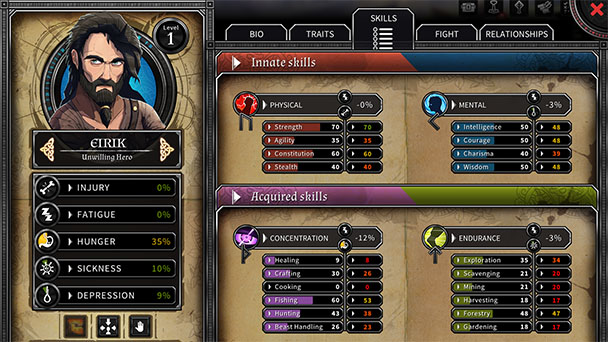 Undoubtedly, failure will arise, considering that adversity is ever-present. While food or water shortages are a constant threat, Dead in Vinland also reaches further up Maslow's Hierarchy of Needs. Beyond hunger, there's fatigue, sickness, injury, and depression. Each is tied to your daily duties, with physically intensive tasks wearing down character and making them susceptible. But it's depression that's the most treacherous killer in Dead in Vinland, with the game issuing a grim announcement that someone took their own life. While it can be a bit crassly handled (a noose is the representative icon), it's a through powerful moment, and one that linger with you after your PC has been powered down.
Tragically, losing one of your four family members ends the game. Although it could delve into dismal territory, it would have been gratifying if Vinland permitted players to continue without a family member. Potentially overcoming seemingly insurmountable odds, this could have been a consummate test of resilience.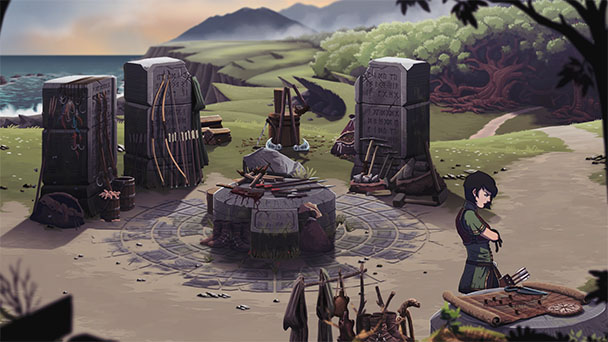 As the need for essentials increases, Dead in Vinland pushed players toward exploration. Of course, this also increases the odds of conflict, with the showdown handled through a turn-based showdown. While combat delivers the essential, with classes and skills goading gamers to use everything last advantage in their arsenal, it's also tuned toward lenience. A win awards items, but losses are avoid being overly punitive, essentially effecting the stats of your Vikings. While the mechanics are straightforward, built around a multitude of role-paying tenets, battles have the tendency to last a bit too long, potentially challenging attention spans.
Vinland's other transgression is the occasional complication with the user interface. Most interactions are straightforward affairs, but there's the occasional command that's confounded by unintuitive design or obscured because an element doesn't appear to be interactive. Spend enough time with the game and you'll certainly comes to terms with the occasional quirk, but know you'll have to focus on the UI as well as the family in the early hours. But save for this peculiarity, Dead in Vinland's other visual elements are proficient, with large character portraits for the family and ten possible recruits, as well as small flourishes like the splatters of blood which punctuate battles.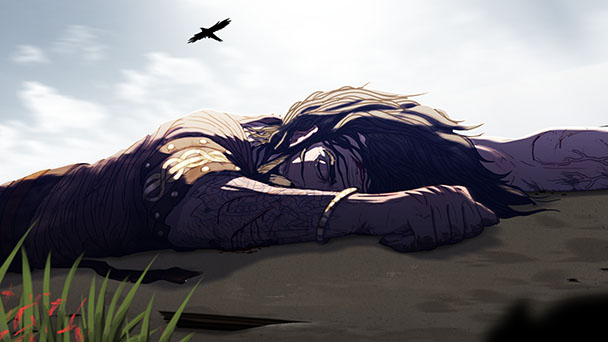 Although there's a bit too much repetition across replays, the first few journeys through Dead in Vinland are marked by tough decisions in an increasingly hostile environment. For players who find pleasure by overcoming a set of seemingly insurmountable odds, Vinland's campaign largely delivers.
Dead in Vinland was played on PC with
review code provided by the publisher. 
Dead in Vinland
Platform: PC
Developer: CCCP Games
Publisher: Playdius, Plug In Digital
Release date: April 12th, 2018
Price: $19.99 via Steam, currently $17.99
Review Overview
Summary : Dead in Vinland pits a family of four Vikings against on island brimming with adversity. If the hardships of survival don't wear you down, then a brute named Headcleaver surely will. A recommended test of resilience which extends competent storytelling.