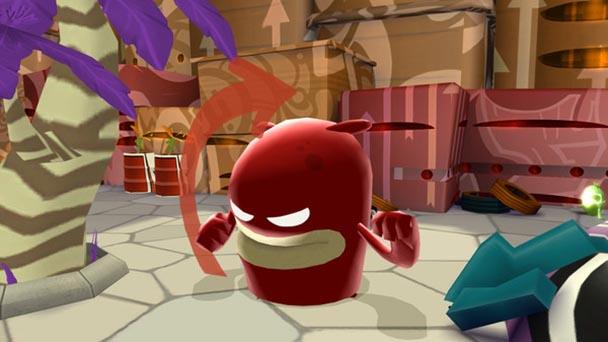 According to psychologist Mihaly Csikszentmihalyi, 'flow' is the mental state a person reaches when they are fully immersed in a task. Commonly known as being 'in the zone', Csikszentmihalyi isolated nine elements that occur when people flow, among them a distorted sense of time, clear goals, and a sense of reward. In the past decade only a handful of video games have truly catapulted this writer into that euphoric, engaged state of mind: the first two Katamari Damacy games, a few top tier first-person shooters, and de Blob. While I've felt different levels of engagement playing other games, these titles have provided a prolonged and complete sense of immersion. Once a Wii exclusive, the playful title has received a proficient PC port, potentially cultivating a new generation of fans.
de Blob's sense of immersion stems from a synergistic combination of elements that are masterfully interwoven. While playing the title, there are always multiple activities vying for the player's attention. Even on the loading screen, players can doodle, or unlock pieces of the game's narrative. Once the player in dropped into the game's city, things open up even more. Players can bounce along streets, instantly adding splashes of paint to buildings, revive trees, confront enemies, or even activate mini-missions. The whole experience seems reverse-engineered around an OCD thought process- there's always some task to complete.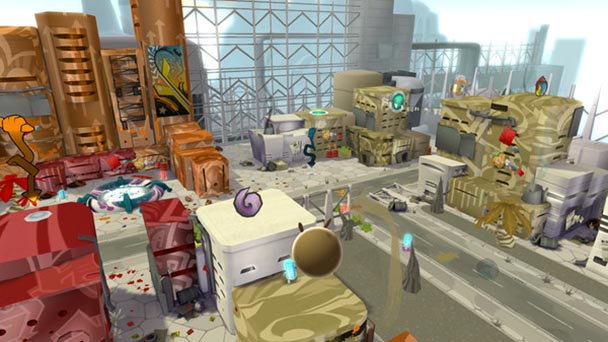 Compassionately, it's also persistantly fluid. Unlike Splatoon, where gamers struggle to lay down a continuous coat of ink, painting in de Blob is almost effortless. Merely making contact with a structure instantly shrouds the entire building in luminous color. As such, tinting a block recalls the spirited wall grinds of the Tony Hawk series, where the slightest graze can produce a plethora of points.
On top of these proceedings is the skillful mixing of sight, sound, and color. As the city grows increasingly vibrant, so does the soundtrack. A simple botched component could have pulled the gamer out of their immersive interlude. In anticipation of this shortcoming, de Blob wisely errors on the side of ease, rarely allowing frustration to tarnish the proceedings or bring the gamer back to reality. When things do get challenging in the sixth level, the game is proficient enough to confront the escalation of difficultly.  Despite the presence of a timer, the title doesn't want to punish the player or slow their progress, but wisely maintains them in an unbroken state of captivation.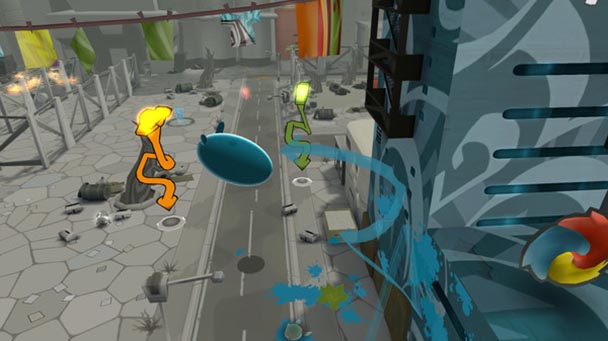 Those who solely play games for deep storylines may be one of the few groups disappointed by de Blob. The games narrative centers around a group of fascist, monochromic invaders named the INKT, who strip Chroma City of its color and life. It's up to the player to return happiness and verve to the city's chromatically deprived environments. While characters are drawn with a nominal complexity, they still display personality and mood. But the bigger issue is that de Blob paints its plotline in such broad strokes, that motivation is mostly driven by unlocking the next stage section.
Whereas owners of the original Wii game had to flick their controllers to make de Blop hop, the PC version eliminates any allusion to motion control. Now, players can move the globular protagonist with the left stick, targeting ink pods or environmental enemies with a trigger pull, and go airborne with a press of the "A" button. While it's possible to play de Blob with the keyboard, it's not recommended. For most, a controller will allow the game's fluidity to shine, as players nimbly navigate around each city.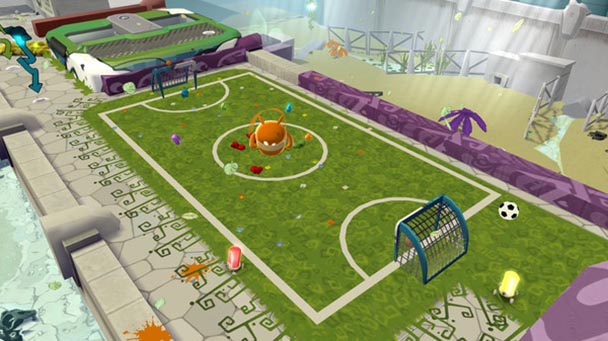 Originally released in 2008, players might expect the PC port of de Blob to look a bit outdated. But Blitworks conversion is particularly adept. Crank up the resolution and set the visual quality to high, and the title barely divulges in age, offering a cartoonish aesthetic that doesn't stray from its sixty frame-per-second output. Sure, the game's camera is still a bit slow, but as long as don't race ahead around corners, it will do a respectable job of framing the action. Sonically, the game offers an array of different musical styles which all grow in complexity as each stage becomes colorized.
When de Blob was released, it was one of our favorite third-party titles, demonstrating a level of quality well above the norm. This PC port recaptures what made the game so fun, making it a recommended purchase for both fans of the original game as well as those who appreciate a rhythmic, rollicking good time. Hopefully, if the sequel also makes it way to PC, the same level of care will be applied.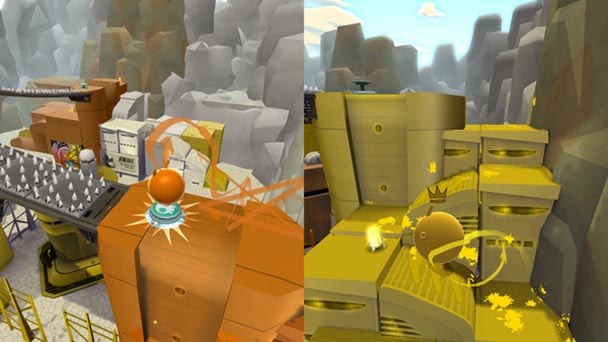 de Blob was played on PC with review code provided by the publisher.
de Blob
Platform:
 PC, previously on Wii
Developers:
Blue Tongue Entertainment, Blitworks
Publisher:
 THQ Nordiq
Release date:
 April 27th, 2017
Launch Price:
 $19.99 via 
Steam
Review Overview
Summary : Even if you're weary of ports, de Blob's appearance on PC is something special, offering a flawless adaptation of this aging Wii classic.