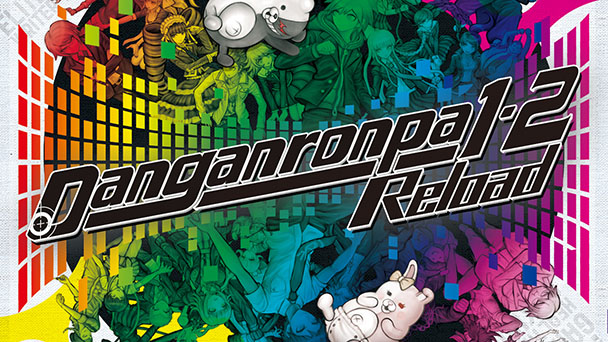 Gamers have had multiple opportunities to become acquainted with Monokuma, the maniacal, monochromatic bear who's presided over Spike Chunsoft's Danganronpa titles. Originally released on Japanese PSPs back in 2010, Trigger Happy Havoc traveled stateside four years later, indulging Western players with a PS Vita port. Critical and commercial approval meant that sequel Goodbye Despair soon followed, with a number of improved mechanics insuring success. After the duology received a Steam port last year, the first two Danganronpa games are headed to the PlayStation 4, bringing Kodaka Kazutaka's fascinating character study to another audience.
Trigger Happy Havoc's prologue escorts gamers to the pristine hallways of Hope's Peak Academy- a school comprised of "Ultimate" students- those who have reached the peak of various fields of study. Players assume the role of Makoto Naegi, a protagonist who doesn't match the academy's superlative student archetype. Instead, the teenager is a seemingly ordinary pupil whose performance and interests are more closely aligned with the average. As such, identification with Makoto is easy; he's a congenial, thoughtful character that anyone who has ever felt out of place will empathize with.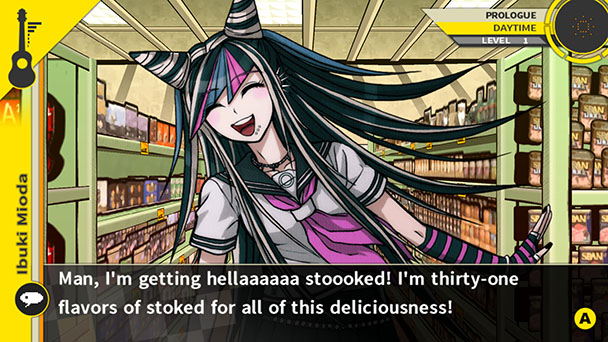 Just as players are setting in for what appears to be a laidback look at high-school life, Makoto and fourteen peers head into the gym, where an announcement is made by the psychopathic, robotic bear, Monokuma. The asymmetrical android reveals to the students that they are trapped in the school for the remainder of their lives. The only chance for escape occurs if students murder one of their colleagues in a manner which avoids detection, thereby setting the stage for an engaging storyline.
Initially, Makoto's cohorts appear to be an inventory of anime/manga tropes. Ultimate Swimming Pro Aoi Asahina seems like the conventional athlete whose athletic prowess and good looks overshadow her cognitive capabilities, while portly Hifumi Yamada is the prototypical otaku- not only obsessed with crafting dōjin manga, but he's also a prolific fanfic writer. Yet, as players venture through Danganronpa's murderous chapters, they'll discover that the game's characters fail to follow their expected trajectories. Offensive students demonstrate sympathetic deeds, while ostensibly innocuous characters divulge unexpected traits. Ultimately, Spike Chunsoft implores players to be suspicious of first impressions, endowing the title with an unanticipated, but admirable moral message.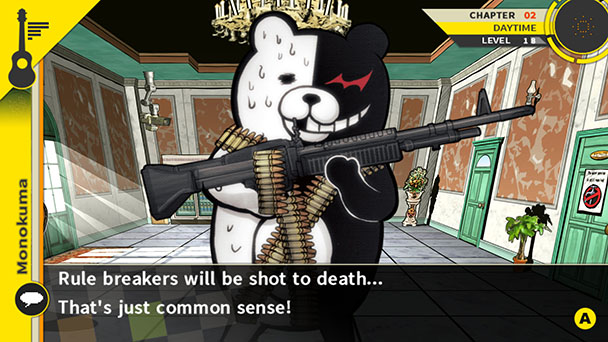 Interestingly, Trigger Happy Havoc is interested in toying with player investment. Tragedy occurs without the usual foreshadowing that can dilute impact. More importantly, the title is smart enough to ensure than anyone is fair game, creating the opportunity for real surprise. As such, do yourself a favor and try to avoid any spoilers, that might the meticulously crafted mystery.
Beyond scouring the school for clues, Trigger Happy Havoc also delivers several additional activities during the class trial phase of each chapter. Here, the title offers its most game-like components, as players participate in timed debates where collected evidence is used to refute the statements of your accused peers. Further mini-games challenge players to shoot letters in an effort to spell out a clue, engage in a rhythm-based debate, and rearrange manga-styled panels to establish the events of murder, offering agreeable reprieves from the verbal banter. Since each of these events is scored, there's an incentive to perform well. Further replay is stimulated through an unlockable mode which changes the storyline as well as a number of the game's tenets.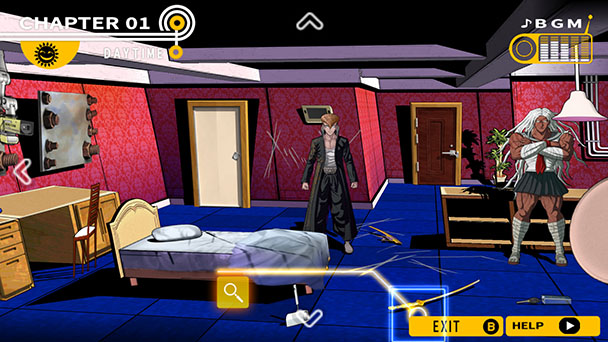 Adeptly, Danganronpa 2: Goodbye Despair makes a number of improvements to Trigger Happy Havoc 's formula. Whereas conceptualizing the architecture of Hope's Peak Academy was made difficult by a disjointed assembly of rooms, Goodbye Despair employs a side-scrolling system as players navigate across a chain of five tropical islands, known as Jabberwock. The shift in setting also gives the title much more breathing room, allowing large venues which wouldn't fit inside the confines of the original context.
Although the option to fast travel exists here as well, the game deftly discourages use of the system via two different systems. The first is the integration of an experience level. As the game's protagonist walks or runs across the island, he increases his health and focus- two capabilities which influence the challenge level of Goodbye Despair's mini-games. Secondly, each step feeds into the game's Tamagotchi-like device, which if the pet is pampered properly, gives presents that players can use to build rapport during the game's Daily Life episodes.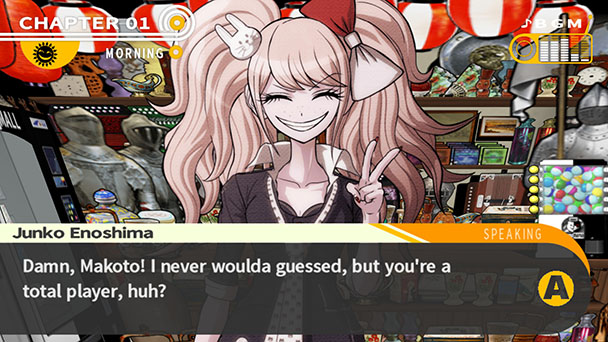 Eventually, the serenity of these sections is interrupted by violence and when a body is discovered the game plunges players into Deadly Life- where the objective collect evidence. Once the crime scene has been scoured, each chapter concludes with a Class Trial, which are noticeably longer than Trigger Happy Havoc's tribunals. Mechanically, these are the highlights of the experience, with metaphorical mini-games representing the construction of judicial arguments. Previously known as "Bullet Time Action", the shooting action of "Panic Talk Action" now offers syllogisms that are consistently sound, leading to less confusion and fewer repeated attempts. "Rebuttal Showdown" tasks gamers with cutting through testimony with screen swipes and button presses, an activity that's enjoyable once gamers grasp the basics. Clearly the game's highlight is "Logical" Dive, a snowboarding like diversion where players have to steer down a symbolic path filled with branching questions and logic gaps.
When Spike Chunsoft developed the first two Danganronpa games in 2010, the idea of future-proofing a game wasn't prevalent in the industry. As such, Danganronpa 1•2 Reload's visual delivery occasionally reveals its age. While the attempt to upscale the art assets is commendable, bits of pixelation or overly soft images can dampen the experience. On the upside, both games have been given an improved framerate, which really shines when players visit a new venue, prompting an entrancing cinematic where the backdrop is built. But sonically, Danganronpa still shines, offering capable vocal performances in both Japanese and English.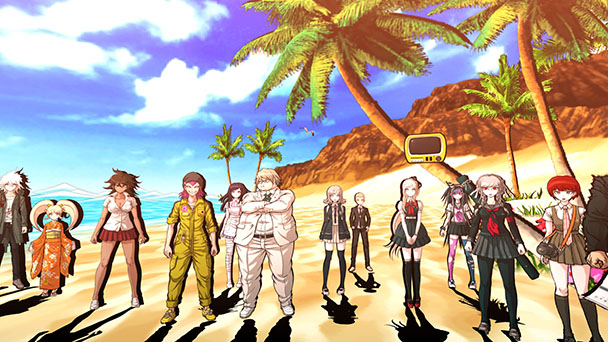 Minor visual blemishes aside, it's Trigger Happy Havoc and Goodbye Depair's writing that elevates Danganronpa 1•2 Reload into a must-play experience. At times poignant, playful at other moments, and sporadically shocking, both games extend character arcs and exposition that converge on the exceptional, offering a gamut of emotion and intrigue. If after all these years, you're still not acquainted with Monokuma, this affordable re-issue makes for an inviting proposition.
Danganronpa 1•2 Reload was played on the PlayStation 4
with review code provided by the publisher. 
Danganronpa 1•2 Reload
Platform:
 PlayStation 4
Developer:
Spike Chunsoft
Publisher:
NIS America
Release date:
 March 14th, 2017
Price:
 $39.99, retail or via PSN download
Language(s):
 Japanese/English voice, English Text
ESRB:
 Mature
Review Overview
Summary : Danganronpa 1•2 Reload unites Trigger Happy Havoc and Goodbye Despair, giving the two title a visual upgrade. If you happened to overlook both the Vita and PC releases, here's your opportunity for amusement and absolution.