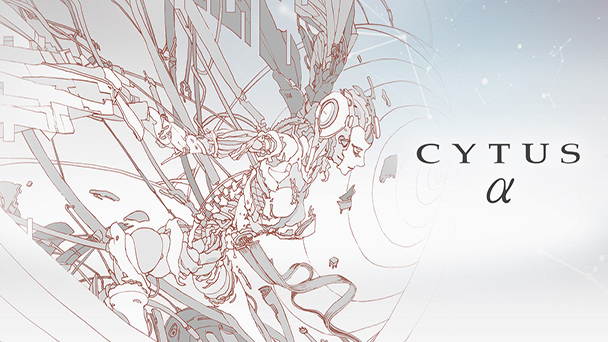 With titles such as Deemo, Superbeat; Xonic, MUSYNC, Voez, Thumper, and Taiko no Tatsujin: Drum 'n' Fun!, the Switch has a multitude of rhythm games. Unsurprisingly, there's some fundamental similarities with each game, with players tapping touchscreens and tapping Joy-Con buttons to ambiguously simulate the playing of music. However, with divergent play mechanics, scoring systems, aesthetic styles, approaches to unlockables, and set lists, each game offers its own distinctive style. As such, preference is likely quite subjective.
But the release of Cytus Alpha (stylized as "Cytus α") onto Switch brings several design decisions that are undisputedly beneficial. Taiwan-based independent developer Rayark Games (creator of Deemo and Voez) has been iterating on the fundamentals for years. Originally debuted as a mobile title is 2012, versions were released for the now-defunct PlayStation Mobile store, as well as arcades. In 2018, Cytus II was released, contributing another collection of songs to the original game's prolific inventory.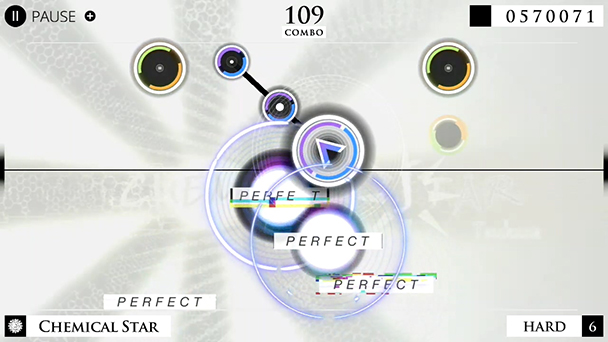 Combining music with from both releases as well as original songs, Alpha's collection of 200 songs is one of the more generous packages around, with only the twin-pack of Hatsune Miku: Project DIVA Future Tone extending a larger assemblage of music. Sure, not all of Cytus Alpha's music is top tier, and you'll find none of the beloved anisongs of Taiko no Tatsujin. But on the upside, you'll find a gratifying collection of styles and influences around the globe, from the syncopated beats of Drum and Bass to kind of energetic bpms and soaring vocals of trance. Every song doesn't have to be a winner when your catalog is so plentiful.
Some titles, like Frederic: Resurrection of Music's on-screen piano keyboard, deilver a straightforward simulation of playing a music instrument. Cytus Alpha's approach is much more abstract, and for some, might be a bit more enjoyable. Play is built around the Active Scan Line, a blank line that moves up and down the screen, functioning like a metronome. Notes are color-coded to indicate whether they should be hit on the up- or downswing. While it could have been confusing in execution, Alpha ensures that there's not too many on-screen notes to confuse players. Also, it's impossible to accidently hit notes in the wrong direction.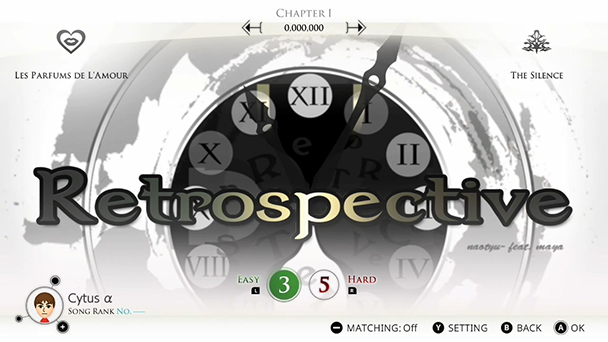 As the Active Scan Line oscillates back and forth, you'll discover three different kind of notes. Click Notes require a single tap, while Drag Notes require you to slide notes in a particular direction. There are also Hold Notes, which require extended interaction, with points accumulated as the iron skims across a multicolored ribbon. Like most games in the genre, you're evaluated by the timing of your input with perfect, good, bad, and miss assessments. At the end of a song, you'll receive an evaluation of your performance and be assigned a ranking. A score of 700,000 is needed to pass, while a million points is considered perfect. Interestingly, on the game's easiest of three difficulty levels, becoming a Million Master (the game's parlance), isn't excessively challenging.
While touchscreen interaction is carried over from the mobile version of Cytus, what's remarkable is now well button-input is handled. Although there seems to be a bit more lenience in timing evaluation, playing with the Joy-Con isn't significantly easier or harder than touch input. This seems substantiated by the game's leaderboards. While individual songs seem to favor one style over the other, on the whole play is split across the two schemes.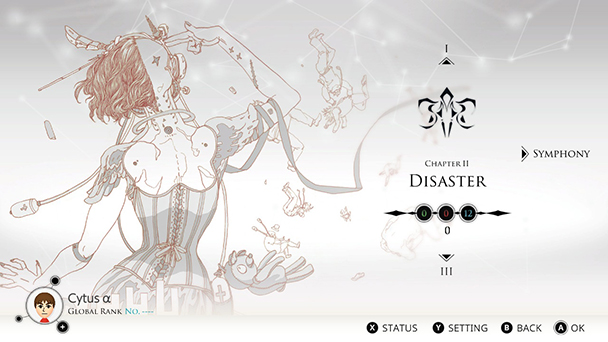 Some rhythm games fill the screen with so much activity, it can be difficult to focus on the task at hand. Fortunately, Cytus Alpha's minimalistic approach ensures that's not an issue during play. Opting for a starkly white playfield where color is mostly devoted to concentric circles highlighting notes, there aren't any extraneous elements to cause distraction. While successive combos are highlighted, the acknowledgement is done in a muted way that's not disruptive. While song's have an accompanying background image, even that is mercifully muted.
Elsewhere, the game employs delicate line art drawings, endowing a distinctive feel to both menus as well as the game's storyline. Told though unlockable pieces, text and accompanying images reveal an ambiguous story of sentient robots long after humanity has lapsed. In order to understand human emotion, the artificial intelligence explores emotion through music. It's mostly text that tends to be divorced from the meaning of each song, but it's a welcome incentive that continued play. Additionally, Alpha locks away chapters of new song, with scores rewarding players with new music. Pleasingly, progress is rarely blocked from being unable to reach a score plateau, even if you are rhythmically challenged.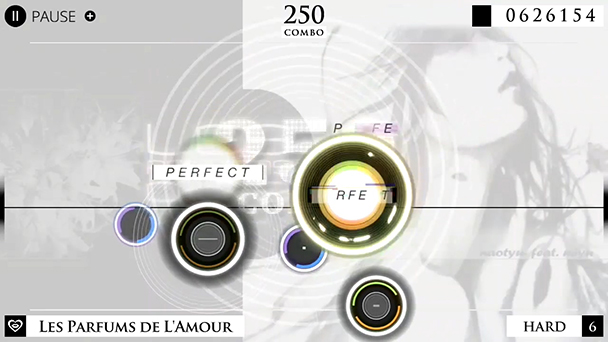 While the fifty-dollar price tag, might give pause, Cytus Alpha provides a lot of enjoyment. Moving across the title's collection of chapters is engaging, with enough incentive to encourage song replay. Matching Encounter is a component that permits competitive-minded players to pit their skills against opponents. Best of all, all the modes are built on really distinctive and engaging mechanics, making the game one of the better selections for genre enthusiasts.
Cytus Alpha was played on the Switch with
review code provided by the publisher. 
Review Overview
Summary : With an expansive song list and play that works equally well with touch or Joy-Cons, Cytus Alpha should be one of the top titles for those seeking to test their rhythmic abilities.