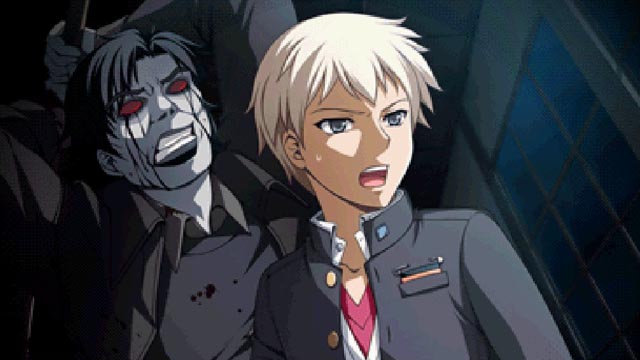 As the Resident Evil, Silent Hill and Dead Space franchises have proven, console games have little trouble ushering fright into our living rooms. Soliciting scares from portables isn't as easy. Beyond a smaller, less immersive screen, handheld systems are likely to be played in locations teaming with scare-spoiling distractions. It's little wonder that Aksys' DS title, Nine Hours, Nine Persons, Nine Doors has been the sole attempt at transportable trepidation on this side of the Pacific.
The release of XSEED's downloadable PSP title, Corpse Party remedies this deficit of dread. Originally a handiwork crafted from the RPG Maker toolset, the title was later ported to the PSP as Corpse Party: Blood Cover Repeated Fear. With a capable translation which retains much of the subtext found in the Japanese iteration (One example- the name of the game's school could be interpreted as "God within heaven"; here it is known as "Heavenly Host"), the title comes recommended to PSP owners seeking a brooding, protracted, and steadily haunting experience.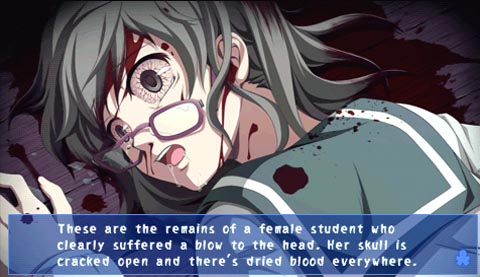 Admittedly, Corpse Party's commencement is a substandard ambassador for the remaining nine hours of gameplay. The title's introduction adheres to standard horror trope as players are told of Heavenly Host's ghastly history. As one of the game's students explains, the high school was rebuilt following a series of kidnappings, murders, and unexplained deaths. Oblivious to the chance of any residual malevolence, a character proposes a mystical ceremony to forge an everlasting alliance between the parting circle of friends. An ensuing earthquake produces a contradictory consequence- scattering the students across a multitude of dimensions which recall the unsettling classrooms and hallways of the original school.
Initially, Corpse Party's cast of characters faithfully follows anime cliché. Seiko is the perpetually cheerful schoolgirl with a crush on her best friend. Satoshi is the kindhearted, slightly shy, older brother, while Yui is the obligatory hip teacher who is accommodating enough to allow her students to practice occult rituals. Yet, as players take turns controlling a separate protagonist through each of the game's five chapters, each character reveals enough backstory to foster a sense of empathy. With errant decisions often leading to a student's violent demise, identification with Corpse Party's school-age protagonists is vital. Fortunately, the game's believable dialog helps bolster the game's tragedies and even post-mortem discourse reveals character's aspirations.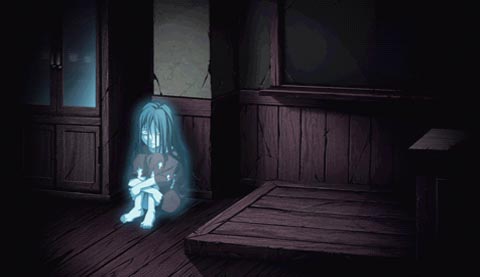 The PSP's inability to generate complex three-dimensional environments rarely impedes Corpse Party's ability to generate the sense of imminent misfortune of the sporadic jump scare. Instead of relying on visual finesse, the title's verbose descriptions, fleeting illustrations, and exceptional sound design allows players to imagine a horror far worse than even now-gen consoles allow. From rerecorded voice acting (which reveals a range of sufficiently bloodcurdling shrieks), audio effects which express a barbarity and blood flow with sickening clarity, and binaural delivery which simulates sound in a three-dimensional space, the game is an acoustic pleasure.
The title's gameplay merges role-playing roaming with the engagement of a visual novel. Using the directional pad, players move their diminutive, characters sprite through the game's ever-changing environments- scouring locations for the necessary tool which enables access to unexplored areas. Although protagonists enigmatically have a HP gauge, combat is absent, with peril emanating from faulty decisions. As such, there's only a single path to Corpse Party's advantageous ending, encouraging gamers to save at every presented opportunity. Regretfully, this means that players will be repeating tasks and hearing conversations more than once. Ideally, the game would have allowed players to continue after a character's death, like in Heavy Rain.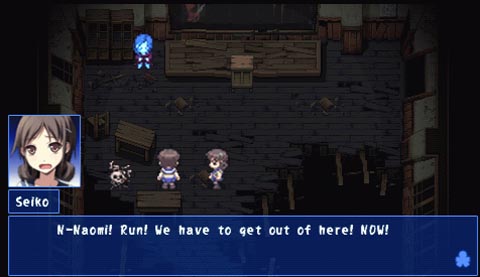 While Corpse Party main offer the most basic in game mechanics, the title does dispense a brilliantly ominous plotline likely to seep under the epidermis of the most thick-skinned player. As long as potential purchasers are comfortable with the game's minimalistic delivery, Corpse warrants a place in the digital library of every J-horror loving PSP owner. Just be sure to play the game in a darkened room with a set of quality headphones on for a sufficiently skin-crawling experience.