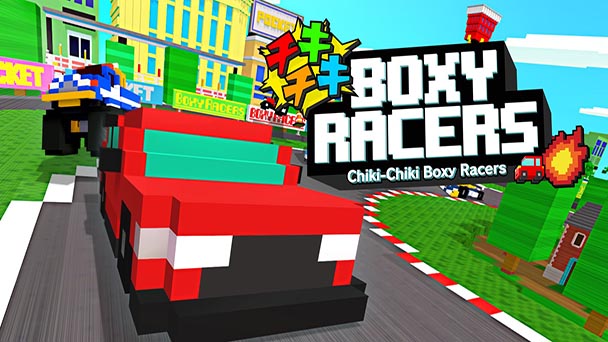 Today, racing games typically simulate driving exotic, prohibitively expensive real-world vehicles. But that wasn't always the case. The eight and sixteen-bit eras had a number of high-profile properties that revolved around contests with toy cars. From R.C. Pro-Am to the Micro Machines and Choro Q franchises (renamed to Penny Racers in the West), enjoyment sprang from steering diminutive little speeders across tracks that often looked built from miniature parts. Each title was built around accessible, arcade-influenced controls, rather than anything that resembled staunch realism.
Published by Unties, a division of Sony Music Entertainment, Chiki-Chiki Boxy Racers' voxel-ized output obliquely recalls the output of retro consoles. But save for a control scheme that uses analog control to steer, the title's mechanics and simplified physics feels rooted in the racers of yesteryear. Careening around curves in hot rods, trucks, tractors, and a host of other unlockables is gratifying, especially if you're looking for a quick burst of competition between bus stops.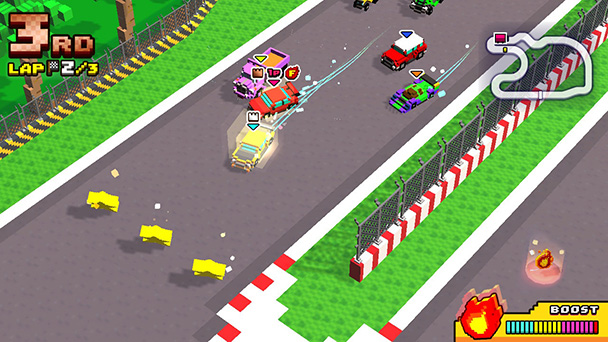 Boxy Racers has two types of control schemes. The Handle method might appeal to traditionalists raised on retro racing games. Here, driving feels like you're operating a remote-control car; pressing left and right turns your vehicle accordingly, and the 'A' button accelerates. The upside is that it's easier to slow down before entering a tight hairpin. Most players will opt for Stick controls, where you push the control stick in the direction you want the car to go. While it might sound less intuitive, after a few laps it becomes second nature as you anticipate rather than react to the track. Another option is the game's camera, which offers different amounts of zoom when framing the action.
Save for Grand Prix races which punctuate each zone, Chiki-Chiki Boxy Racers is short on multi-race competitions, favoring short heats across its fifteen different tracks. Split across City, Jungle, and Beach settings, play resembles rocketing though one of MineCraft's realms, with each locale built out of big, chunky squares. There are a few gimmicks about, from trains that block the roadway to boost pads that will propel you past competitors. For those who need a bit more speed, a button press activates your turbo, which gradually refills during the hurried three-lap heats.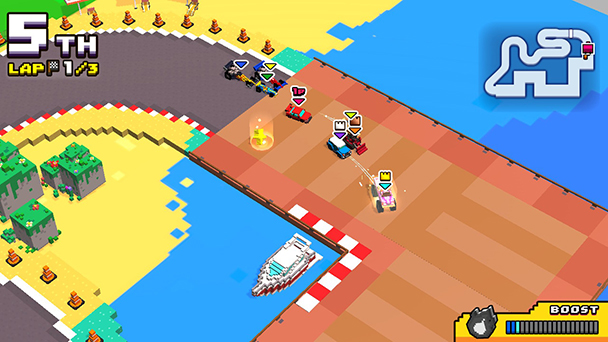 Without any kind of difficulty setting, Boxy Racers leans toward the tranquil and it's easy to get a finish in the top three on your first try. As such, those who blow through games without any interest in replay will only find about an hour or two of recreation. Ideally, the title would have offered the create and share your own tracks, especially since some of the track features, like the aforementioned train, are only used once.
But for those who appreciate collection will enjoy the collectable dividends each winning race gives, with a first-place finish adding a new vehicle to your garage. Differences aren't just cosmetic, with each having a slightly different blend of acceleration, handling, and top speed. New things beat the feeling of owning rivals with a bulky bulldozer.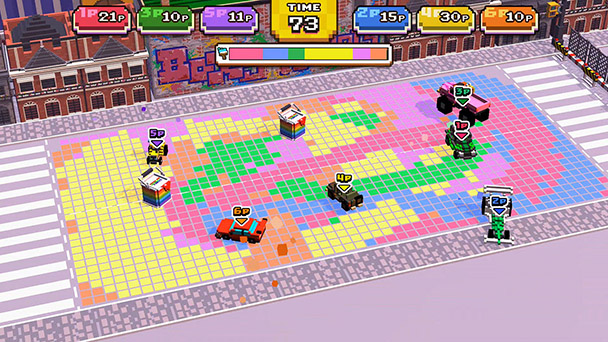 Although there's not a wealth of content in the title, if you're a fan of simplified racing, there's enough gratification to encourage revisiting tracks. Likely, those who enjoy the thrill of rivalry from competitions will extract the most enjoyment from the title. Given the Switch's portability, it's a great way of rekindling the spirited competitions from the Micro Machines series, if you're able to squeeze up to eight people around the console. Otherwise, you can play with other net-based racers, but at the time of the Western release, the severs had few competitors.
Potentially, groups will also uncover short-term amusement from Chiki-Chiki's collection of five mini-games. Called Battle mode, these quick challenges will test your driving skills in unusual ways with events that have you collecting coins, painting the ground, or playing a Sumo-type game where you drift to knock giant blocks off a platform. None of the mini-games will clutch your attention for too long, but they are fun in short doses if you play against some aggressive rivals.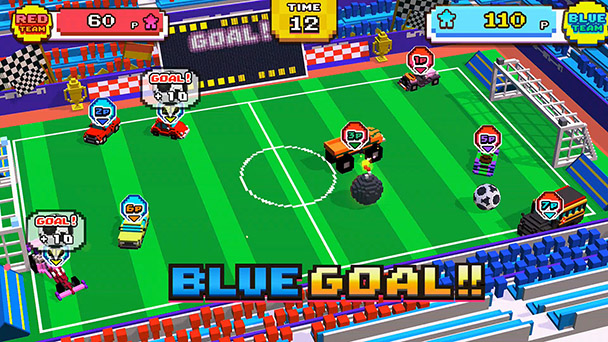 Chiki-Chiki Boxy Racers ambitions are modest. It's a racing game that revels in the gratification of cutting off rivals and gaining advantage by careening across the chicane.  While that might not be enough for dedicated racing fans looking for a robust package, those yearning for simple thrill rooted in retro tradition will enjoy a few laps with Boxy Racers.
Chiki-Chiki Boxy Racers was played on the Switch
with review code provided by the publisher. 
Review Overview
Summary : Chiki-Chiki Boxy Racers draws inspiration from classic top-down racers like Super Sprint and Micro Machines, supporting spirited single-player, local, and on-line competitions across a variety of voxel-built environments.