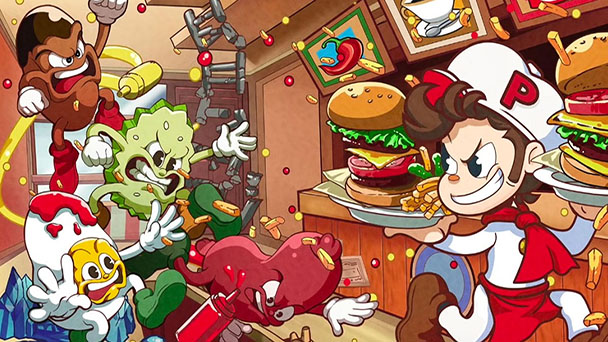 With a cabinet that depicted protagonist Peter Pepper extending an approachable smile and a plump hamburger, BurgerTime probably seemed like just another innocuous arcade game. But dropping a quarter into the coin slot transported players into an unexpectedly nightmarish world. Clad in traditional cooking attire, Peter would commit an act no respecting chef would dream of, assembling giant hamburgers by walking across the ingredients. Just as unnerving were BurgerTime's antagonists, where a pickle, hot dog, and a fried egg, shambled across a labyrinthine playfield of platforms and ladders in persistent pursuit.
The 1982 game became a hit not just because of the surrealistic setting, but also because it was exceptionally entertaining. Enjoyably, you could strike back at the anthropomorphic foods pursuing you, throwing pepper in their face to temporarily stun them. Better yet, you could speed the process of food assembly by letting an antagonist draw close as you scampered across pieces of the hamburger. Time it just right and both the ingredient and enemy would plummet together, descending twice as far. Or you could just crush an adversary with a bun, slice of lettuce, or patty, with vengeance earning you a gratifying score bonus.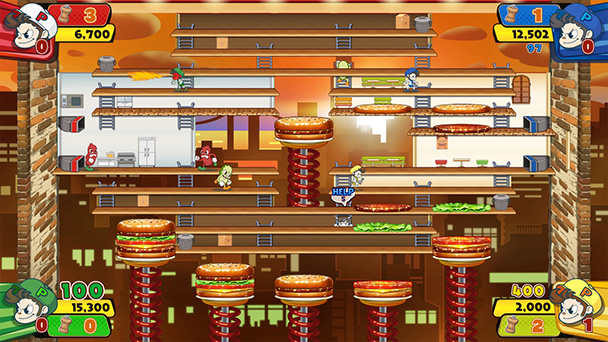 While BurgerTime spurred a few sequels, none of them were able to outshine the eccentric thrills of the original game. With Ikebukuro-based G-Mode purchasing the property from the now-defunct Data East, Switch owners are privy to the latest attempt at reinvigorating Peter Pepper's pursuits, with BurgerTime Party! expanding on the fundamentals of the original arcade game.
Head into Solo Burger mode and you'll find plethora of stages that restructure the essentials on the game into the kind of puzzle-like recreations found in a mobile game. Here, the goal is to earn up to three stars on each level, by meeting scoring targets. For the first twenty stages, Solo Burger acts as a tutorial, demonstrating not just the basics of BurgerTime, but also the additions found in this game.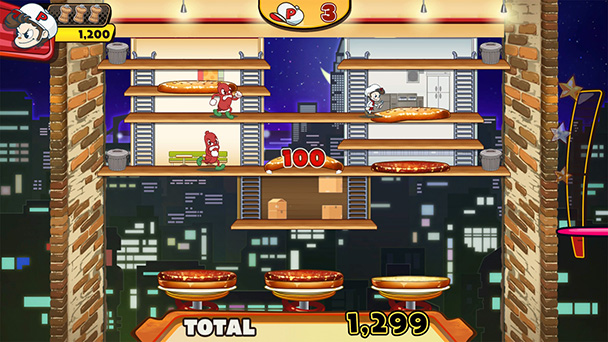 From pathways that crumble when a character is on them for a few seconds, to icy walkways that propel you along, and even color-coded teleporters, BurgerTime Party! incorporates a number of classic gaming rudiments. None of them notably improve the basic formula, but they at least add variation. Purists might condemn the modernization to a beloved classic, but the mode compels gamers to cultivate a skillset, ultimately coaching them to be better burger builders.
Likely, you'll need those proficiencies when heading into Main Burger. Here, stages still feel like subsets and deviations of the main game. But you're able to tackle the puzzles with up to three local partners. While that might be a hurdle for individuals with busy schedules, Party! lives up to its moniker with friends. Here, the game exposes a rather engaging formula with some participants attracting enemies into areas so they can be lured onto ingredient traps, BurgerTime proves to be a hearty camaraderie builder, rather than just a turn-taking competition.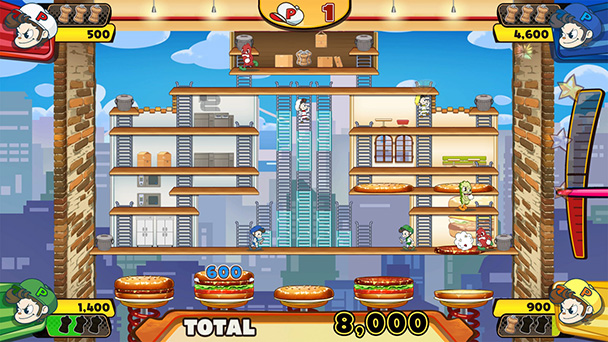 This is also realized in Burger Battle, which adopts a Pac-Man Vs. approach to play. Up to a trio of players can be Pepper Brothers or enemies, as long as the number of participants doesn't exceed a quartet. Mirroring the set-up of Pac's multiplayer reworking, it works best as an asymmetrical experience, with a trio of allies trying to take down a human individual. While the inclusion of abilities tied to cool-down meters certainly aims to boost longevity, the requirement for local play is limiting. It would have been great to see G-Mode run with the idea and create online team-based tournaments.
Effectively, the only real online element is found in Challenge Burger mode, with the incorporation of leaderboards. This is closest where BurgerTime Party! comes closest to recreating the play of the original arcade version, with enemies in doggedly chasing players as they attempt to build burgers across a succession of larger stages. It's definitely an indispensable inclusion, as the other modes deviate from the basic formula, although I feel some might have enjoyed seeing the arcade version as an unlockable.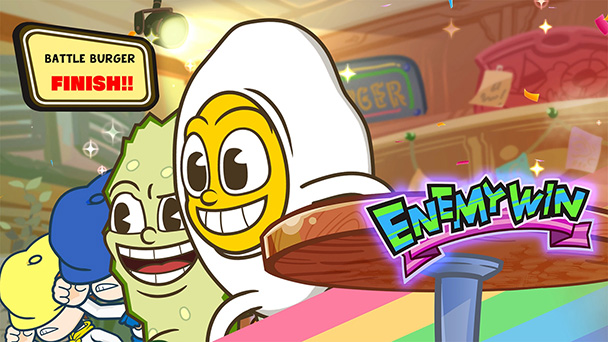 Visually, BurgerTime Party! updates the pixelated look of the Eighties game, offering a style that recalls the look, but not quite the fluidity of Fleischer Studios animations. Expect a younger, pluckier, and more relevant Peter Pepper, and ever-following foodstuffs that don't look quite as creepy. The game's soundtrack is built around a speed-up, remixed version of the song in the original game that plays at the start of stage. While it sets an upbeat cadence for the game, it's largely unremarkable.
Remakes of classic games are often disappointments, overlooking many of the nuances that catapulted them to greatness. BurgerTime Party! largely evades that failing, building on the enjoyable elements of the title. It's best enjoyed by those seeking multiplayer-based amusement, although individuals should find enough content to not feel like a purchase left egg on their face.
BurgerTime Party! was played on Switch with review code provided by the publisher. 
Review Overview
Summary : BurgerTime Party! reduces the creepiness and eases the intensity of the 1982 arcade game. Thirty-seven years on, it's still a lot of fun, outshining some of full-priced, heavily marketing titles on the market. This is the rare burger that remains fresh and enjoyable decades later.