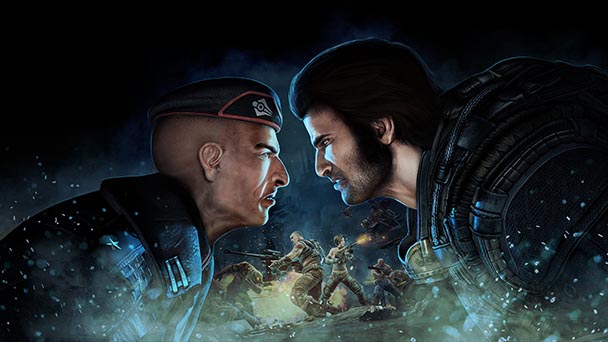 Although first- and third-person shooters can be delightfully immersive, there's a time when circle-strafing and cover-based mechanics can become a bit tedious. Through the late 2000s, a number of developers injected a bit of innovation into FPS formula, with Total Overdose: A Gunslinger's Tale in Mexico, Wet, and Bulletstorm each adding a number of spirited, over-the-top additions. Accomplishment meant more than just eliminating your opponent. Instead, each title challenged players with creating the most ostentatious chain of carnage possible. Unfortunately, the trio of games only achieved middling to moderate success, demonstrating to developers that deviation can be risky.
With the publishing of Bulletstorm: Full Clip Edition for the PlayStation 4, Xbox One, and PC, at least one of these imaginative titles is getting another shot at commercial success. But with the game's showcase supplement accessible only to pre-purchasers, a general shortage of new content- all exacerbated by a full-priced release, there's the chance that Bulletstorm might misfire again.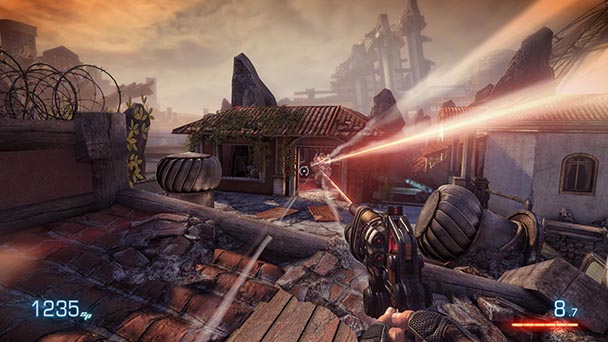 Six years ago when the original Bulletstorm was released, the game made an impression with its salty dialog. Head into Full Clip and you might find that some of shock value has waned over the years, but the game's audacity is still likely to inspire a laugh or three. Players assume the role of Grayson Hunt, a boozing, impulsive lead, who is embittered by the betrayal of a Star General. When Hunt spots the ranking office's battlecruiser, he makes a reckless decision, attacking and ramming his ship into the larger vessel. The impact send both ships crashing to a former resort colony, now overrun with bloodthirsty tribes and malicious wildlife.
Unsurprisingly, Bulletstorm's events advance toward confrontation between Hunt and the Star General, but that's not to say, there aren't a number of laughable moments. Some stem from the Hunt's cybernetic sidekick Ishi, in the role of straight man, while others arrive when another character launches a string of vulgarities that outstrips Hunt's attempts at obscenity. Occasionally, it can be difficult to tell if the game is lampooning the meat-headed dialog and brute force behaviors of Gears or War and Call of Duty or just aping the tough-guy talk. But largely, the testosterone-driven banter is amusing, if mainly because of the rapport between the voice actors.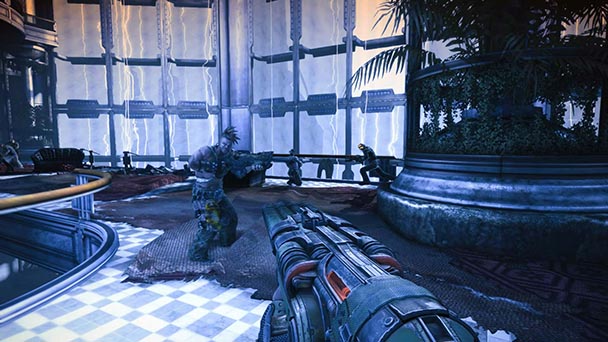 Players who pre-purchased the Full Clip Edition get to enjoy John St. John's performance as Duke Nukem, across a campaign that swaps out Hunt for gaming's favorite misogynist. The downside is that Duke repeats too many lines of dialog, when most players would probably prefer new jokes as they play through the campaign again. Occasionally, the game even pokes funs at its own lack of ambition, with Duke acting bemused when he's repeatedly referred to as Grayton.
Smartly, much of the exposition occurs during the game, instead of pausing the action for protracted conversations, helping to keep the pace lively. And once players pass the prologue, Bulletstorm moves at well, a full clip. Two of the most important elements in your arsenal, a powerful kick and an energy leash are delivered early on, insuring there's no delayed gratification.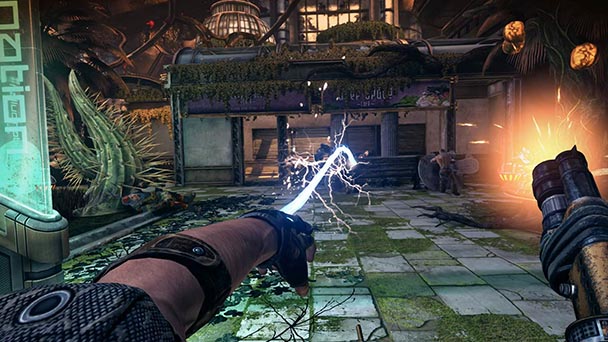 The kick- which can be used to clear debris or launch adjacent enemies skyward, functions as an opening. Give opponents the boot and they'll fly backwards in slow-motion, echoing the overblown impact of a Robert Rodriguez action film. While you can empty a clip into their bodies, it's just as enjoyable to propel them into spikes, or explosives. And if your aim is true, you can occasionally trigger a particularly pleasing chain reaction. Your leash works in an opposite manner, reeling in distant enemies and allowing you to exterminate them in all kinds of creative ways. Bulletstorm even names the myriad of methods of killing, and part of the fun is working your way through that macabre listing.
Adeptly, Bulletstorm doesn't burn out early, furnishing a steady string of fantastical firearms. Sniper rifles feature steerable rounds, and when they drill through bodies, players can opt to either maneuver the carcass about or detonate a payload, creating a cloud of pulpy viscera. Later, you'll get toys like a flail gun that fires a pair of bolo-like grenades and or the Bouncer, which launches cannon balls that can potentially explode with every rebound. Between the regular and alt-fire mode, there's a good amount of variety, and players are able to bring up to three different weapon into battle.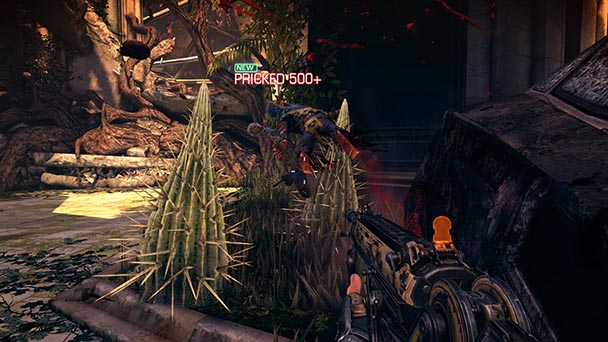 Beyond the main campaign, the Full Clip edition of Bulletstorm adds several new maps to Echoes, a component which extends score-driven gameplay for those who want to chase leaderboard positions. Essentially, it feels like a succinct version of the main game, which might be a bit disappointing for those hoping to at least find enemies positioned in different locations. For those seeking a livelier experience, Anarchy is the way to go. Accommodating up to four cooperative partners, the mode sets score limits across it's twelve maps, inspiring players to work together and chase down collaborative Skillshots. Beat the game once, and you'll unlock Overkill, which gives you access to Bulletstorm's entire arsenal during all parts of the game. Those who already played through the original
Although Bulletstorm: Full Clip Edition received a visual upgrade, players might be disappointed that the transition is a bit of a mixed bag. While environments tend to look better, revealing a nice amount of detail, character models weren't given too much of an improvement- with Ishi looking woefully last-gen. Although the game targets a sixty frame-per-second output, during intense sequences, fluidity can falter. It's usually not enough to hamper precision, given the game's forgiving aiming and large character models, but it is enough to dampen the delivery.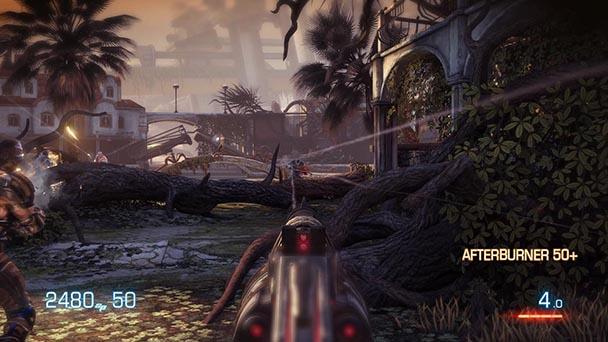 While it's exciting to see Bulletstorm receive a high-definition makeover (especially since the original PC version still contains those damn Games for Windows Live hooks), the Full Clip Edition is slightly hard to recommend. Yes, the game is still amazingly fun and sporadically funny, but a dearth of new content accompanied by a full-price launch means that most players will want to kick around the idea of waiting for a price drop.
Bulletstorm: Full Clip Edition was played on the PlayStation 4
with review code provided by the publisher. 
Bulletstorm: Full Clip Edition
Platform:
 PlayStation 4, Xbox One. PC
Developer:
People Can Fly
Publisher:
 Gearbox Publishing
Release date:
 April 7th, 2017
Launch Price:
 $59.99 via PSN, XGS, $49.99 via 
Steam
Review Overview
Summary : As upgrades go, Bulletstorm: Full Clip Edition is serviceable. The game remains as enjoyable as it was when it was released in 2011. While the visuals have been given a slight improvement, it's not quite enough to justify a full-priced purchase.