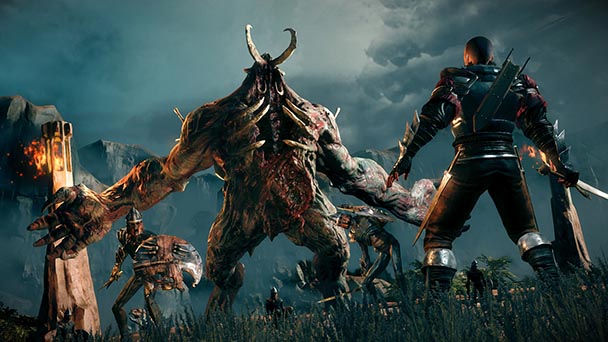 Most studios with a twenty-person team wouldn't dare to tackle the type of expansive role-playing experiences offered by gargantuan developers such as BioWare, Bethesda Softworks, and Blizzard Entertainment. Yet, Paris-based Spiders has never seemed to let their diminutive size restrain their ambitions, delivering sprawling adventures like Faery: Legends of Avalon or Mars: War Logs. The release of Bound by Flame unto the Xbox 360, PC, PlayStation 3 and 4 platforms demonstrates the developers most elaborate work to date- a title which blends War Log's tense combat along with the moral quandaries and repercussions of the Fable franchise. But aspirations can often become constrained by uneven execution. This is often the case with Bound by Flame, where the title's cornucopia of components don't always mesh together.
One of the first signs of this disjointedness can be discovered in the protagonist customization menu, which allows gamers to adjust the look of the game's protagonist. After choosing a gender and look from five different face and hair selections, a name for the character is also solicited. Inexplicably, the desired moniker is never used in either text or spoken dialog, with every NPC referring to the player as the default "Vulcan".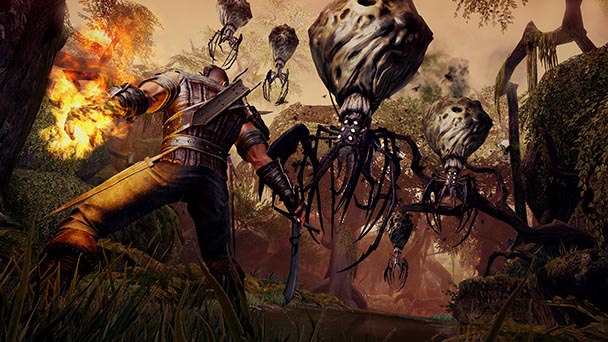 Once players pass this early anomaly, they're likely to find themselves pulled in by Bound by Flame's premise. Undoubtedly inspired by the epic fantasy of Tolkien and Martin, the title finds Vulcan abandoning his vocation as a demolitions specialist to serve as a mercenary in a group known as the Freeborn Blades. As one of the last surviving factions in the world of Vertiel, this militia is entrusted with securing the safety of the Red Scribes- a band of mystics who are resolute on performing a ritual that might just give the Vertiel a chance against the swelling scourge of an undead army. Unfortunately, the ceremony goes awry, with Vulcan's body playing host to a malevolent fire demon.
This incident also serves as one of Bound by Flame's principal tensions, as players determine whether they'll side with the foul fiend or their own merciful tendencies. Listening to the demon certainly has its advantages, filling in a pyromancer tech-tree which endows players with a myriad of ways to engulf enemies. Of course, siding with the sinister creature also has a downside, as the player gradually becomes scarred – even growing horns which prevent donning a protective helmet. Naturally, players can take the moral high road, defying the transgressor, but they'll also be (amusingly) mocked by the malicious beast. demon. Not only will they miss out on abilities which might give them an even hand against increasingly formidable, but they'll miss some of the game's more sadistic sequences.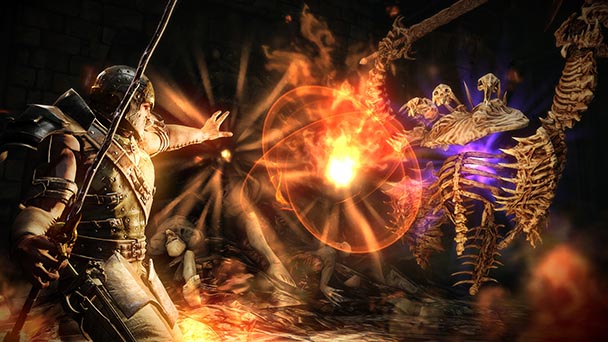 Demon dissonance is an interesting mechanic, but it does little to mask a plotline which ultimately descents into disappointment. Early on the game foreshadows a grand confrontation with a quintet of Ice Lords who are behind the undead epidemic sweeping the land. Yet, the title commonly shirks exhibiting these large-scale battles, and in the end players only confront a single lord. The propensity to abandon the large-scale conflict in favor of smaller skirmishes becomes especially noticeable in the second half of the game. The storyline's irksome ways persist all the way to Bound by Flame's conclusion, which is bound to disappoint players who were immersed by the initial set-up.
Another issue bound to irritate players is the game's linearity. Although a generous number of side-quests present the opportunity to level up, most center on the same type of errand: retrieving an artifact from a specific location. But a majority of these missions are situated in the same narrow spaces as the main campaign, making much of Bound by Flame feel a bit too tightly structured. On the upside, players are given the ability to craft a number of consumables and to hone their weapons toward particular playstyles. Another advantage is the game's fifteen to eighteen hour length, which eliminates much of the back-tracking and filler that are customary for longer campaigns.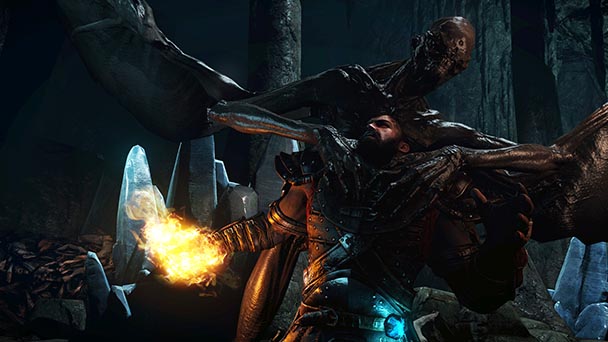 Combat which blends steel-nerved action along with light strategic elements is poised to please players. Vulcan is free to choose from two stances, each with their own tech-trees. The Warrior's approach accommodates two-handed weapons and allows gamers to block incoming attacks. The Ranger's stance allows for a bit of stealth, favoring the wielding of two small weapons and allowing Vulcan to backstep away from danger. Beyond the requisite weak and strong strikes, players can also push foes back- a tactic which works well from both shielded enemies and when using stealth- allowing oblivious opponents to be attacked when they are prone. What's more players can impose harm with crossbow bolts or explosive materials- two tactic which can help to thin out numbers.
Play Bound by Flame on anything but the easiest difficulty setting, and battles will be consistently precarious, as players confront groups of enemies with large amount of hit points and work cooperatively to damage Vulcan. Since adversaries can also knock down the protagonist and inflict additional damage when floored, players are compelled to study the attack patterns of enemies- learning to parry with a well-timed guard. Bosses ratchet up the tension even further, turning conflicts into ten minutes struggles where a single mistake can mean death. Although these bouts can be frustrating, they're also wonderfully tense and act as the obvious highlights of the game.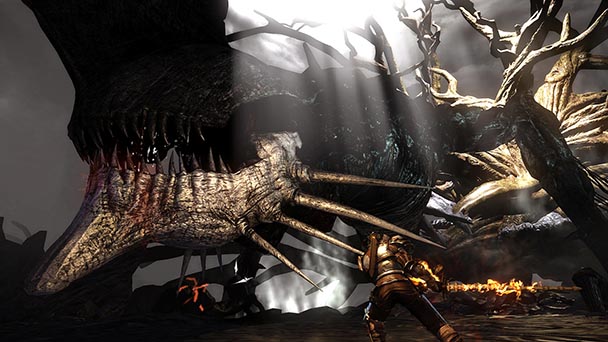 While the inclusion of companions might initially seem to help against the clashes with antagonists, these assistants parish all too easily during battle. Most are crafted with an interesting personality- from an intrepid knight who persistently refers to himself in the third person to a sardonic zombie. Yet beyond these traits as well as the ability to accept commands, companions don't feel very convincing. Too often they get stuck on scenery- and since they can't level-up, be outfitted, or upgraded, they often act as dimwitted damage sponges that take some of the heat off players. Their inclusion is sound in idea but imperfect in practice- especially since your relationships with companions are the main influence of Bound by Flame's branching storyline.
Aesthetically, Spiders' Silk engine (built upon Sony Computer Entertainment Europe's PhyreEngine) proves to be quite adept. Running on a GTX 770, Bound by Flame delivered an unswervingly fluid sixty FPS framerate, which showcasing an eye-grabbing particle effects and an intricate shadow modeling. Although the game doesn't have a large number of enemy types, foes are nicely crafted, well detailed, and nicely animated. Although the game's lip-synching is sub-par and the voice-acting is only adequate, Bound by Flame's soundtrack is quite exquisite, serving a number of haunting melodies destined to linger with gamers.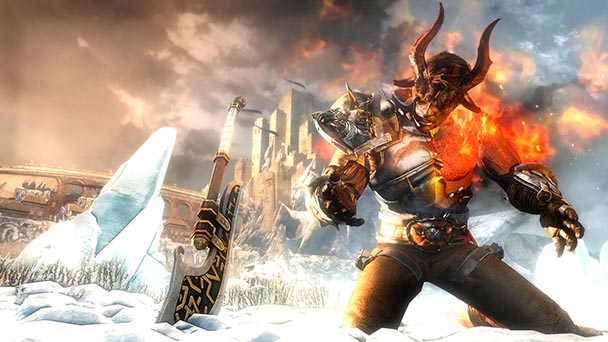 Rooted in an engaging combat model and a plotline which exhibits an absorbing premise, Bound by Flame makes a good early impression.  Yet over time, the title's blemishes become increasingly perceptible, mirroring the demonic destiny on my disfigured protagonist. While the game's discount price of $39.99 USD makes the journey quite tempting, only the most tolerant action-role player will want to purchase the game at launch. A more advisable strategy would be to wait for a few patches, or at the very least, a significant discount.
Bound by Flame was played on PC with a review code provided by the publisher
Review Overview
Summary : Much like Mars: War Logs, the title shows more promise that polish. Less linearity, sturdier and smarter companions, as well as a stronger ending would have helped Bound by Flames.