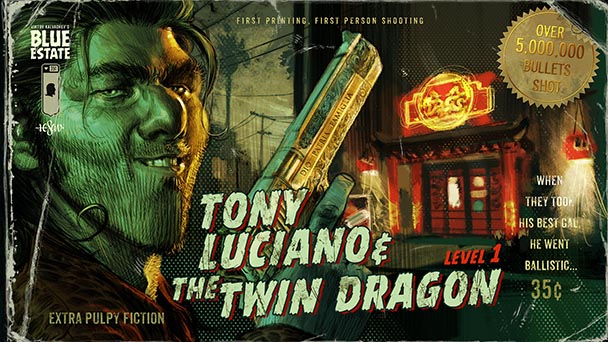 The on-rail shooter genre is a particularly contentious genre. While some take pleasure in the adrenaline rush derived by using potent weaponry to plow through processions of angry foes, others have little patience for linear levels and simplistic play mechanics. Knowing this, the recent port of Blue Estate onto the PlayStation 4 is poised to be especially divisive. With a twenty-dollar price point ($16 for PS+ subscribers) and the ability to use the gyroscopic functionality of the DualShock 4 you already own, the title shirks the typical barrier of entry that's common with many actual light-gun games. Unfortunately, this cost-effective concept comes with at least one distressing drawback, putting a damper on an otherwise engaging ballistic barrage.
Undoubtedly, the game makes a powerful, if pandering, first impression. The title screen flaunts one of videogaming's most hyperealistic derrieres, as a motion-capped character seductively writhes around a stripper pole. Soon after, players are introduced to Tony Luciano, a Desert Eagle-toting, son of a Los Angeles mob boss. Luciano's pulpy voice-over, teeming with a superfluous number of Italian-American stereotypes, might not be exactly laugh-inducing, but his denseness does help to explain his sloppy methods. Soon, the aforementioned stripper- a femme fatale not so subtly named Cherry Popz, is abducted by an Asian gang. Tony charges in- unleashing a barrage of firepower and racist quips in an effort to rescue her.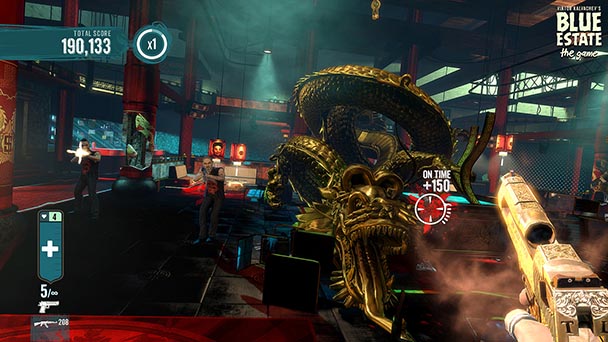 Last October, Blue Estate Prologue was released as a low-priced title on the PC, primarily as a showcase for the Leap Motion peripheral. Assuming that the Kinect would revolutionize gaming, developer HeSaw adapted the mythos of Viktor Kalvachev and Kosta Yanev's comic into an on-rails first-person shooter, where gamers were asked to point their index finger at the screen to simulate gunplay. The main problem was that the Leap Motion wasn't perceptive enough to discern a trigger pull, so gamers launched obscene amounts of lead all over the screen. In execution, the wanton display of collateral damage proved to be more amusing than Luciano's one-liners. Yet, even more comical are the game's surrealistic gags, such as when a faux FBI anti-copy warning appears, and the perimeter of the logo starts exploding like popcorn or the lethal cranium shot which gives a "warning headshot" bonus.
For the PlayStation 4 iteration of Blue Estate, the game's moniker has been shortened, while the requirement for additional hardware has been completely removed. After loading up the 2.5 GB game, players are asked to point their DualShock 4 toward their television for calibration. Once the desired playing angle for the controller is achieved, players press the L1 trigger to lock in the position. After doing this, an on-screen crosshair follows every tilt and turn of the controller. At first, the input method seems quite amazing, exhibiting the fluidity and responsiveness of a light-gun, as players use the right trigger to unload ammo into enemies.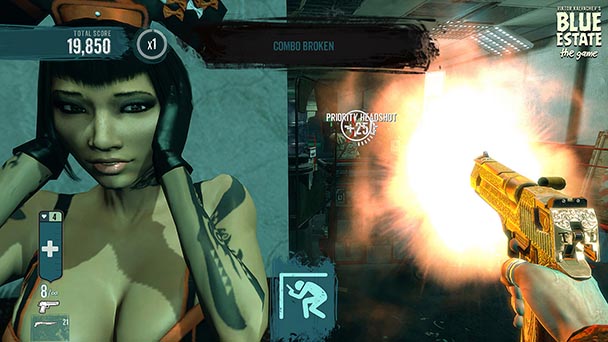 Jumping into the game demonstrates Blue Estate's proficiency at delivering shooting principles. Powered by the Unreal Engine, well-drawn enemies scamper into positions of cover, sporadically taking potshots at the players. Much like the Time Crisis series, attention is directed to elevated threats- who are separated from their accuracy-absent brethren by the appearance of a bright yellow reticule. Allow an expanding circle to fill the diameter of the gauge and they'll fire a shot which removes a hit of health from the player's life meter. Fortunately, Estate give plenty of opportunities to recover your vigor- with quick-time events where players move their fingers across the DualShock 4 pad to seize a rejuvenating power-up.
This gesture isn't limited to health pack collection. Often, gamers will need to swipe their controller to open doors, push back encroaching attackers, or get the hair out of Tony's face. While the joke is funny at the first time, Estate's opening level employs it at least six time more, with each successive occurrence becoming exponentially more frustrating. Most players will be thankful, once they play as Clarence, the game's second, follicle-free protagonist.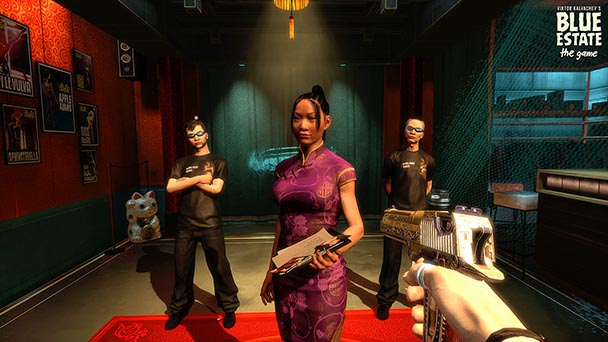 Fortunately, Blue Estate's QTE's don't always feel as punishing. When opponents charge at you with machete and swords, you can ignore the solicited command and dispatch them with a quick shot. Likewise, occasional sequences where players can take cover with the pull of the left trigger, are largely elective. Players that are adept at managing their ammo count can usually eliminate the attacking horde of enemies with having to utilize environmental protection. If the ideal intention of a rail shooter is to be a score chaser than Blue Estate undoubtedly succeeds, giving a myriad of opportunities, from slow-motion icons to giving bonuses from everything from "nut shots" to splintering maneki-nekos.
Which brings us to the game's achilles' heel- the control system needs consistent recalibration. As gamers using a variety of potent weaponry to blast at belligerent crowds, the aiming crosshair becomes progressively less precise, drifting from its original mark. To remedy this players have to quickly place their DualShock is a desired position and press either L1 or up on the controller. Although this can be done during a stage's intermittent cinematic sequences, if you're aim goes wonky in the middle of a gunfight, Tony or Clarence will be at a significant disadvantage. Woefully, Blue Estate doesn't support PlayStation Move controllers, which would have been a blessing for existing owners of Sony's peripheral. If HeSaw ever patches in support, potential purchasers can raise our review score at least five points.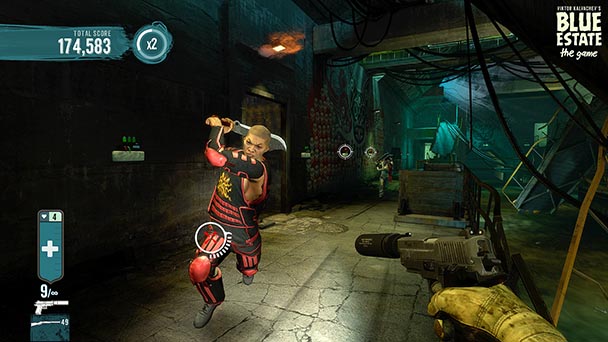 While casual shooting fans can blow through Blue Estate's collection of seven twenty-minute stages in a single afternoon, genre enthusiasts are bound to enjoy the game much more. With each level containing a bounty of potential scoring bonuses as well as the ability to accommodate cooperative gunning, the title definitely has the potential for multiple playthroughs- if gamers can get past the quirks in the control scheme.
Blue Estate


Platform:
 PlayStation 4
Developer:
 HeSaw
Publisher:
 Focus Home Interactive
Release date:
 June 24th, 2014
Price at release:
 $19.99 via PSN, $15.99 for PS+ subscribers
Language(s):
 English
Blue Estate was played on the PlayStation 4 with review code provided by the publisher.
Review Overview
Summary : Fans of the games like Time Crisis and House of the Dead will find plenty of cannon fodder in Blue Estate. Download the demo to ensure the repeated controller recalibration isn't a deal-killer for you.