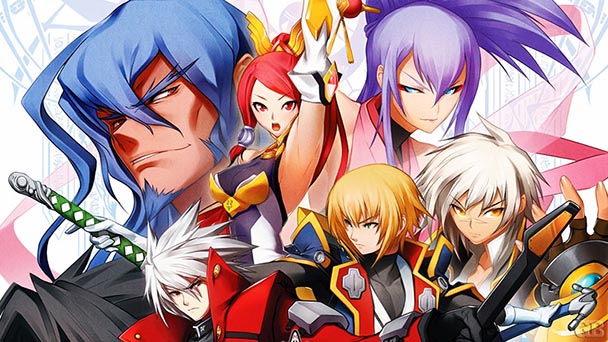 After over two years, the BlazBlue series has finally returned. BlazBlue: Chrono Phantasma (or BB:CP for short) is the latest in Arc System Works' excellent 2-D fighting game franchise. Released just a few short months ago on PS3, the newest Blaz (pronounced "Blaze") now makes its way to the PS Vita as the system's second terrific taste of the Guilty Gear developer's superior fighter. Let's break down what makes Chrono Phantasma far more than just another Calamity Trigger rehash.
First off, five brand new fighters have been added to the roster. Joining the fight are the sinister-looking Azrael, short-shorts sporting Bullet, cross-dressing dancer Amane, story mode unlockable Kagura, and a new variation of Tsubaki Yayoi named Izayoi. There are also two paid DLC characters, as well; Yuuki Terumi, the true form of series antagonist Hazama, and everyone's favorite smart-mouthed cat-girl, Kokonoe. It's a shame these two are $7.99-a-piece downloadable content, because the overall package would have felt far more complete with them included from the get-go. On the gameplay side of things, the biggest game-changer is a new mechanic called Overdrive. When activated, your fighter's unique abilities gain a boost. The lower your health is, the longer the effect lasts. Using a Distortion Drive during this state increases its damage output sizably. Since Overdrive also stops the clock, it can be a great way to snatch victory from the jaws of defeat when time isn't on your side. Lastly, since it wouldn't truly be a fighting game without them, plenty of move and balancing changes have been made.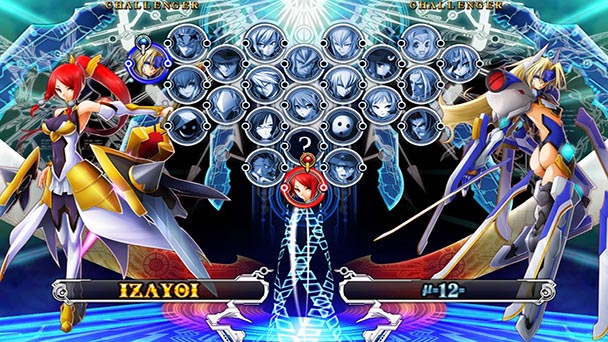 Almost every aspect of the presentation has received a complete makeover. The menu interface, character select screen, and pre-fight load screens have all been completely redesigned with fresh art assets and music. Furthermore, with the exception of two stages, the entire line-up of default battle locations is new. Old character themes have been redone, too. Sadly, not a single one of these "sequel" songs manages to top their Daisuke Ishiwatari counterparts.
One of the reasons why the BlazBlue series lends itself so well to portable systems is because of its strong single player offerings. Chrono Phantasma doesn't mess with success. If anything, it refines the formula even more so. Taking center stage is the lengthy visual-novel-meets-fighting-game story mode. This time, the story offers three different paths to follow through to their conclusions. Additionally, new BlazBlue players can catch up on their lore in the new, Vita-exclusive side-stories that recap the events of Calamity Trigger and Continuum Shift. The eagerly(?) anticipated beach-themed story for the Vita version is a short dud relegated to being a gag reel for said recaps. Fortunately, improvements to the Abyss Mode more than make up for it. For Phantasma, there are ten courses (up from Extend's three), each with their own difficulty and depth. Unlike previous variations of Abyss Mode, stat upgrades stick around after reaching the target depth, making an already addictive mode even better. Chrono Phantasma isn't ready to call it quits on the solo modes yet. Genre mainstays, Arcade, Versus, Training, and Challenge modes join BlazBlue favorites, Score Attack, Unlimited Mars (Score Attack fueled by ten cases of Red Bull and created by Satan himself), and the super-deformed educational series, "Teach Me More, Ms. Litchi!". Those wishing to throw-down with another person can do so via Ranked and Player matches online or through local Ad-Hoc multiplayer.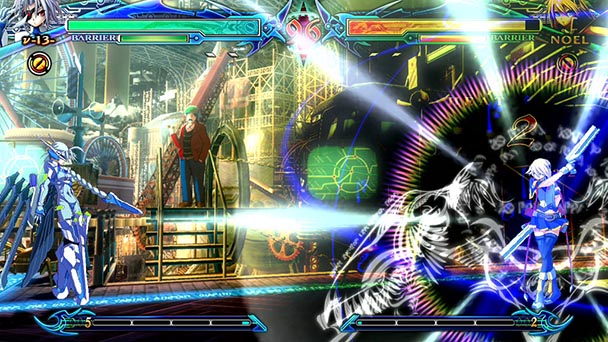 From a technical standpoint, Chrono Phantasma on Vita performs admirably. Most importantly, fights are fast, feverish, and nearly spot-on with its PS3 brother. Slight frame-rate drops creep in from time-to-time, but were never severe enough to sour the overall experience. Online play is serviceable. At the absolute worst, I played a fight with about a half-second delay between button press and action. Load times are a few seconds longer than the PS3 version running with the recommended data install. I did encounter a one-off glitch where the game stalled at the loading screen. With any luck, it was just a fluke. Like Continuum Shift Extend on Vita, the voice over audio and background music of the portable Chrono Phantasma take noticeable hits in clarity. All-and-all, nothing truly major holds BB:CP Vita back, performance-wise.
An area I cannot give a pass to is the DLC. As I noted above, two full characters are locked away solely for the purpose of shaking you down for a few more dollars. It doesn't stop with Kokonoe and Terumi, either. Classic stages, character colors, system voices (the announcer that says "REBEL ONE! ACTION!"), the old Noel Vermillion sprite, and even the original (and far superior) Daisuke Ishiwatari character themes are all behind the paywall. Worse yet, going by the seemingly-uniform 2.4MB download size, it appears that the so-called downloadable add-on content is all stored within the game. The smoking gun of this being that the Kagutsuchi Port stage from previous BlazBlues appears in Noel's Arcade Mode, but is nowhere to be found in the stage select of Versus Mode without the DLC.

In spite of the downloadable content woes, BlazBlue: Chrono Phantasma on PS Vita is a worthy purchase. Its strong gameplay and single player mode variety makes the game a perfect fit with Sony's portable hardware. As long as you can overlook Arc System Works' DLC strategy, don't hesitate to give it a whirl.
BlazBlue: Chrono Phantasma


Platform:
 PS Vita, previously released on PlayStation 3
Developer:
 Arc System Works
Publisher:
 Aksys Games
Release date:
 June 24th, 2014
Price at release:
 $39.99 retail or via PSN Download
Language(s):
 English
Review Overview
Summary : $100+ worth of pay-to-unlock DLC and a lackluster soundtrack mar an otherwise stellar fighting game port. With a beefy line-up of offline modes, BlazBlue: Chrono Phantasma is easy to recommend to those who prefer to fight on-the-go.