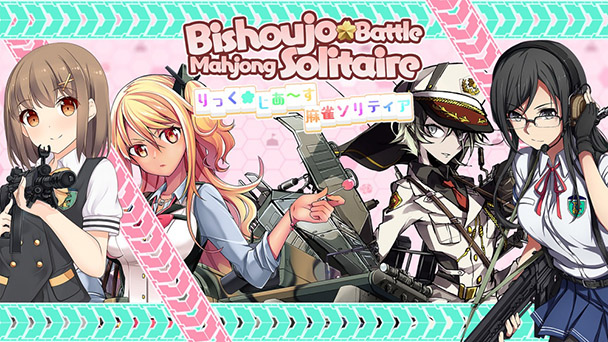 Boosting military maidens and some challenging tile matching puzzles, Bishoujo Battle Mahjong Solitaire is another winner from Zoo/EastAsiaSoft, especially at its affordable price point.
Bishoujo Battle Mahjong Solitaire


Platform:
Switch, PlayStation 4, previously on PC
Developer:
Zoo, eastasiasoft

Publisher:
eastasiasoft
Release date:
July 22nd, 2021
Price:
$5.99 via
Nintendo eShop
and other digital marketplaces. $4.79 launch price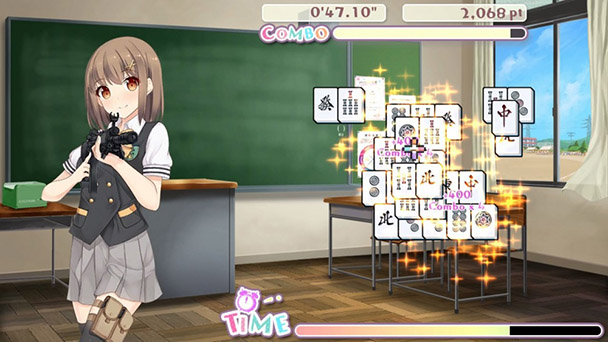 There are few certainties when bargain hunting in the eShop. Sure, Nintendo's digital store has a number of low-cost gems, with under-hyped titles like Dex, Urban Flow, Earth Wars sporadically selling for less than the price of a fast-food combo meal. But there's far more shoddy shovelware than winner when shopping in the five-dollar-and-under price bracket.
One of the few reliabilities has been the ports of Zoo's PC titles, published by EastAsiaSoft. From Bishoujo Battle Cyber Panic!'s solid Qix-inspired gameplay, Pretty Girls Klondike Solitaire's surprisingly efficient interface, and Poker Pretty Girls Battle: Fantasy World Edition competent adaptation of Texas Hold'em, their output has been dependably worthwhile, especially for players looking for accessible recreations with manga-style aesthetics.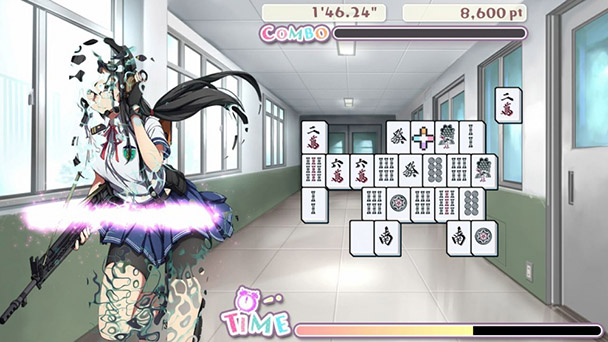 Rhetorical Question: Do You Like Goth Girls Holding Exotic Firearms?
With solid gameplay and eye-pleasing visuals, Bishoujo Battle Mahjong Solitaire is another winner. But if you picked up Zoo's Delicious! Pretty Girls Mahjong Solitaire, know that will feel exceedingly familiar. Like Pretty Girls, this is a competent version of the single-player, tile matching variant, where motivation is rooted in scoring chasing and unlocking portraits for the game's cast.
Eight girls are unlocked from the start, each taken from the Japanese mobile strategy game Rikku☆Jiasu. Every three rounds of play the girls will change attire, typically transitioning from gun-toting poses with their academy uniforms to military fatigues. There are a few nice treats waiting for players, from the perpetually kimono-clad Matsuri Hisai to Karin Kanazawa's santa suit. Beyond representing some of the basic fetishes (schoolgirl, nurse, nun, tank demon), and offering a bit of voice work for successful tile matches, you'll have to find out more about the girls on your own, as there's no biographical data found in the title.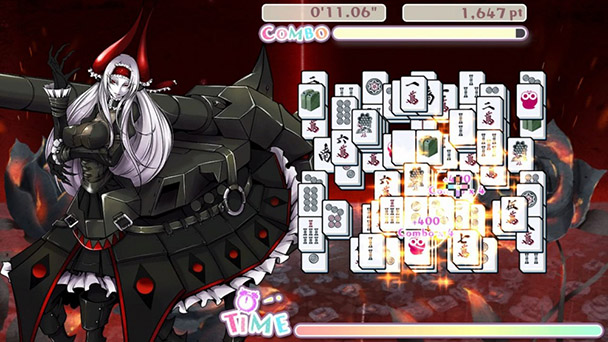 Thinking Several Moves Ahead
If you grew up playing Brodie Lockard's Shanghai or the multitude of clones that illuminated computer and console screen during the eighties and nineties, you might be familiar with solitaire mahjong, which is quite different from the four-player pastime. Here, a solitary player removes two match tiles at a time from a stacked arrangement. Tiles can only be moved if they are 'open', moved to the left or right without disturbing neighboring tiles. Play continues until wither all tiles are removed or the board is locked with no legal moves.
Success often hinges on a forward-thinking removal of tiles; like chess, you'll want to think ahead. In the early era of solitaire mahjong, low resolutions made this difficult with some buried tiles divulging little more than a few corpulent pixels. On Switch, that issue has been alleviated, and there's much less ambiguity with semi-covered tiles.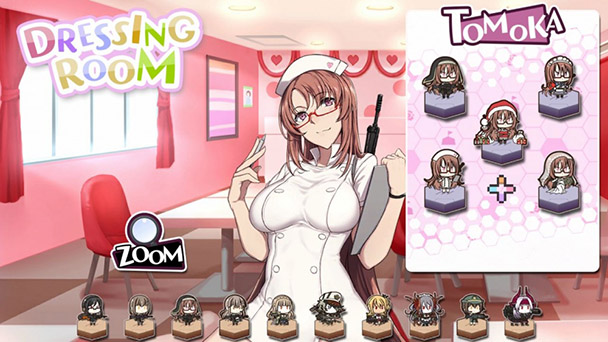 Grab Your Socks and Pause the Clocks, Recruit!
That's a good thing, because on the standard default setting, Bishoujo Battle Mahjong Solitaire is a timed game. There's a gauge at the bottom of the screen that gradually counts down. Fortunately, every tile match returns a few seconds of time. While using the Joy Cons to move the on-screen cursor around is serviceable, players seeking a spot on the game's online leaderboards will want to use a capacitive stylus, like the one that came with Super Mario Maker 2. Alternatively, you can play with fingertips, but expect a few errant tile selections. Fortunately, there's no penalty.
Players who feel that time limits impair play can opt for Bishoujo Battle's Easy mode. Not only is the gauge removed but there are options to show matching pairs and reshuffle the board. While this will help as you make your way through the game's escalating level of difficulty, it also removes some of the tension from the third round. That's where each tile match reveals part of a new outfit for the model, offering a visual treat for players. But for those seeking a challenge know that Bishoujo Battle is a bit tougher than Delicious! Pretty Girls Mahjong Solitaire.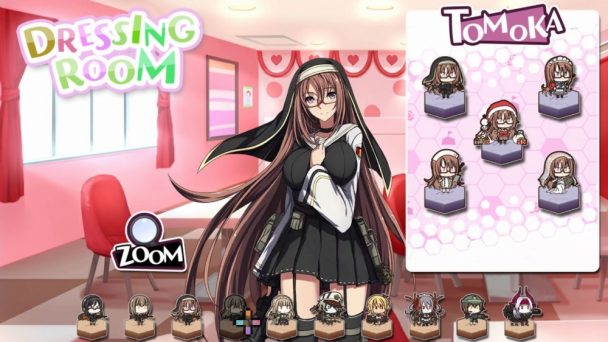 Conclusion
Bishoujo Battle offers a respectable interpretation of solitaire mahjong, offering all the fundamentals you'd expect. What sets this game apart from its peers are the winning aesthetics. Not only does each model bring beauty frontline to each board, but the game's upbeat soundtrack is a rousing success offering several catchy songs. Factor in the game's affordable price, and Bishoujo Battle should conquer the hearts, minds, and eyes of players.
Bishoujo Battle Mahjong Solitaire was played
on Switch with review code provided by the publisher. 
Review Overview
Summary : Bishoujo Battle Mahjong Solitaire offers tile-matching enjoyment hosted by a squad of maidens clad in military fatigues. If either of those appeals sound interesting, there's little reason to avoid enlistment.