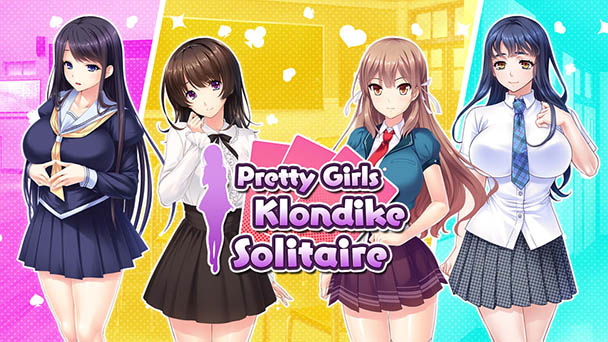 With a roster of ten charming maidens, Pretty Girls Klondike Solitaire attempts to make the traditional single-player card game just a bit less lonely. Like Zoo's previous efforts, it's elevated by attractive visuals, polished controls, and an affordable price.
Pretty Girls Klondike Solitaire

Platform:
Switch, PlayStation 4, previously on PC
Developer:
Zoo, eastasiasoft

Publisher:
eastasiasoft
Release date:
June 16th, 2021
Price:
$5.99 via
Nintendo eShop
and the
PlayStation Store
. $4.79 launch price on Switch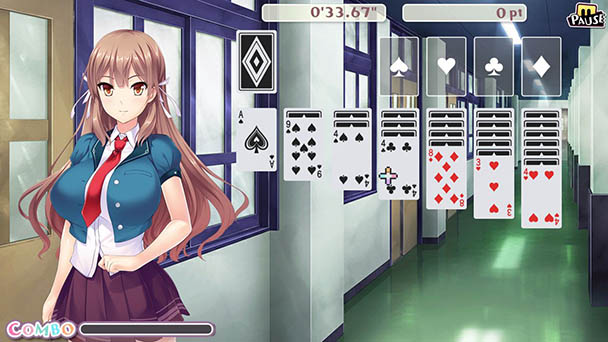 I've never been a huge fan of software-based solitaire. All too often, digital adaptions of Klondike, Spider, and FreeCell, seem like missed opportunities offering little recreational improvement over a deck of analog playing cards. Beyond automatic dealing and clean-up, there are few of the fanciful digressions that make gaming so great.
Pretty Girls Klondike Solitaire's most remarkable addition adds bit of motivation. The game's stage selection screen extends a choice of three difficulty levels and ten curvaceous cuties who will cheer you on every time you complete a level move. Successfully completing a circuit of stages unveils a new portrait for each girl. Unlocking everything which should keep completionists busy for about four or five hours. Some might have appreciated more portraits or a bit more fan-service, as the art is quite tame. But even a modest incentive helps make the game of solitaire a bit more engaging.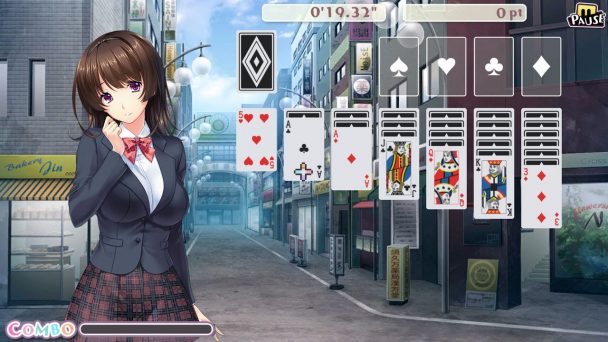 Pretty Girls, Tidy Presentation
Much like Poker Pretty Girls Battle and Delicious Pretty Girls Mahjong, there's not much personality provided to the game's roster. Mostly, distinction is rooted in attire choice with the game favoring both summer and winter schoolgirl selections. But don't expect too much diversity when it comes to chest sizes. Solitaire's cast is almost consistently busty. The artwork is all quite innocuous and never gets racier than a clothing catalog. Those hungry for a bit more variety will find a taste of deviation with a trio of unlockable characters, who sport clothing like paw-print yukata and elvish features.
While not as immediately apparent, Pretty Girls' interface competes for being the most alluring component in the game. Card selections are made with a rainbow-hued crosshair, with a button press automatically moving cards or selecting from the stockpile. There's little no penalty for selecting cards and seeing if the CPU can identify a legal move, making the easiest level quite manageable.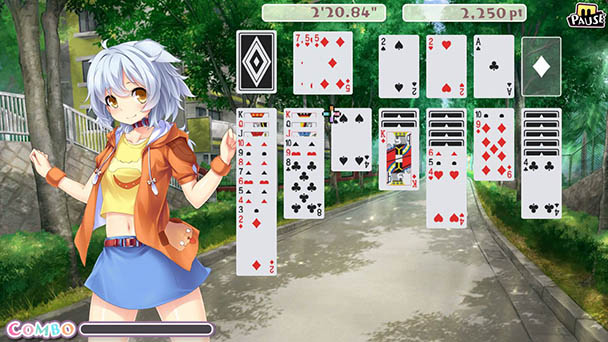 Statisticians state that the chance of winning a game of solitaire is about 30%. Play on the game's Easy difficulty and that figure catapults to the 90s. Hard difficulty changes a rule- drawing three cards from the stockpile at a time. This scales the difficulty rather nicely and brings your likelihood for success closer to reality. Here, you'll have to think a few steps ahead (as well as progress without any assists) which can be a bit of cerebral workout.
Giving Players a Peek
As the title states, Pretty Girls' focuses on Klondike-style solitaire, instead of extending different variations to players. This is the best-known variation of the game, with the name "solitaire" typically referring to Klondike's game rules. Here, seven fanned card piles are laid out, alongside four foundations, with remaining cards forming the stockpile.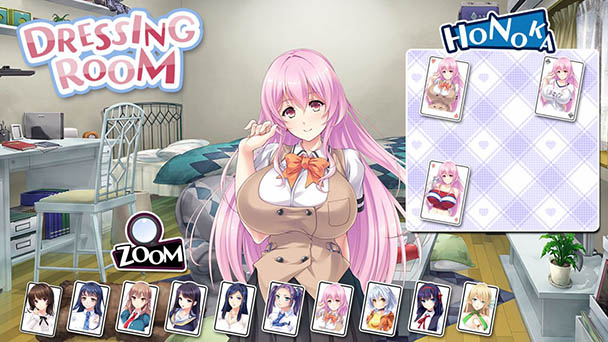 Play advances by stacking cards in alternate colors across the seven piles. Meanwhile, you're also building upon the foundations, stacking cards of the same suit from an ace all the way through king. With accommodating abilities like an 'undo' command, a limited number of reshuffles for all moveable cards, and the ability to expose unseen ones, Pretty Girls Klondikes provide a number of useful options.
There's potential in the scoring system, which awards point every time a card is laid down on the foundations. Lay down a number in quick succession and you'll earn a combo bonus, providing just a bit of incentive for replay. However, the game doesn't provide online leaderboards and only tracks your high score across each level of difficulty, rather than for each individual stage.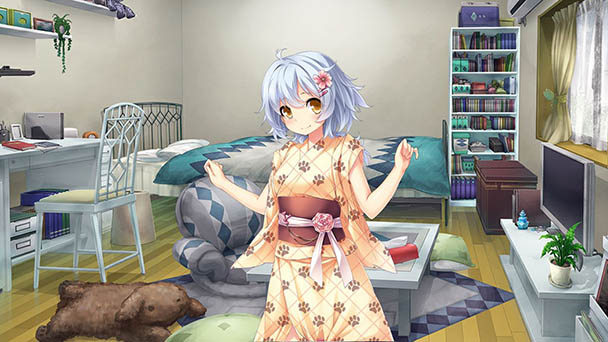 The Queen of Hearts
Although the game's dressing room permits players to view Pretty Girl's well-drawn art, it would have been enjoyable to see Zoo take the idea a step further. Ideally, players would have been able to collect playing cards that depicted each girl clan in coordinating attire, such a queenly crown, diamonds or swimwear with playful heart and spade patterns. As it stands, the Dressing Room feels a bit under-developed since it merely recycles portraits from the main game.
But despite a few forgivable blemishes, Pretty Girls Klondike Solitaire is a thoroughly enjoyable experience. The control scheme is more intuitive and easier than most solitaire rivals. The game's visuals are eye-grabbing, with vibrant colors and picturesque backdrops like swimming pools or quint, tree-lined streets. The game's soundtrack might seem like a better fit for an intense action game, but it helps keep the pace lively.
Even those with only a fleeting interest in Klondike will find enough solitary enjoyment to justify the game's economical price.
Pretty Girls Klondike Solitaire was played
on Switch with review code provided by the publisher. 
Review Overview
Summary : Pretty Girls Klondike Solitaire is another worthwhile adaptation for Switch. For little more than the cost of a deck of cards, the title offers a respectable digital recreation where you're cheered on by a buoyant cast.