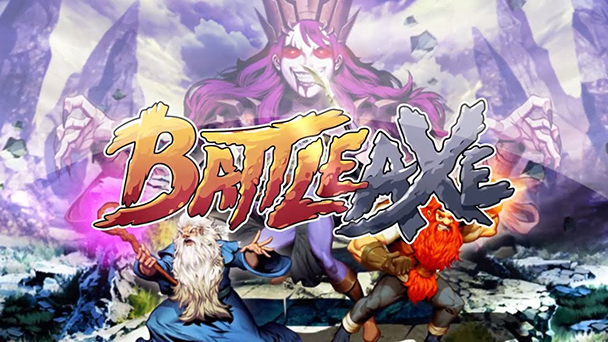 With art, music, and coding by respected industry veterans, Battle Axe in a refreshing throwback to '90-era gaming in every way but pricing.
Battle Axe
Platform:
Switch, also on PlayStation 4, Xbox One, and PC
Developer:
Bitmap Bureau
Publisher:
Numskull Games
Release date:
April 29rd, 2021
Price:
$29.99 via digital download
Availability:
Nintendo
eShop
and other digital storefronts
As the industry grows older, arcade-style experiences are becoming increasingly rare. Sure, there is plenty of enjoyment in pulpy storytelling or an epic adventure that lasts longer than the average workweek. But there's a lot of appreciate about the golden era of coin-ops. From the foundational hook that captures your interest to the gameplay variations that help maintain it, there are a multitude of minor details that went into these games.
While Battle Axe is a contemporary release for PC, Xbox One, Switch, and PC, it channels almost all of the energy of a beloved quarter-quaffing cabinet. It's immediately accessible, and within minutes, the action will likely activate neural pathways dormant since the days of Solder of Fortune, Alien Syndrome, or at the very least, 2019's Xeno Crisis.
Synergy Between Industry Veterans
Like Xeno Crisis, Battle Axe reunites the vast talents of artist Henk Nieborg and the programming prowess of Bitmap Bureau. The former is an industry veteran who has contributed to glorious 2D titles like Shakedown Hawaii to 1996's Lemmings spin-off, The Adventures of Lomax. Here, Nieborg captures the aesthetic of a 90's-era Capcom game. Drawn in delightfully chunky but sinuously animated pixels, Rooney the pirate, Fae the Fighter, and Iolo the fireball-hurtling mage feel like they absconded from CP System II hardware.
Each character zips across the game's four settings, which are slightly circuitous at first, but grow increasingly labyrinthine as players endure. Wisely, Battle Axe's main mode eschews the trend of procedural generation. Every perk-filled (and sporadically trapped) treasure chest and trapped villager is deliberately placed in each level. Often, rescuing the captives involves finding a way to get to them, demonstrating that humans still do a better job than AI at dropping visual clues.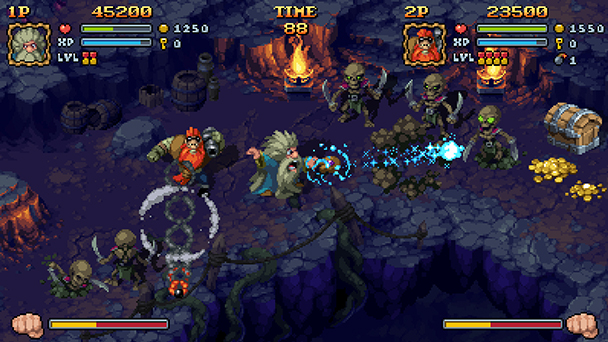 Calloused Fingers Are Possible
Although Rooney, Fae, and Iono have different basic stats and a divergent third ability, each is outfitted with both ranged and melee attacks. With a score bonus based around completion times, players are encouraged to make their way through the game's stages as quickly as possible with the incorporation of a combo meter. This revolves around the persistent pounding of the fire button, as you move to ensure that enemies are aligned with the eight directions of your ranged attack.
Beyond roving enemies that spawn on the periphery, you'll also encounter stationary opponents like monster generators and guard towers. After softening them up with a few shots, bashing them with a succession of brisk melee strikes feels invigorating. Arguably, the game is at its best when destructible barriers are on the playfield. Chipping away at these fortifications feels intense when you have a cluster of creatures approaching from behind.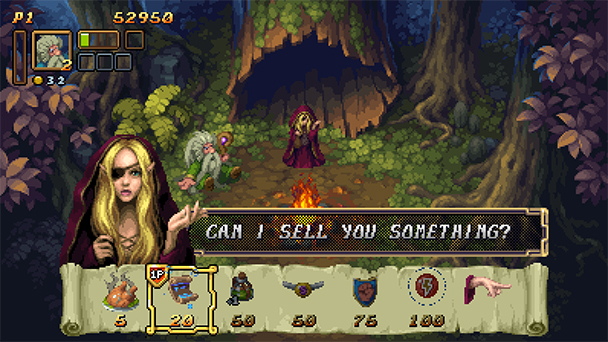 When coupled with the third ability, Battle Axe comes together quite enjoyably. Here, Rooney delivers a power dash that can scorch an entire mob of foes, Fae can ravage with a devasting spin attack, while Iolo can teleport to safety. Each is regulated by a cooldown timer that prevents abuse but resets quickly enough to ensure that the capability becomes an imperative part of your offensive arsenal. Like the best games, that three-second duration before your ability regenerates can feel like an eternity.
Delight Ears with the Signature "Matsumae" Sound
The game's delightful, often parallax-enhanced backdrops are gorgeous. Whether it's the sakura and giant fallen trees that serve as bridges in the sky stage or the lava-filled craters and jutting rock formations in the penultimate level, Battle Axe's milieu are all visual distinctive and awash with bright hues. But the delights just aren't visual. Manami Matsumae's soundtrack channels the spirit of arcade-era instrumentalization, with memorable melodies than convey optimism against near-insurmountable odds. Additionally, a spirited announcer offers occasional interjections, even referencing Gauntlet when a character's life is in peril.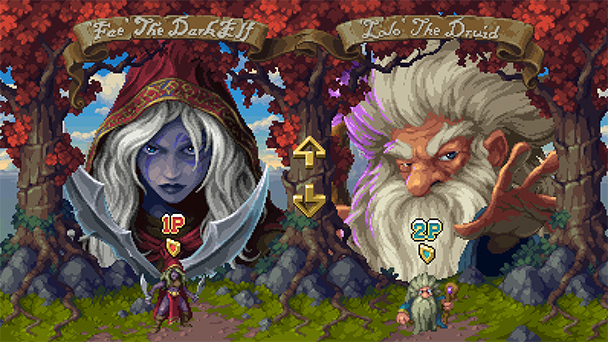 As enjoyable as Battle Axe's trek is, either alone or with a local partner, there are a few minor things that need to be excised. Although you'll quickly learn the where the trigger is for the first boss fight, it's possible to wander a bit and not activate the showdown. On the second stage, there's a visual imperfection that can be observed when smoke appears around a stalagmite. Neither of these are dealbreakers, but they are the type of blemishes that were rare in coin-ops. More pressing is the game's Infinity Mode, which creates randomized stages where the emphasis is on saving villagers is a bit lacking, with little inspiration to keep pressing on.
While contentious, some could argue that the game's thirty-dollar price is a bit excessive. While Battle Axe adds value through additional game modes and offers longevity, proficient gamers will memorize level layouts rather quickly. Ideally, the game would offer online leaderboards, permitting scorechasers to pursue a coveted spot.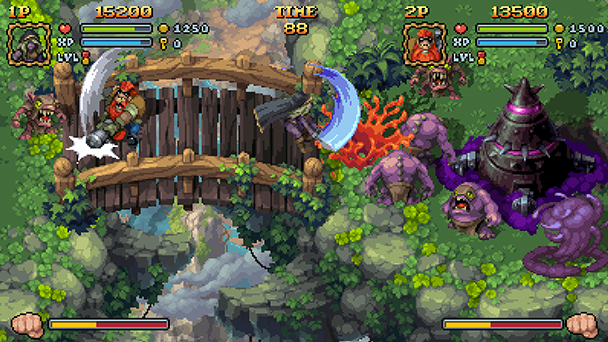 Conclusion
A lovingly rendered tribute to the arcade era, Battle Axe is well suited for pickup and play sessions. Even after completion, there's enjoyment in revisiting Rooney, Fae, and Iono's trek thanks to mechanics inspired by classics. But for some, the game's price tag might seem a bit lofty, especially if they're accustomed to the type of elongated experienced popularized by home consoles. That said, if you're a retro aficionado, the expense might be easier to justify as you're buying a game that feels exactly like an arcade cabinet that has been missing for the past quarter of a century.
Battle Axe was played on Switch with review code provided by the publisher.
Review Overview
Summary : Best played with an arcade stick and buttons that can withstand a constant, vigorous drumming, Battle Axe is an homage to an era when coin-operated cabinets where one of the best forms of escapism around.