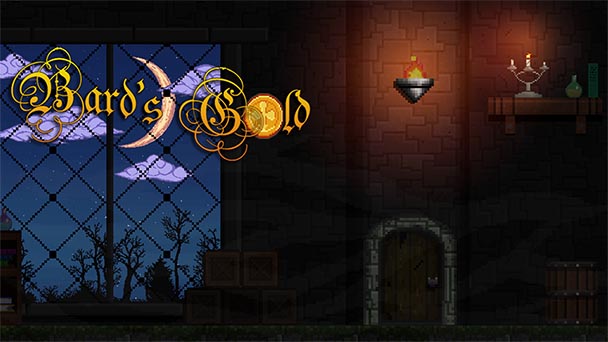 Rogue's gameplay mechanics were far more influential that anyone would have expected.  When the Unix based diversion was loaded onto the servers at UC Santa Cruz and UC Berkeley, a constituency of students became captivated, spurring ports across a variety of home computer systems. But today, the concepts of perma-death, persistence across multiple playthroughs, and learning through failure, are ubiquitous across contemporary gaming, showing up in console and computer games as diverse as Dark Souls, Splunky, and The Binding of Isaac: Rebirth.
That are also at the core of Bard's Gold, a title released on Steam last year, that has more recently made its way onto the Xbox One, PlayStation 4 and PS Vita. While the title might look like an unassuming, indie run-and-jump, there are a number of notable design decisions that help separate Gold from its platforming peers.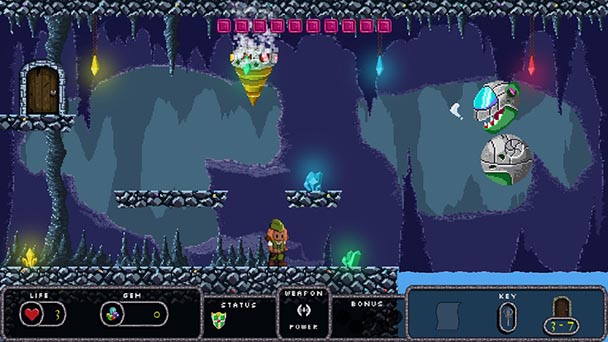 A determination to offer a 'learn as you go', retro-inspired experience is destined to be continuous. Whereas the titles of yesteryear offered supplements like instruction manuals to provide content and guidance, Bard's Gold extends no such amenities. As such, players can expect to be dropped into the game wondering exactly who their fleet-footed protagonist is and what is his motivation. Beyond a fleeting animation on the title screen that shows the wordsmith chasing a mysterious character down a well, there's no exposition to be found.
Likewise, players won't receive any gameplay-based guidance. While the Bard moves nimbly and is able to double jump across gaps, this ability is never signaled to the player. Likewise, collecting any of the aforementioned gems allows the protagonist to purchase single-use and permanent upgrades, but there's no explanation for what each item does. Instead, players are expected to experiment and absorb the title's esoteric elements on their own. For some, this undertaking might be enjoyable since many of the title's ambiguities are rooted in game tradition. But for others, the approach might be off-putting, especially given the trend of hand-holding and inclusion of comprehensive tutorials across most modern games.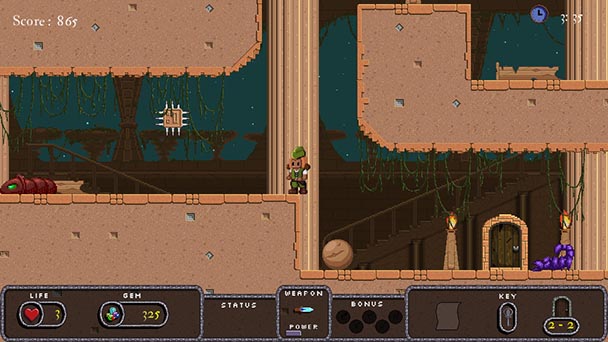 Stick with it, and you'll gradually appreciate what developer Pixel Lantern is aiming to accomplish. Before long you'll adopt a cautious cadence, anticipating floor based pressure-pads that will launch a perilous projectile or a cluster of spikes that will come crashing down from above. Play on the game's Normal and Retro difficulty levels and a single collision with enemy or object will transform the poor bard into a cascade of pixels. For sadists, there's also a Hardcore mode where collisions diminish your health bar, but none of the progress made from repeat play accumulates, urging a single, impeccable playthrough.
Gradually, enemy patterns and behaviors become known, as each of the game four worlds offer their own distinctive milieus and monsters, each realm punctuated by a boss battle. Pleasingly, you aren't empty-handed, with the bard able to fling a succession of short-ranged daggers into adversaries. Progress through each stage follows a static format, with players first grabbing a key before using the item to exit via a door that shifts players to the next stage. Intriguingly, Bard's Gold discourages players from inching their through the game's stages via a countdown timer that releases additional dangers upon expiration.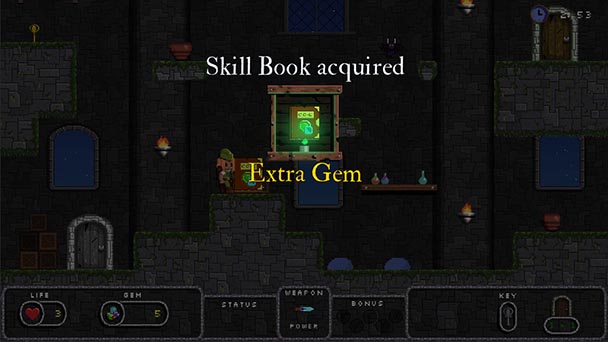 Beyond bonus rooms where an elevated number of enemies can add to your gem count, there are also strategically placed shops that offer a selection of wares to make the expedition easier. From extra lives, a three-way shot, to magic glasses that can reveal the location of secrets, all of the expected amenities are available, and you'll probably need to at least purchase a shield or three to protect you as you learn boss patterns. Across the title's Normal and Retro modes, you get to keep your gems after death, rewarding perseverance across multiple play-throughs.
Visually, the game flirts with old-school charm. The lead character animates well with his flowing tresses and a springy gait, while some backdrops exude details like radiant torches and mossy stonework. Other stages don't fare as well, with pixelated gradients or a scrappy, hand-drawn quality that seems at odds with some of the game's most angular elements. Musically, the title's sound banks complement the fairy-tale like quality of the game, but a few of the compositions converge on the unharmonious.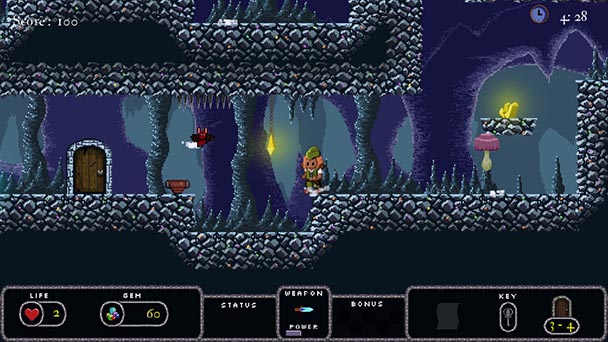 While Bard's Gold might attract players with its persistency and solid platforming, the game's approach and slow progression might also turn off interested parties. On the upside the game is reasonably priced, and given cross-play on PlayStation 4 and PS Vita extends a tempting value proposition in the Sony ecosystem. If you ever lamented why no one has ever tried to imitate the experience of playing Alex Kidd or Wonder Boy for the first time, then Bard's Gold might just be a gilding gaming experience.
Bard's Gold was played on PC with review code provided by the publisher.
Review Overview
Summary : Bard's Gold is decidedly old-school in design and implementation, while adding a number of Rogue-like elements to keep players engaged. It's not for everyone, but those who favor gameplay over narrative should appreciate what Pixel Lantern has crafted.