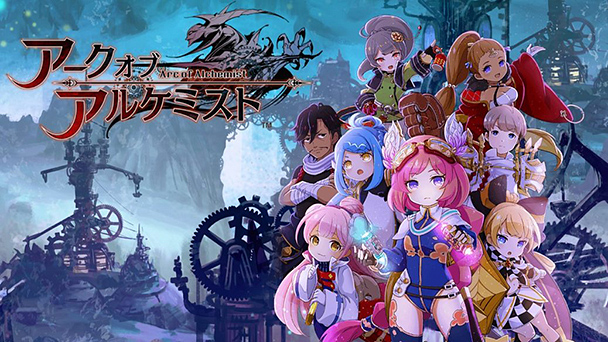 An Encouraging First Impression
Like many Compile Heart titles, Arc of Alchemist's introduction is filled with quaint charms. Accompanying the swells of an orchestrated soundtrack, still images and narration summarize the childhood of Quinn Bravesford. Persistent warfare has damaged her planet, turning the verdant realm into an arid desert pockmarked with carcasses and derelict machinery. But the protagonist shuns complacency, and is driven with find the Great Power, which has the potential to halt an imminent destruction. As with most great leaders, her optimism is infectious, inspiring allies and players alike.
Certainly, the moments that follow also demonstrate promise. Beyond cultivating a party of fellow adventurers, you'll also build a base and set up camps across a five explorable maps. While you'll sporadically trigger cutscenes that move the storyline along, some of the game's best writing occurs when you head back to base. Here, you'll be treated to succinct skits that divulge a bit of backstory or provide motivation. There are often unabashedly tender, like when a stoic reconnoiterer identifies with an abandoned cat.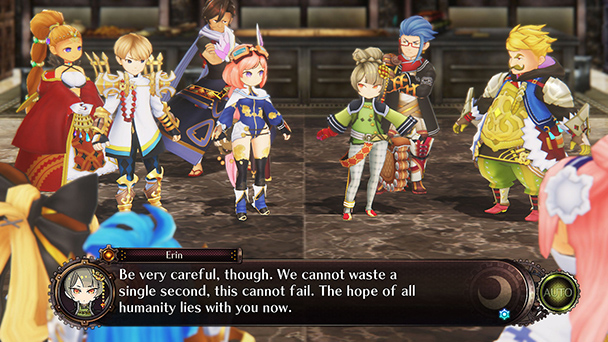 But Things Quickly Falter
However, Arc of Alchemist's hindrances quickly emerge, and across the ten to twelve hour campaign, they all add to a growing sense of frustration. One of the primary problems is the game's simplistic battle system. While Compile Heart has repeatedly shown competency with turn-based system, the developer struggles with the game's real-time battles.
Apparently, you're supposed to lock on to enemies, releasing a storm of melee and ranged attacks. But all too often, the endless spawning foes materialize right behind you, and your AI-driven allies defeat them before you're aware of their presence. When they emerge in front of you, combat usually entrails pressing the button that produces the largest amounts of damage. While Alchemist attempts to add nuance with elemental-type weapons and for the Western release, the ability to play as other teammates, the inclusion adds little. Often, you can get by with button mashing and sporadic use of the dodge mechanic. Boss battles are a bit tougher but placing a healing statue nearby is the prevailing tactic here, diminishing the delight of these showdowns.
Pathetic Puzzling
Likewise, the Lunargear system rarely capitalizes on its potential. The key to unlocking the Great Power is rooted in the collection of a quartet of orbs. Agreeably, these artifacts also provide assistive abilities, like filling pits with water, melting ice, or creating a block with earth that grants access to elevated positions. They can be combined for additional types of usage, laying down the foundations for some engaging puzzling.
Unfortunately, there's few of the gratifying brainteasers found in the franchises like The Legend of Zelda. Sure, occasionally there's some exceedingly basic riddles, like using a fire orb to light torches in darkened caves. But Alchemist duplicates these tasks without variation, with one instance where you're lighting a dozen fires without variation. Occasionally, a bit of awkwardness accompanies tasks as well. Building stairs from blocks to access an elevated platform feels like a thankless task, thanks to a lack of responsiveness.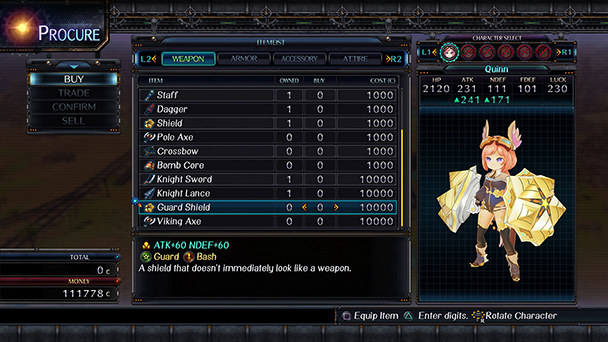 Some of the Worst Framerates Seen on Switch
Worse, climbing that staircase can be a chore due to the game's abysmal framerate. On the PlayStation 4, Arc of Alchemist sporadically struggles to maintain a 30 frame-per-second fluidity. But the Switch version often dips into framerates that are a fraction of that, making play almost unfeasible. While docked mode lessens the severity of these downturns, it's still far from enjoyable. Oddly, the game's low-poly chibi characters and drab environments shouldn't be so devastating on each piece of hardware. Both versions different from the original Japanese release, with a halter top used to cover the cleavage of a key character.
Certainly, a gameplay cycle of battling monsters, collecting materials, and using those resources to grow your base has potential. But here too, Alchemist stumbles. Frequently, the value of some dropped items is dreadfully low, making the grind of monster fighting too time consuming. Saving enough materials and cash does provide dividends, at least. Expanding your headquarters by laying down new tiles allows you to purchase new gear, abilities, and boost party member stats. But without much strategy or direction with the placement of your additions, one of the game's core motivations feels undercooked.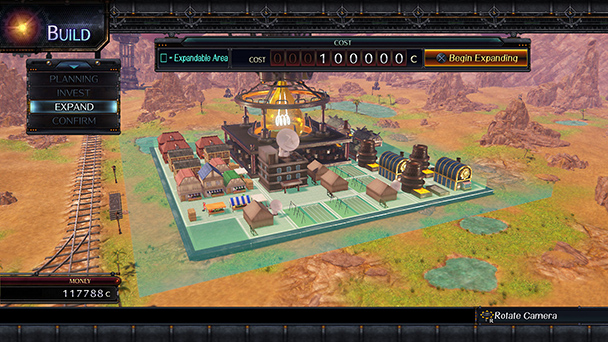 Conclusion
Woefully, Arc of Alchemist has many of the ingredients of an enjoyable adventure. Quinn and her team are likable, with the game's storytelling often exuding intimacy. The loop of defeating monsters and using dropped items to build characters and your base is an established formula, propelling other properties to prominence. But a perilous lack of polish permeates much of Arc of Alchemist, making the campaign feel like an unfulfilling slog.
Arc of Alchemist was played on Switch and PlayStation 4
with review code provided by the publisher. 
Arc of Alchemist

Platform:
PlayStation 4, Switch

Developer:
Compile Heart

Publisher:
Idea Factory International
Release date:
January 30th, 2020
Regional content changes:
Yes, character clothing
Language(s):
Japanese voice, English text

Price: 
$39.99 via
PlayStation Store
and
Nintendo eShop
Review Overview
Summary : Woefully, Arc of Alchemist's ambitions are undermined by execution that makes a short jaunt seem much longer. While the PlayStation 4 iteration has issues, Switch owners should be especially concerned with some of the worst performance seen in a retail build of any game.