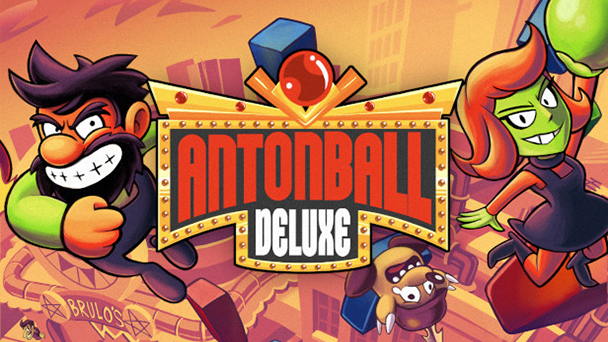 Antonball Deluxe delivers a trio of retro titles inspired by arcade and home computer games. It's charmingly familiar and most engaging, save for a few minor flaws. 
Antonball Deluxe
Platform:
PC
Developer:
Summitsphere

Publisher:
Proponent Games
Release date:
March 5h, 2021
Price:
$19.99 via
Steam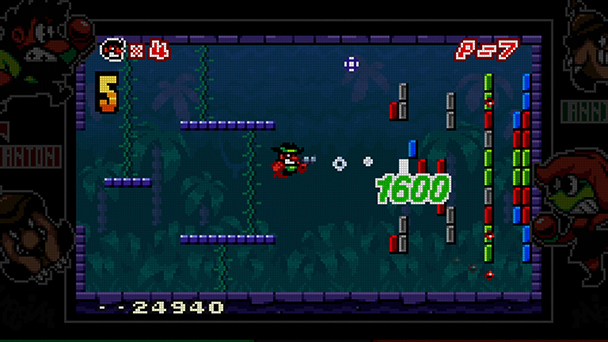 During the arcade era concepts habitually intermingled. Amidar (1981) took the maze navigation of Pac-Man (1980) and blended it with the area capturing mechanic of Qix (1981). Pepper II (1982) mimicked Amidar but provided distinction through its interconnected levels. Long before publishers fastidiously guarded their properties, you could trace the creative linage of most titles.
The release of Summitsphere's Antonball Deluxe is like jumping through a time portal and landing in the early days of coin-op history. Each of the title's three games unabashedly draw from some of classics of the early eighties. Ultimately, they feel like bootlegs that went undiscovered for four decades.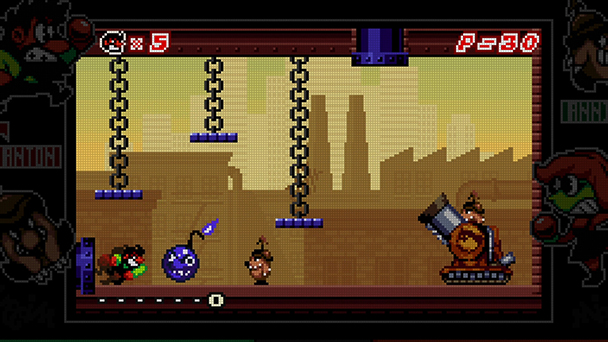 Art that Mimics Nintendo's Early Gaming Days
The package's first offering is the eponymous Antonball, which plays like a mix of Arkanoid and Mario Bros. After selecting one of the twenty-one playable characters (which distinction provided mostly by voice lines), players are tasked with keeping a bouncing ball in play while eliminating columns of colored bricks. But instead of a standard paddle offered by Breakout/Arkanoid, you'll bounce the ball back with your character, who navigates across platforms.
It's a clever idea but undermined by two design decisions.  First, requiring players to press down on their controller to maximize their jumping height feels clumsy. It can be a bit imprecise since you're also pushing left and right to move around the playfield. Like Mario Bros., there are some platforms that you'll hit your head on, instead of leaping through. All too often, these were the cause of orbs lost to the opening on the left side of the screen. On the upside, there are powerups like a pistol, that let's you blast blocks instead of trying to change the ball's trajectory.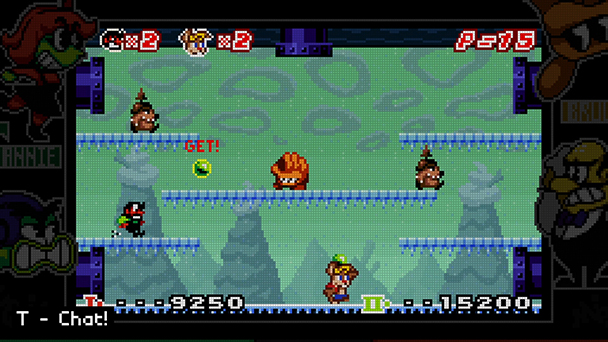 Punching and Throwing
The next title is Punchball, which draws obvious inspiration from Punch Ball Mario Bros., a little-known Hudson title that was released on Japanese home computers during the mid-'80s. Essentially, it's Mario Bros, but you stun enemies with an orb rather by flipping them from underneath. There are a few other variations, with different enemies, elimination of the 'POW' block, and bonus collectables that spawn around the screen. But largely, this feels like a subtle, but enjoyable variation on Nintendo's pioneering title.
Rounding out the bundle is VS Antonball, which offers 1-on-1 or 2-on-2 competitive play. Here, standard Antonball is reengineered, with the familiar brick columns on each side of the screen. With multiple balls rebounding, players can either try to adjust the trajectory of the orbs or sabotage players. The former is done by placing a spinning Yashichi-like icons, the latter through picking up trash cans and tossing them at rivals. Like the other titles in the package, VS Antonbalkl supports online play, but I was unable to assess functionality since there seemed to be no other players online.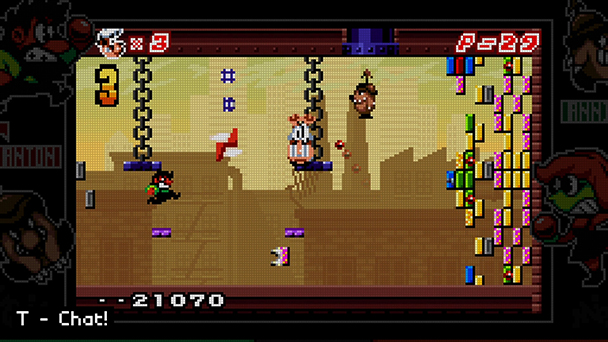 Easter Eggs Galore
Incentive is rooted in the in-game gasha-system, where you can swap the money earned by grabbing collectibles for spins. The rewards are new playable characters, but small game tweaks similar to the variations found on many Atari 2600 cartridges would have been welcome and potentially added to the longevity of the title. Beyond visuals and chiptune music that  seemed culled from the eight-bit era, Antonball Deluxe's characters are drawn with more detail on the borders of the screen. At the end of the game, they'll illuminate, simulating a technique used by old coin-ops.
Collectively, Antonball Deluxe's trio of throwbacks are fairly enjoyable, especially if you appreciate the allure of arcade-esque titles. Yet, with a twenty-dollar MSRP, the dollar to delight ratio is a bit weak, since you could probably get three legitimate retro titles for about the same price. As such, its far easier to recommend the collection at a reduced price. There's little hurry, the inspiration here is almost timeless.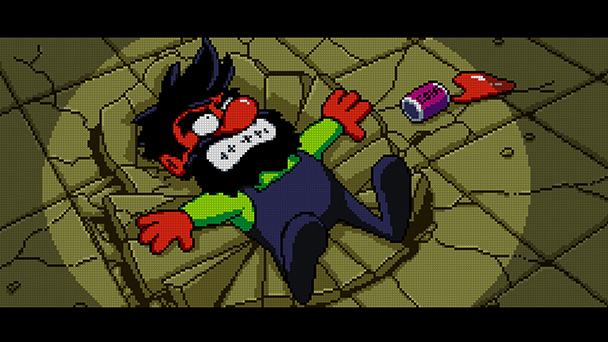 Review Overview
Summary : Antonball Deluxe feels like stumbling on a dingy arcade filled with a trio of bootleg coins. Each is built on the foundations of classics, demonstrating the kinds of remixes and reworkings of the retro days.