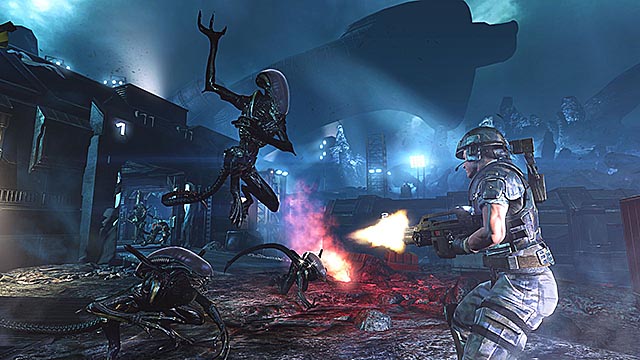 While I've generally had little difficulty maintaining journalistic objectivism during E3 demonstrations, Randy Pitchford's Aliens: Colonial Marines walk-through proved to be one of the rare exceptions, stoking the fires of a fervent Aliens fanboy. Driven by a zealous delivery, the Gearbox CEO repeatedly articulated his appreciation for Cameron's mythos, exhibiting a slice of gameplay which revealed a meticulous recreation of its source material. Upon leaving the diminutive theater, it seemed probable that the title wasn't going to be "another bug-hunt", but was poised to provide the definitive interactive adaptation depicting the tense showdown between marine and malevolent xenomorph.
Although the retail release of Aliens: Colonial Marines largely delivers on Pitchford's promises of authenticity, the game also demonstrates little of the adaptive AI, polish, and nuance suggested during the fifteen minute presentation and subsequent question and answer session. In execution, many of the title's core mechanics feel like holdovers from the dawn of the game's extended development cycle, making Colonial Marines a functional, but woefully dated experience.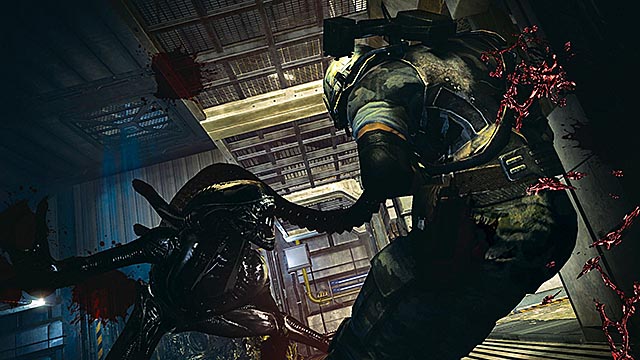 Justification to venture into the game's six-hour core campaign and serviceable multiplayer component can be found in Aliens: Colonial Marines near-faultless depiction of aesthetics. From the staccato howl of a M4A1 Pulse Rifle, the anxious flashes of crimson light emitted from emergency beacons, to a faultless adaptation of the USS Sulaco (along with sister ship, The Sephora) and Hadley's Hope, the game reconstructs the sights and sounds of the 1986 film. The leading downside: while the environments offered enough diversity for a two hour and seventeen minute movie, the often stark locales incite visual tedium across the storyline's longer playtime and insistence on backtracking. A secondary concern revolves around Aliens' emblematic motion tracker. Although the in-game device emits the telltale chirps and pings to warn of encroaching xenos, its function as a nerve-rattling catalyst in never fully realized. The same could be said amount a sequence that strips away the player's weaponry- a potentially distressing bit which becomes unintentionally comic.
Largely, these transgressions are all trivial when compared to Colonial Marines' biggest blemish- the Aliens themselves are woefully toothless. Instead of being depicted as relentless, animalistic marauders outfitted with multiple ways to mutilate, the game's xenomorphs can occasionally be caught milling around about contented Chocobos. Allowing one of the creatures to get to close to the game's vacuous protagonist doesn't immediacy result in a face-tearing tail strike or stretched tongue bite, but in an overused Quick Time Event that tasks gamers with mashing the 'X' button. Even the Aliens' acidic blood, spilled when players fire upon them adjacently, only removes a bit of damage from the player's regenerating health bar. Turning up the game's difficultly merely adjusts the intensity of each enemy strike, making the game slightly more tense- but alas, Alien AI never increases.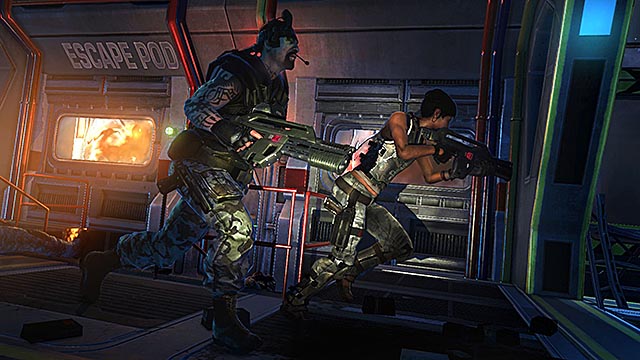 While it would have been engaging to experience packs of angry xenomophs furiously hunting the player, even nonchalant aliens are better than Colonial Marines secondary target: Weyland-Yutani's private military company. Not only do these humans lack core combat skills, they don't seem to jive with Aliens lore; after all, aren't the colonial marines tasked with performing the company's dirty work? Considering the tendency of your AI partner, Peter O'Neal, to jump (innocuously) into your line of fire, and the ungainliness of controlling a Caterpillar P-5000 Work Loader, it's surprising that both xenomorph and NPC haven't made mincemeat of every marine long before the game's cliffhanger conclusion.
If Colonial Marines' does have a saving grace, it's the game's arsenal, which is filled with powerful shotguns, battle rifles, grenades and claymores all able to quickly decimate any hostiles. Most weapons offer an alternate fire mode as well as the ability to be upgrades, offering variety to the game's firefights. Legendary Weapons, ranging from Hick's shotgun to Frost's Flamethrower are hidden across each level, encouraging players to peer into every corner.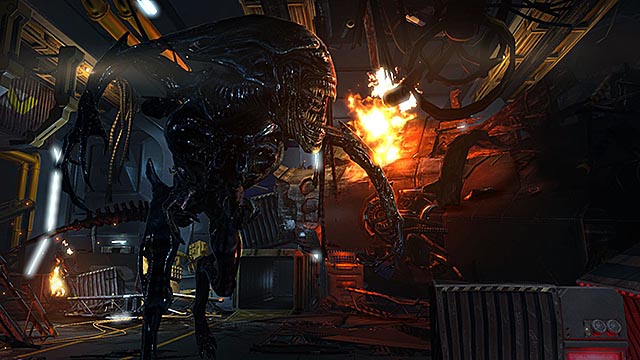 An upgradeable arsenal is also part of Aliens: Colonial Marines multiplayer meta-game, allowing players to chase enhancements and perks across the competitive environment. Each of the four gameplay variants allows the game's asymmetrical marine versus alien bouts to be absorbing. Arguably the best of the bunch is Escape, which draws upon Left 4 Dead's basic framework by challenging a team of humans to blast through an environment teaming with respawning aliens. Tensions can intensify when a team of marines desperately tries to slow the decent of xenos by sealing bay doors, a mechanic while would have been welcome in the game's main campaign.
For years, we have played games inspired by Aliens. We've controlled trash talking, ass-kicking space marines, blasted embryonic antagonists inspired by face-huggers, and waged war against tenacious foes across diversions as diverse as Doom, Metroid, Half Life 2, Halo, Resistance and Gears of War. Aliens: Colonial Marines' virtue is its authenticity- you aren't in a setting that pays homage to Cameron's classic film, you're in a plausible facsimile. Yet, the moments when Colonial Marines breaks that immersion will also splinter the hearts of avid Aliens fans. Here's a game that mirrors a large number of cinematic details, but neglects the larger, more important, ambition to provide an absorbing experience which rivals contemporary first-person shooters.