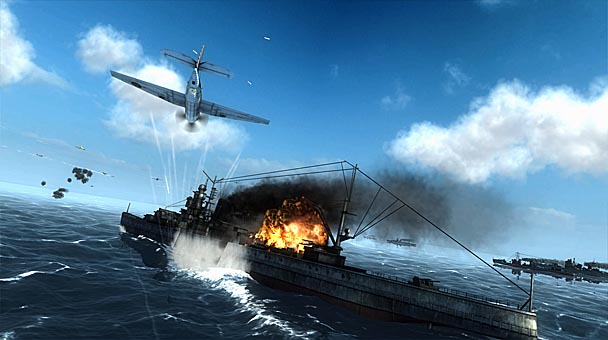 Across the PC landscape air combat simulations abound, invigorated by supplemental hardware setups which often include lavish flight controllers and multi-monitor viewing perspectives. On console, stanch simulations are less common, with most titles favoring skin-deep dogfights subsidized through unlimited ammunition. Infrequently, titles such as Birds of Prey or IL-2 Sturmovik: Birds of Prey lift off from retail runways, extending some of the complexities of aerial antagonism to owners of dedicated hardware platforms.
The release of Air Conflicts: Pacific Carriers, Slovakian developers 3Division and Games-Farm build upon the expertise cultivated through a collection of collaboratively-crafted flight titles, from 2008's WWII Aces to 2011's Air Conflicts: Secret Wars. Balancing affable accessibility with the occasional sequence that requires steely-nerved precision, Pacific Carriers adds several wrinkles to the aerial combat genre. Unfortunately, a few imprudent design blunders undermine the title's otherwise significant accomplishments.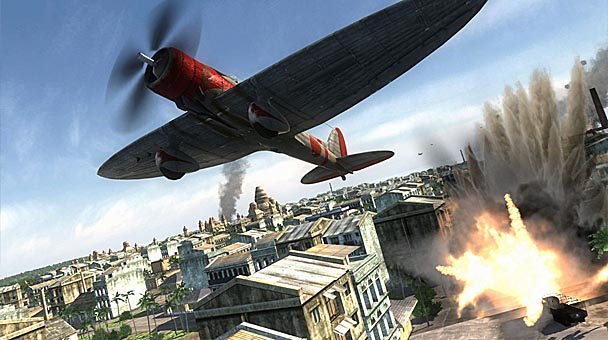 Most of Air Conflicts' complication is located in the game's three fundamental combat mechanics: dog fighting, bombing, and torpedo runs. As such, it's a near-necessity for pilots to play through the game's tutorial, which aims to impart the nuances of each encounter. Woefully, these lessons create a distressing first impression. Bombing training requires near-perfect accuracy, with a miss or two pushing players into a stalemate. Perplexingly, Pacific Carriers' doesn't indicate that a botched barrage can't be redone. Once players end the impasse by quitting, they are forced to restart the entire training session.
Perseverance eventually leads to a lesson in torpedoing, which is undoubtedly the game's thorniest maneuver- requiring pilots to keep their bird low, slow, and steady. Although there are numerous ways to ruin a torpedo launch, the title does little to illustrate exactly where you blundered. On the bright side, aerial battles are well realized. Converting an enemy into a flaming piece of scrap necessitates aiming at an indicator which foreshadows where the enemy craft is going to be in a fraction of a second, rather than their current position.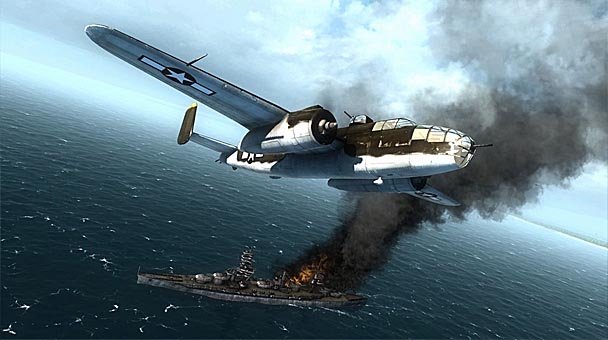 Upon completion or circumvention of Pacific Carriers' training mode, four campaigns await, split between the perspective of the Americans and the Japanese. The narrative context for each operation is told through in-engine cinematics, made to look like 1940's film stock with a sepia filter and an ample supply of simulated grain. Aiming for the juxtaposed viewpoints of Flags of Our Fathers/Letter From Iwo Jima, fictionalized commentary from the daughter of Akagi Captain Kiichi Hasegawa and an unnamed American C.O., provide perspective before missions. Although the writing isn't quite as poignant as Eastwood's two films, the addition ensures that the title is more than a cacophony of buzzing aircraft and artillery. Thoughtfully, Pacific Carriers' shirks the piercing epithets used by titles such as Damage Inc. Pacific Squadron WWII, which seemed insensitive given modern sensibilities.
Sadly, historical precision is not Air Conflicts' strongest suit. Although the game does feature a roster of distinctive fighters and bombers from both countries, as well as reasonably rendered facsimiles of Ford Island Hickam Field, Okinawa, or the Maleolap or Wotje Atolls. However, peer beyond the machinery and milieu and the battles secede from reality. When playing as the Americans, the attack on Pearl Harbor no longer is a devastating tragedy, but an evenly matched clash where U.S. pilots repelled the Japanese. Similarly, the sinking of the U.S.S. Arizona isn't accomplished by a barrage of four torpedo hits, but an extended succession of Nakajima B5N's whittling away at the battleship's hull.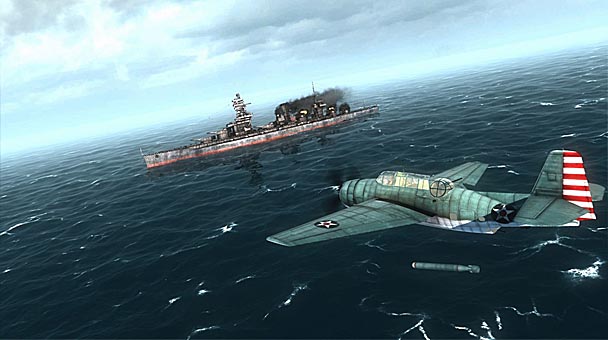 Obviously, adhering to the history book might not have made for an enjoyable game, but Pacific Carriers also neglects the opportunities when exaggeration would have been advantageous. While the challenge of dropping ordnance on ships, subs, and tanks is fulfilling, the results aren't. Typically, bombs have the destructive power of baguettes, causing flames and smoke to billow up, but doing very little damage. The game's AI seems to understand how insubstantial your weaponry can be- multiple hits to the deck of a submarine fail to encourage to captains to dive.
Despite these blemishes, Air Conflicts: Pacific Carriers does bring a number of worthwhile innovations to the genre. To counter the artifice of near-limitless weaponry and the experience of a lone pilot single-handedly winning each battle, the game allows players to shift to a comrade's aircraft. As such, a press of the select button allows the AI to take control of planes that have depleted their munitions or badly damaged. In time, CPU-pilots return to base to refuel and repair, while pilots are instantly transported to the cockpit of a renewed craft. Beneficially, an indicator at the bottom of the screen shows the status of each plane in the fleet.
Many air combat simulations include the obligatory defense mission type, which can end in a few frustrating failures until players decode the secret to keeping an asset protected. Pleasingly, these types of missions rarely end abruptly, with ally AI contributing to your efforts. One nice addition is the game's optional Watchtower and Patrol missions, where diligent reconnaissance can unlock additional stages.
Visually, Air Conflicts: Pacific Carriers is commendable, with dynamic lighting, voluminous clouds, multiple camera perspectives, and well-drawn machinery. The game's settings look nice, but occasionally busy environments coupled with a flurry of activity can cause the framerate to sputter. Small details such as an interminable plume of black smoke that marks where an aircraft crashes look nice, but they also affect the refresh rate and v-synch. Sonically, the title boasts a number of stirring symphonic tracks, but the songs are a bit too short, leading to repetition. Audio effects, from engine roars to the staccato crack of a machine gun, are convincing and well- placed within the game's sound mix.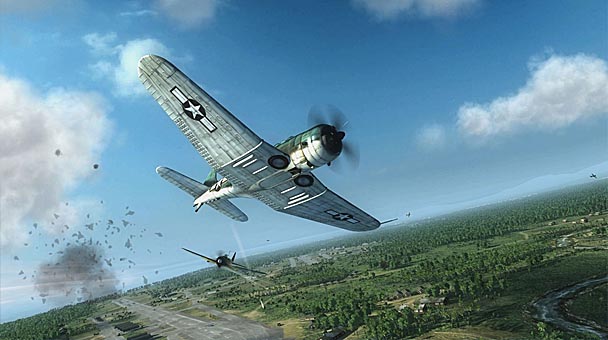 Collectively, Air Conflicts: Pacific Carriers compares favorably against a narrow group of console competitors. Although a few flaws mar the excitement, downing enemies is steadily stimulating, whether through absorbing dogfights to nervous bombing runs. Considering the game's twenty dollar MSRP, Move and flight stick compatibility, as well as supplemental multiplayer modes, Pacific Carriers extends a commendable value to PlayStation pilots.
Review Overview
Summary : Air Conflicts: Pacific Carriers strikes a good balance between accessibility and complexity. At $20, it's affordable, too.