These are exciting times for gamers. Sony's PlayStation 4 launched just over a week ago, becoming the first true "next-gen" console. On top of that, Microsoft's Xbox One has been on store shelves for only a matter of hours. Understandably, gamers' eyes and attention are fixated on the new hardware and the games that come with them. This has caused smaller games, especially indie titles, to fall between the cracks. Bloober Team's A-Men 2 is a perfect example of that. If you had asked me last week what A-Men 2 was, I'd have probably guessed the sequel to the sitcom where Sherman Hemsley played a preacher.
A-Men 2 is a strategic 2-D platformer where the goal of each stage is to kill a certain number of enemy solders. Once the specified amount has been reached, a helicopter will land on a helipad located somewhere within the stage and all of your playable characters will have to get to the chopper for EVAC. Making this no simple task is that levels have a strict linear progression to them. Doing something out-of-order can leave you in a perpetually trapped situation, forcing a restart. The game has plenty of ways to kill you, as well, including enemy soldiers, heights, mines, saws, flamethrower traps and more. Fortunately, there's a one-time-use save station in nearly every stage to take some of the edge off of replaying sections repeatedly.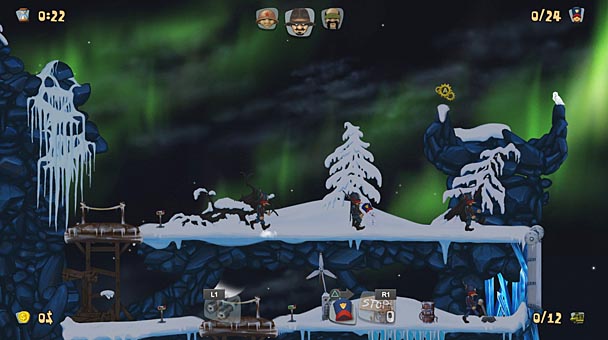 While the "trial-and-error" format can be a bit frustrating, it's plain to see that a lot of care was put into the level designs. Each stage is laid out like one big puzzle. The keys to solving them are using the right analog stick to freely survey the playing field and having a firm understanding of every character's abilities. A-Men 2's army consists of five playable classes; Commando, Private, Muscleman, Engineer and Spy, each with their own special techniques. For example, the Muscleman can perform feats of strength that the other characters cannot, such as lifting and dropping heavy crates or throwing another A-man high up in the air so that they can reach inaccessible areas or platforms. Using the traits of every class to their full advantage, Bloober Team carves out a compelling gameplay experience.
In addition to the skills of the troops, A-Men 2 has a variety of other elements to make use of on your quest for victory. With the well-timed flick of a switch, enemies traversing the wrong bridge can find themselves plummeting to their untimely demise. Likewise, activating a TNT plunger or the power generator for a trap can achieve the same end result with a fiery flavor. Another delightfully devious way to smackdown foes is ripped straight out of the classic cartoons from yesteryear; the ever-popular human pancake technique. Occasionally, the opportunity to flatten baddies will present itself in the form of crates or, my personal favorite, the boulder. Dropping these objects from high up onto a bridge can even cause it to collapse, raining death down on any unfortunate soul below.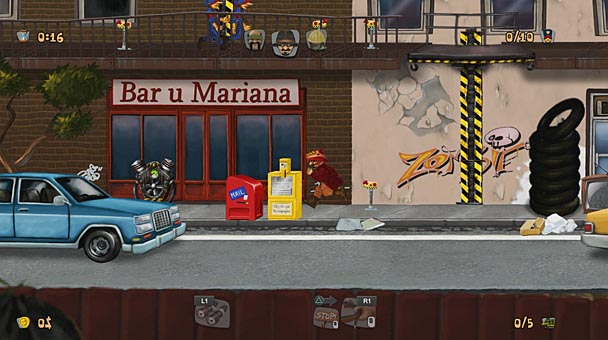 On the presentation side of things, the game gets pinned down in the trenches by heavy enemy fire. Character sprites, while fluid, have a movement characteristic to them that's reminiscent of grommet-jointed cardboard Halloween skeletons. The individual pieces that make up the sprites are quite visible when a character is in motion, especially on the PlayStation 3. The quality of the artwork itself is decent, but nothing to really write home about. Perhaps, that's the best way to describe the presentation as a whole. Nothing about it feels special.
In the end, A-Men 2 is a worthy venture for those who aren't put off by the trial-and-error nature of the beast or the bland packaging. Its style of gameplay is both entertaining and uncommon in this day and age. The satisfaction that comes from solving a level is comparable to that of making a keen deduction in the Phoenix Wright series and keeps you coming back for more. To the right person, the $9.99 asking price should be an easy sell. Disappointingly, cross-platform features between the PS3 and Vita versions appears to be limited to Cross-Buy for the game itself.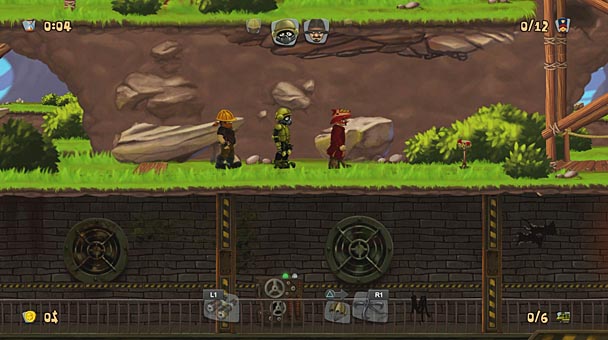 A-Men 2 was played on the PlayStation 3 and PS Vita with review code provided by the publisher.
Review Overview
Summary : A-Men 2's focus on trial-and-error gameplay may force it into "pass" territory for some gamers, but those who soldier on will find a well-crafted, smart strategy platformer.