Persistence of the Dead
Nearly every movie, television show, comic, and video game depicts the undead as indefatigably resilient. Typically, only severe head trauma puts a stop to their shambling. Rebellion's Zombie Nazi Army series has demonstrated a similar type of imperviousness. A trio of titles tasked players with gunning down legions of a resurrected third reich, each game gradually building on a solid foundation of B-movie pulp and mechanics culled from the developers' Sniper Elite franchise.
Although the fourth iteration drops the 'Nazi' moniker from the title, make no mistake- you'll still be thinning out braindead hordes of Hitler's minions. But smartly, there's enough new ideas and mechanics to ensure that Zombie Army 4: Dead War doesn't sink into stagnation. Save for a few issues that stem from the studio's goal of pleasing both solitary players and cooperative partners, Dead Wars provides a wealth of low-brow thrills.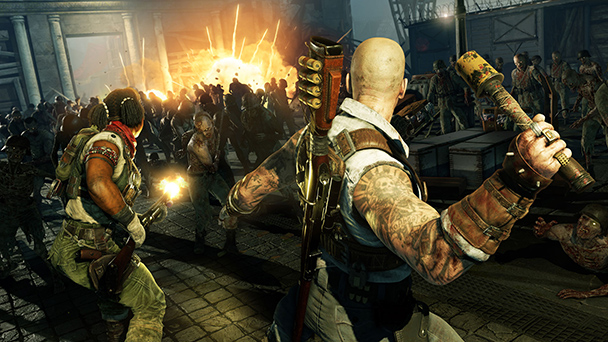 When There's No More Room in Hell…
Although filling the dead with lead doesn't need much motivation, Zombie Army 4 offers a succulent impetus anyway. The killing of der Führer and his subsequent relocation to Hell in the third game had the unintentional effect of strengthening his undead armies. Now, zombie portals have sprouted up across Europe, propelling a rag-tag team of gun-toting volunteers into action. Pleasingly, the set-up keeps the cinematics brief and the locales varied, favoring action over exposition.
Largely, gameplay retains the absorbing qualities found across Rebellion's third-person shooters. That means that long guns are favored, at least at first, with their elevated ammo capacities and ghoulish bullet-cam cinematics. A long-running staple of the developer's shooters, these are slow motion sequences of a bullet piercing enemy bodies, complete with an x-ray view of organ and bone damage.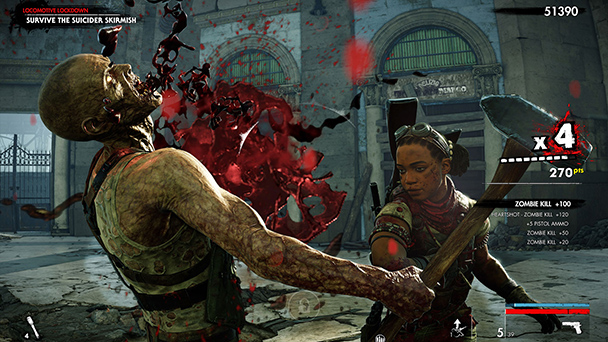 Some Shocking Developments
With pick-ups like temporary attachment that discharges electricity across clusters of foes or lasting upgrade perks like explosive bullets, you'll learn to depend on your rifle. While the game provides an ample amount of ammo refilling stations, all too often a throng of zombies comes between you and additional munitions. As such, you'll have to fall back on your secondary gun, pistol, or carried items.
The first two have their own upgrade trees as well, allowing players to perform feats like slowing down time or quickly marking and murdering a crowd of opponents. There upgrades are done at safe-room workstations that also let you do traditional augmentation like add better scopes and larger magazines. But these improvements are sporadic, making a further investment into an upgraded arm a bit too practical. While the push of DLC firearms is a scourge on the game's menu screens, there's more than enough distinction found in the default weapons, and you'll probably gravitate toward a few favorite guns.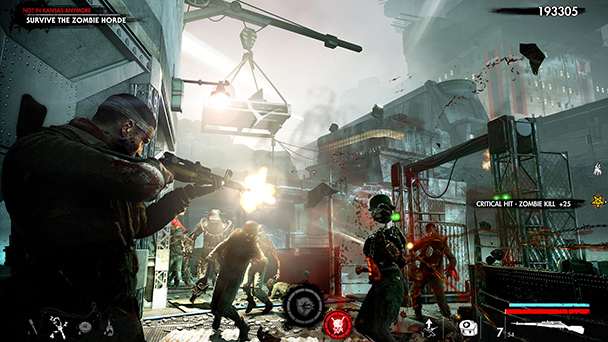 Tools of Annihilation
But firearms aren't the only way to splatter a zombie. Items like explosive barrels and cranes with deadly payloads dot each battlefield, each helping to even out the odds. There are also more exotic devices like turbines that can dispel electricity or even a zombie-shark that will gobble up oblivious walkers. Remarkably, these offer opportunities for relationship-testing, extending the possibility of friendly fire on the battlefield. Often, setting off a trap can one-shot an ally until you make your save to the next safe-house, which in execution, feels like a social experiment designed to measure forgiveness.
Both the campaign and as well as Horde Mode offer support up to four zombie slayers, with the latter adding elements like weekly challenges across a quartet of maps. Unsurprisingly, shooting up the game's dogged adversaries works better as a group, each player falling into traditional team roles. But there are a few irksome instances where solitary players might come to a standstill. One shielded foe who tosses grenades with infuriating precision has a prone backside, goading gamers into teaming up. Here, you'll wish Dead War provided the option for AI companions or at least removed the foe for individualists.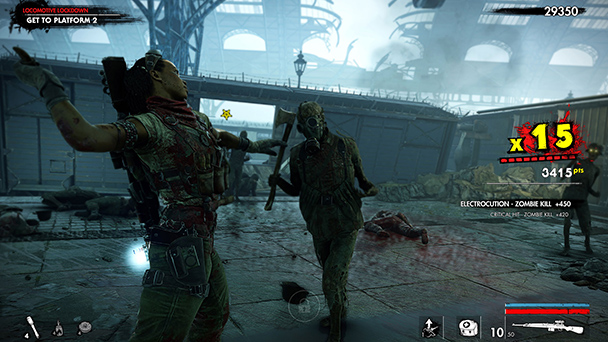 The Path is Mine(d)
But save for the sporadic moments when the game fleetingly shifts from fun to frustration, Zombie Army 4 makes several improvements on its processor. New foes, like the Serious Sam-esque suicide bombers who scream wilding as they run toward players, means you'll have to reprioritize your targets. Previously, the recycled assets from Rebellion's Sniper Elite series didn't always lend themselves to close-quarters combat against a legion of opponents. With Dead War, stages have been designed so you can plant mines in choke points or have one player perform overwatch duties, while you get your hands dirty.
This time out, the developers have embraced the taut action of an arcade game. Rack up a ten-kill combo and you'll be able to execute a takedown. This maneuver kills a single foe, scattering health or ammo about. Another way to replenish munitions is by stomping foes, but that can be a dangerous tactic when you're surrounded by shamblers. While zombie exterminating eventually grows monotonous before the credits roll, there's enough enjoyment across the game's modes to recommend a purchase from action enthusiasts.
Zombie Army 4: Dead War was played on PC with review code provided by the publisher.
Zombie Army 4: Dead War 

Platform:
PlayStation 4, Xbox One, and PC

Developer:
Rebellion Developments
Publisher:
Rebellion Developments
Release date:
February 4th, 2020
Editions:
Standard ($49.99), Deluxe ($59.99),  Super-Deluxe ($79.99)

Availability:
Physical,
PlayStation Store
,
Microsoft Store
, and the
Epic Game Store
Review Overview
Summary : Zombie Army 4: Dead War brings another chapter of pulpy action to players. This is a sequel that contributes just a bit more than the requisite additions and improvements, offering enjoyable escapism for cooperative partners. Soloists should deduct five percentage points from the score.