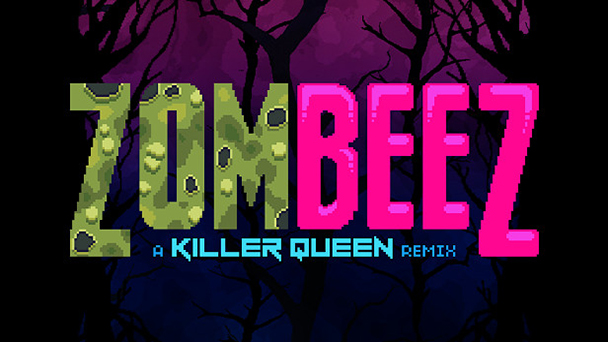 BumbleBear Games took an enjoyable competitive multiplayer game and removed most of the fun for a single-player spin-off. Zombeez: A Killer Queen Remix shouldn't have left the hive.
Zombeez: A Killer Queen Remix


Platform:
PC
Developer:
BumbleBear Games

Publisher:
BumbleBear Games
Release date:
September 1st, 2021
Availability:
Digital
Price:
$89.99 via
Steam
,$5.03 current sale price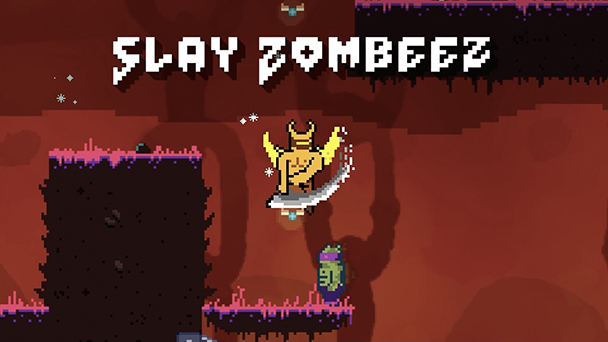 Few games have a history that is quite as curious a Killer Queen. After watching a nature documentary designer Nikita Mikros was inspired to make a competitive activity that captured the roles of African ants. The first iteration of Killer Queen was a LARP-like sporting event played with foam swords and balls. It became an immediate sensation on college campuses and satisfied a craving for being a part in a real -world Quidditch match.
Soon, an arcade adaptation emerged, pitting two five players teams against each other, all huddled around a single cabinet. In a pre-pandemic world, it was a perfect social catalyst in bars, as inebriated participants sought success in three different forms. Teamwork was required for earning a military (killing the rival queen), economic (filling a hive with berries), or moral (rising a snail across a finish line) victory. Given the multiple ways of winning, strategies were plentiful and coordinating with other players was necessary. Killer Queen Black adapted the game for home consoles, with cross-play across four platforms.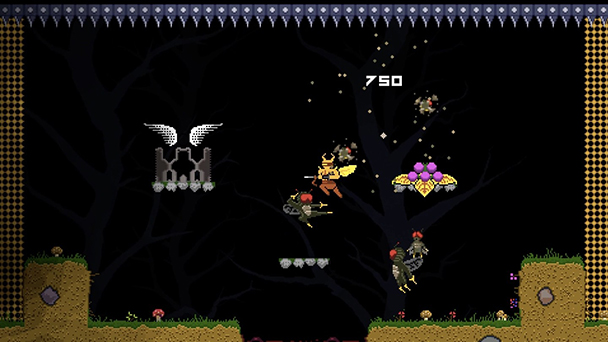 "Limited Time Only" Urgency is Annoying
As such, expectations might be lofty for Zombeez: A Killer Queen Remix, which reuses assets and mechanics to build a new single-player game. Given the game's idiosyncratic legacy, it's hardly surprising that BumbleBear Games is pledging that Zombeez has a restricted life span. Once the arcade version is released in 2022, the title no longer be available from Steam. But given the current state of the game, there should be very little FOMO (fear of missing out).
Originally titled, Abs vs The Blood Queen, Zombeez puts players in charge of the eponymous killer bee who resembles a bear wearing a blindfold. Here, Abs has limited abilities and starts every run running and leaping toward the right side of the screen. Like many endless runners, a deadly swarm steadily advances toward you from the other side of the scrolling playfield, forcing you to keep a steady pace.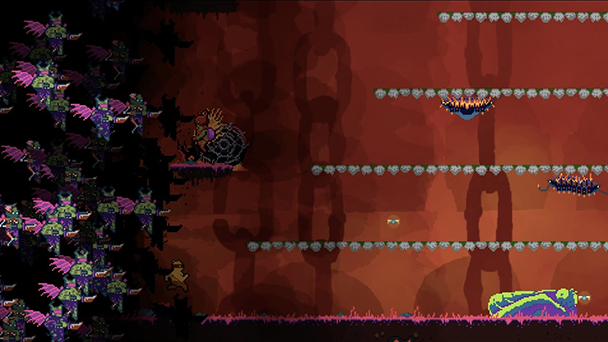 Best Part of the Game: The Prologue
Sure, the game's tutorial is witty, deliberately giving you improper advice. But once you tackle the game's daily, weekly, random, and custom runs, Zombeez starts feeling rather lifeless. Much of the problem is rooted in the game's physics. Abs feels far heavier than any bee should. While he's got a lofty jump that can catapult him over lava or hazards, leaping doesn't feel lithe at all and it often unfairly leads to your death.
Periodically, you'll come across Killer Queen's iconic berries. Abs can pick these up and take them to a winged gate to transform into a warrior. This form presents a number of advantages like being able to tap the jump button to fly or kill adversaries with a sword. Combat does have an enjoyable Joust-like quality. As such, you'll want to be higher when colliding with winged opponents to eliminate them.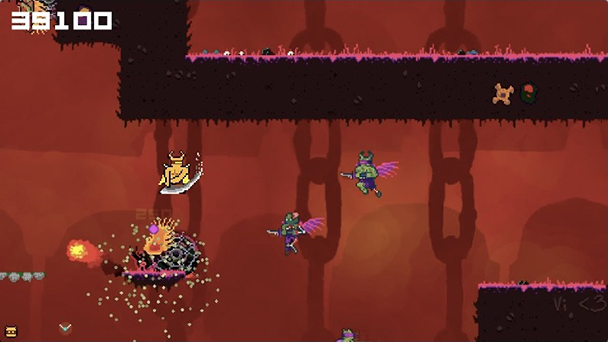 Feel the Sting
There are a few minor enjoyments. Bumping other workers into lava is gratifying, providing a 500-point dividend. There are leaderboards, so there's a bit of incentive to replay runs, aiming for a higher score. Boss battles offer a pleasing break from the endless runner-style play, extending tense showdowns. But for every positive trait, you'll probably find an equal number of annoyances. Berry transformations take too long, giving the incessant swarm an underhanded opportunity to move forward.  During boss fights, you can emerge from the wing gate at an inopportune time, squandering one of the three lives you begin each run with. While there's the occasional snail to staddle, the scoring dividends don't justify the risk.
Zombeez: A Killer Queen Remix's saving grace could be it's pricing. At present, the game is just over five dollars. Should you want to go back to the hive, know that Zombeez isn't nearly as enjoyable or long-lasting as its predecessor- and that's coming from someone who prefers single-player pursuits. While I was excited to see BumbleBear Games cater to individualists, A Killer Queen Remix is just another mediocre endless-runner style recreation. What a buzzkill.
Zombeez: A Killer Queen Remix was played on
PC with review code provided by the publisher. 
Review Overview
Summary : Understandably, Killer Queen Black fans might be interested in BumbleBear Games's single-player spin-off. But there's little of the creativity or merriment that propelled the multiplayer game to popularity.