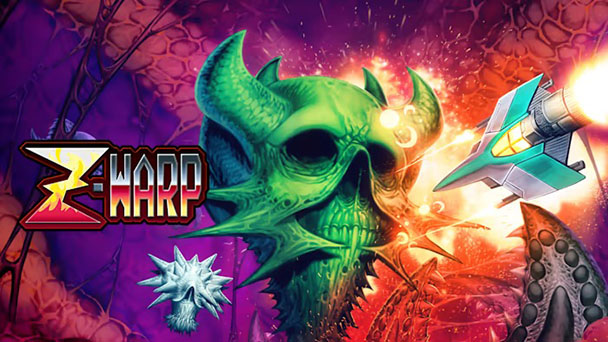 Dodge, shoot, die, and curse- now repeat this cycles dozens of times. Like any respectable shmup, Z-Warp will submerge you in screens awash with projectiles. Learning to swim through it all can be gratifying.
Z-Warp
Platform:
Switch, also on PlayStation 4, Xbox One
Developer:
Panda Indie Studio
Publisher:
eastasiasoft
Release date:
April 6th, 2022
Price:
$5.59 via digital download (Switch and Xbox), $6.99 (PlayStation 4)
Availability:
Nintendo eShop
,
Microsoft Store
,
PlayStation Store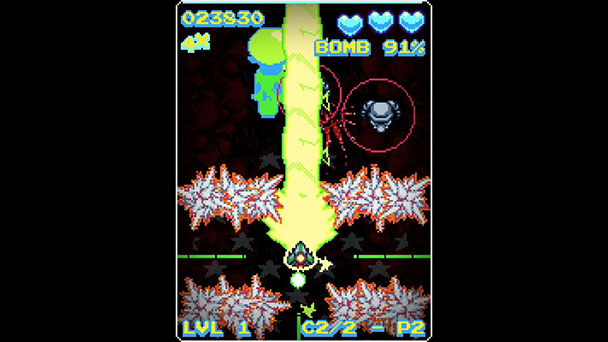 Panda Indie Studio games are the interactive equivalent of those energy shot drinks sold in gas stations and convience stores. Pocket-sized, affordable, and able to jumpstart your brain, the developer's latest doesn't veer far from the foundations set by previous efforts, Project Starship X, Null Drifter, and Void Gore. Z-Warp feels like a slightly new flavor, without diluting the intensity of the action.
You'll pilot a diminutive ship with a visible hitbox across four stages of play. Should you opt to browse through the text-based tutorial, you'll discover most of the fundamentals. Holding down the fire button quickly transforms your spread-shot into an intense beam of energy. It's a more powerful weapon, searing through feisty subordinate enemies in a split-second, use slows down the movement speed of your craft.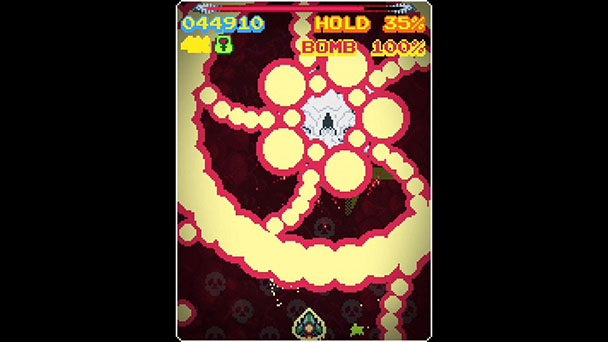 Fortunately, if you want to fan out your firepower without wearing down your Joy-Con buttons, Z-Warp offers a dedicated turbo-fire button. The other important detail is that that you can touch enemy bosses without harm. As dangerous as it seems, getting up close and personal with the game's screen-filling superiors can be a surprisingly effective tactic.
Unlike many of its peers, you won't be able to fly through all the bullets and baddies that Z-Warp tosses at you. Sure, the game compassionately signals upsurges of imminent danger, with exclamation points detailing the flight path of foes. But sporadically, you'll encounter of cluster of adversity so dense, that the detonation of a bomb is the only way to clear an opening. Fortunately, Z-Warp grants limitless use of explosives, which are regulated by cooldown gauge that encircles your ship. And even when your bombs haven't completely recharged, you can still create a bullet-canceling blast with a smaller radius.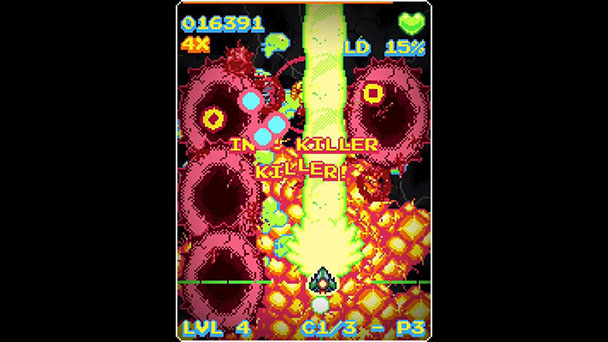 This proves to be the game's most distinctive mechanic. The game's inaugural boss battle challenges you to not lose your cool, as it corners you with a ring of munitions. As you trigger a bomb to clear some breathing room, the adversary has already launched another assault, and you hope there's just enough time for your ability to recharge. Expectedly, as you ratchet up the game's difficulty, your margin of error grows exponentially smaller.
Although Z-Warp offers tate mode, don't expect a radically bigger playfield when your Switch or television is turned sideways. The game uses an unconventional aspect ratio, so there is always some substantial bordering around the playfield. Although the game also flaunts a low-resolution aesthetic, that doesn't mean style or performance is compromised. Expect a dazzling display of hundred of sprites and a fluid, sixty frames-per-second delivery. Really, the only graphical disappointment is a static red screen for defeating a boss. The game's soundtrack extends the typically high-energy riffs expected for the genre, although there's a bit of abnormal crackling between stages.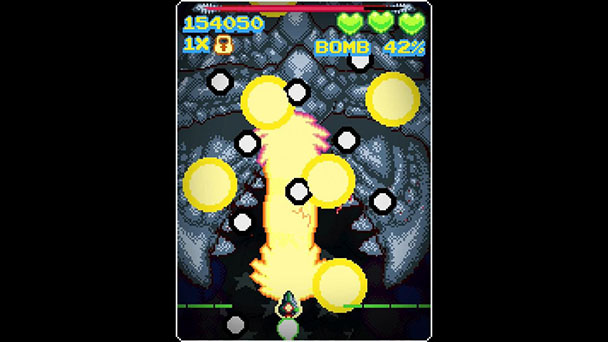 Beyond the main four-stage run, Z-Warp also offers an endless mode and online leaderboards, contributing a bit of longevity. Even if you're not the most proficient at shooters, Panda Indie Studio ensures you'll eventually finish the game, adding additional continues as you play. Given the game's affordable price, diminutive footprint (459MB), and ability to produce an adrenaline rush, this is one that projectile-dodging addicts will want to pursue.
Review Overview
Summary : Z-Warp throws a lot of firepower at players. At first, you'll struggle to read the on-screen chaos, each life-heart taken by an overlooked threat. But before long, senses adjust and there's a muted sense of accomplishment as you survive. Panda Indie Studio understands this approach just as well as larger studios.