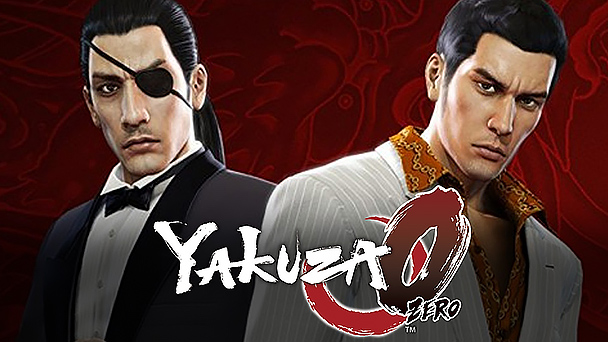 Setting is Indispensable
Context is an oft overlooked constituent in gaming. Although 2009's The Saboteur replicated the familiar driving and destruction mechanics of the sandbox-action title, it was the colorful recreation of Nazi-occupied Paris which transformed the game into something quite special. The environment felt like a violate powder keg, where inebriated German officers frolicked with burlesque dancers as a seething resistance conspired in darkened alleyways. Similarly, the bulk of the Assassin's Creed franchise used meticulous recreations of Jerusalem, Venice, colonial Boston, and Victorian London, extending exoticism to its otherwise conventional mission structure.
With the Windows port of Yakuza 0, players are transported to another scrupulously simulated setting: bubble-era Kabukicho and Shinjuku's Golden Gai alleys. And it's not just a shallow reproduction of Japan's locations. Producer Toshihiro Nagoshi and the team at SEGA understand that the devil is neck-deep in the details, as the game's camera pans over co-lead Kazuma Kiryu's swanky oxfords or captures the melodic clink of an orb-shaped ice in a whisky highball. With a story that splits its time between Tokyo and Osaka, each area is teaming with minutiae, from interactive clubs, restaurants, and arcades to period-authentic billboards for the Sony Walkman. Playing Zero is a testament of the power of this generation of console hardware, with sight and sound whisking players to a fantastical and all too fleeting period when all the world was marveling at Japan's prodigious success.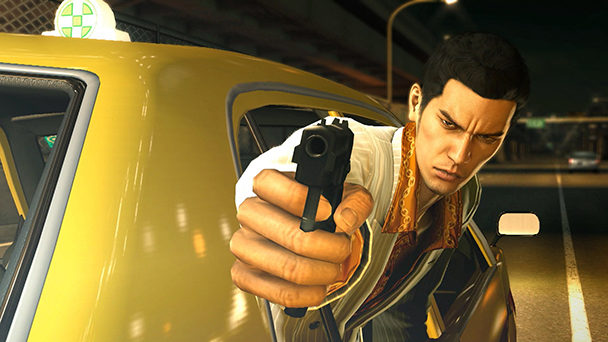 An Enchanting Sense of Autonomy
And much of Yakuza 0 enjoyment stems from this opulent setting, which grants a liberal amount of autonomy to players. Sure, you can help build the Dragon of Dojima's burgeoning real-estate empire or assist Goro Majima through his post-Tojo Clan management of a cabaret club through the game's succession of missions and chapters. But just as engaging is living the life of a late '80s J-mobster, beating punks senseless during the day and squandering the proceeds on liquor, ladies, and assorted lasciviousness. Or just as easily you can squirrel away your income, 'investing' a portion to power-up your character. The choice is always yours and that's as intoxicating as any late-night libation.
If you favor the former route, expect Yakuza 0 to deliver a rendition of organized crime that's good enough to rival the works of Takeshi Kitano. All the expected chivalry and senseless (and sporadically, madcap) violence is there, as the game spins an absorbing tale of underworld loyalties and the consequence for betrayal. Amazingly, the narrative works for both Yakuza vets as well as newcomers. The former is indulged through nodding tidbits of foreshadowing, with writer Masayoshi Yokoyama (who worked on the third, fourth, and fifth series iterations) extending an acute understanding of each character's psyche and motivations. Those fresh to the franchise are privy to a prequel that offers astute exposition, prepping players for possibility of a port of Yakuza: Kiwami– a splendid remake of the first Yakuza game.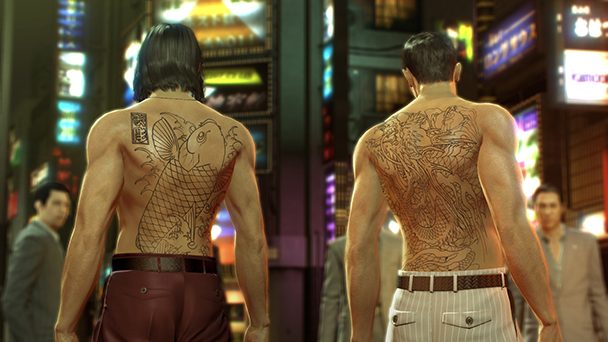 A Recreation of Social Contexts
The original PlayStation 4 release prompted a few people to criticize Yakuza 0 depictions of females. But revising history just to appeal to a Western audience would have committed the equally grave offence of ethnocentrism. Worse, it wouldn't have felt authentic, and verisimilitude is one of the game's greatest assets. Instead, players should approach the game knowing that Kiryu and Majima embody the mentality of late '80s mobsters, warts and all.  The game isn't attempting to impart some imperative social message, but merely attempting to offer an embellished interpretation of the era.
But that's not to say that's Yakuza 0 isn't transgressive. Periodically, characters pontificate on their lives and the repercussions of their actions, offering insights into each tortured soul. Rarer, and therefore more affecting, are the moments when the armor of bravado comes off, revealing a repressed tear or three. And given the stoic appearance these characters must maintain, these lapses are surprisingly powerful and help the cast seem less like game character and living, breathing people. Or at least people who occasionally are obliged forced into bashing skulls.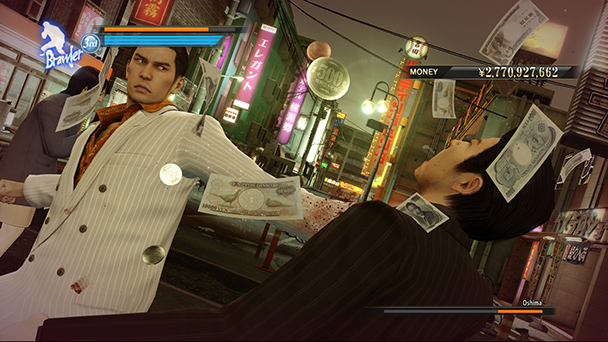 Mixing It Up
Given Yakuza 0's revised approach to combat, fisticuffs remain persistently pleasing. Both Kiryu and Majima each taut three different fighting styles, with players largely able to utilize their preferred method of mauling opponents. While Kazuma's a heavy hitting brawler with brawny punches and potent kicks, Goro can mix it up with a bit of b-boy break dancing, adding insult to injury. While player preference is a significant factor, styles have their own particular strengths as well. Wild, Capoeira-inspired moves are effective for small groups of goons but switching to a bat-based offense is essential when confronting mighty captains. Of course, both fighters are also proficient at Yakuza's trademark takedowns, where rival thugs get their heads smashed into walls or worse- get a baseball bat shoved into their mouth before the grip gets kicked.
Sure, it sounds sadistic and in reality- if the game's two leads actually did these things, there would be a long trail of lifeless bodies lining the streets of Shinjuku. But Zero habitually shirks the death counts, allowing each boisterous street thug a merciful retreat, albeit with fractured bones and missing teeth. Sure, it might not be realistic, but it does allow for emotional impact when a character does die during the game's campaign. Fighting also plays an essential role in tempering the title's level of challenge. When antagonism begins to escalate to irksome levels, that's a sign that you'll need to spend some of your hard-earned money on self-improvement. Delve into the menu system and you can spend yen on a plethora of pugilistic-boosting qualities. And if the random encounters are even too much for you, well you can also fritter a bit of cash to lower the frequency.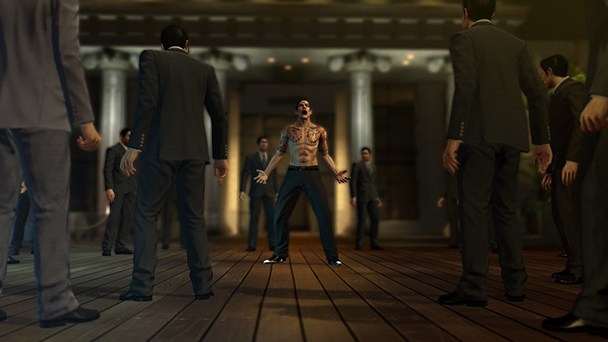 Simple, but Comical Side-Missions
Although the story is habitually earnest, moments of comic absurdity are frequent among the title's collection of optional assignments. Here, seriousness is suspended as you attempt to assist a dominatrix perfect her insult game or help a street-vendor with her blossoming soiled panty business. In execution, they're almost all mechanically simple, with players selecting text from dialog trees or using basic actions. But it's the context which elevates these errands above the typical side-mission, with the game's writers coming out with some side-splitting situations. Thematically, they couldn't be more removed from the seriousness of the main campaign, and it's exceptionally easy to lose hours to these diversions. But remarkably, they complement and enlarge the main game, without creating contradiction.
It would be difficult to discuss a Yakuza game without mention of the optional mini-games- a challenge that grows tougher with each iteration. With Zero the division between chasing ambition and idle recreation is minimal, with many amusements capable of generating a bubble-era nest egg. Like any budding yakuza, the allure of gambling, shopping, and leisure is ever-present. As such, you can expect to spend time in SEGA arcades playing '80s-era coin-ops like Outrun, Super Hang-on, Fantasy Zone, and Space Harrier. Or enjoy karaoke complete with wonderfully comic music videos, casino games, dancing. Just don't follow my lead and lose a stack of ten-thousand yen notes betting at the Japan Cat Fight Club. That's where two bikini-clad combatants square off in front of a stadium of cheering spectators and a perpetually leering camera. And no, I won't admit to watching any gravure idol videos, where sultry young ladies hone their modeling skills near an omnipresent bouquet of balloons.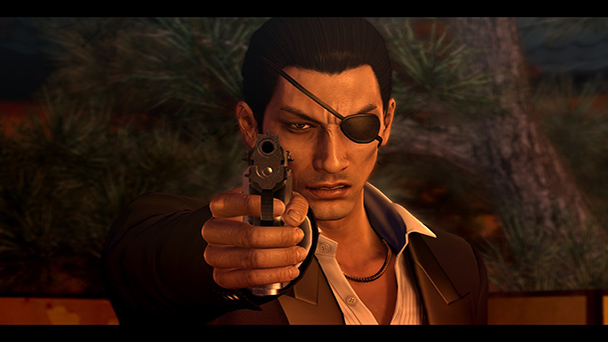 Conclusion
Unsurprisingly, the Windows 10 iteration of Yakuza 0 demonstrates parity with the Steam version released in 2018. Beyond accommodating resolutions up to 4K and offering an uncapped framerate, there are options to adjust the FXAA quality, texture filtering, shadow quality and geometric detail. Across out testing, the game didn't appear to use more than three CPU threads, making play viable on i5s and mid-range AMDs set-ups. Visually, middle tier cards like a 1660 and RX580 were able to offer a stable 60 frame-per-second output.
Often referred to as a cult franchise in the West, Yakuza 0 helped change the franchise's perception. For those unacquainted with the series, the game offers an ideal starting point, introducing mainstays Kazuma Kiryu and Goro Majima. For aficionados, the game delivers indulging exposition, exhibiting the triumphs and tragedies that would shape each character. Both groups are destined to be dazzled by the game's delivery, with offers a faultless trifecta of narrative, mechanic, and context, resulting in a compulsory purchase for Windows 10 users.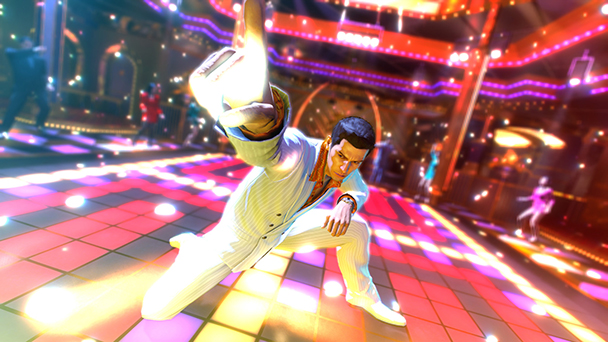 Yakuza 0 was played on PC with review code provided by the publisher.
Yakuza 0
Platform:
PC (Windows 10)
Developer:
SEGA
Publisher:
SEGA
Release date:
February 25th, 2020
Price:
$19.99 via
Microsoft Store
or free with XBox Game Pass for PC
Review Overview
Summary : Yakuza 0's characters commit some ruthless acts while operating under a strict moral code, making for a fascinating storyline. Simultaneously, the game balances it's narrative with a myriad of autonomous activities, giving players a period-authentic playground to explore. Somehow both pursuits merge into a synergetic and satisfying whole, capable of captivating gamers for weeks.