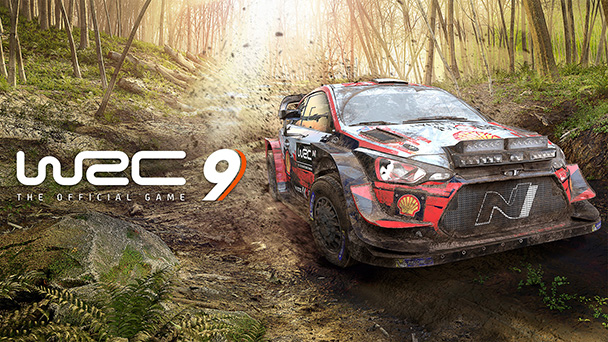 Building on last year's impressive effort must have been arduous, but WRC 9 steps up to the challenge with an array of improvements.  
WRC 9 FIA World Rally Championship
Platform:
PC, Xbox One, and PlayStation 4
Developer:
Kylotonn
Publisher:
Nacon, Maximum Games
Release date:
September 3rd, 2020
Price:
$49.99 via physical and digital download
Availability:
Epic Games Store
,
Microsoft Store
,
PlayStation Store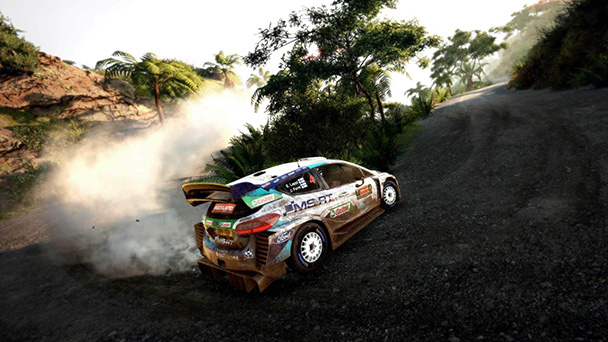 Long the outclassed underdog, last year's WRC 8 FIA World Rally Championship demonstrated an invigorating amount of ambition. Credit should be given to Paris-based Kylotonn Games (aka KT Racing), the third developer to helm the series. Flaunting a robust career mode, an overhauled physics system, and attentively crafted recreations of physical locations, WRC 8 delivered on the fundamentals. Codemasters, the developer behind rival rally franchise, Colin McRae/DIRT, surely sensed a threat to their extended reign.
Although the release of WRC 9 FIA World Rally Championship didn't enjoy the two-year development period of its predecessor, it's clear that Kylotonn hasn't slacked during the past year. Sure, there's the obligatory reuse of licensed content, bringing back the official drivers and cars. And yes, some might grumble about the developer's adhering to a pre-pandemic 2020 WRC calendar, meaning that the game won't reflect Estonia's WRC debut or Belgium's Renties Ypres rally. But that also means that Japan, New Zealand, and Kenya are still present and no one's social distancing at the team offices. I'm OK with imagining the pandemic never happened as I careen across Hokkaidō.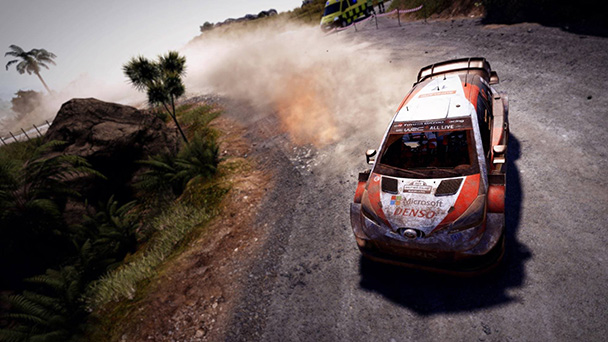 "Left 3 Don't Cut, 100 Right 1 into Left 2"
One of the first things you'll notice about this year's game is continued improvement to car handling, which is perceptible as soon as hop into the game's tutorial. Less of a driving school and more of an interactive recommendation for driving assists, rally veterans should appreciate the fine-tuning that's taken place. Last season, vehicles felt a bit too skittish, with a minor scrape putting driver and co-driver on a path of imminent peril.
With WRC 9, there's still a healthy amount of responsiveness. Yes, newcomers will undoubtedly experience a few errant instances of fishtailing before learning the rudiments of stage racing. But stick with it, and the game communicates elements like traction especially well. Play with a wheel like the Logitech G29, and you'll still need to put aside some time to dial in variables like vibration, wheel angle, self-centering, and torque. But once that investment is made, the dividends are salubrious. After two hours in, and I was subduing gravel hairpins with a proficiency that would make Carlos 'El Matador' Sainz proud.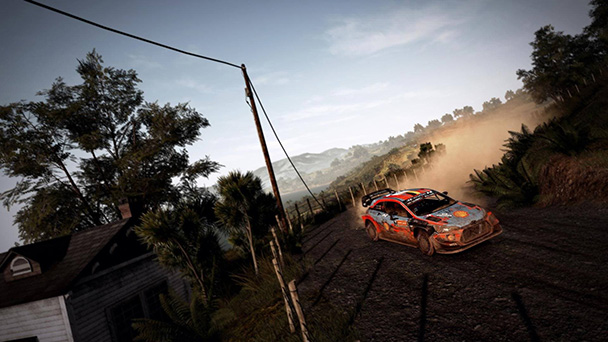 Team Plebian Makes an Impressive Showing  
But even if you don't have the cash for a luxurious racing wheel, WRC 9 can deliver. You'll want to play with a controller that offers precise force feedback. When tackling stages with the Xbox One controller, the four internal motors let you know which tire has broken traction, giving you a fraction of a second to make an adjustment. Rally is the embodiment of riding the razer's edge, where the slightest miscalculation can result in a demoralizing wipeout. The presence of a co-driver demonstrates that the sport transcends the perceptual abilities of a single human. Even with a standard issue controller, you'll (literally) feel that intensity with WRC 9. Disregarding that faint plink could cost you a trip the podium, making each stage tormenting. Sometimes, WRC channels the same feelings as playing a horror title.
Sure, there aren't any jump scares in the game's career mode, which recycles the framework from last year's outing. But there is no shortage of panic, especially when the game throws odd objectives to impress your manufacturer. I understood the goal of trying to limit repair costs during an event, but an event where you race a damaged vehicle through a blizzard at night seems rather incongruous for the FIA license. But if you can overlook the rupture from reality, the 'extreme conditions' events can be a lot of fun and flaunt the improvements to the game's lighting system. Now, night driving casts an eerily authentic luminosity that dissipates in the distance, with objects facing you glowing brightly. Whoever coded this probably deserves a raise.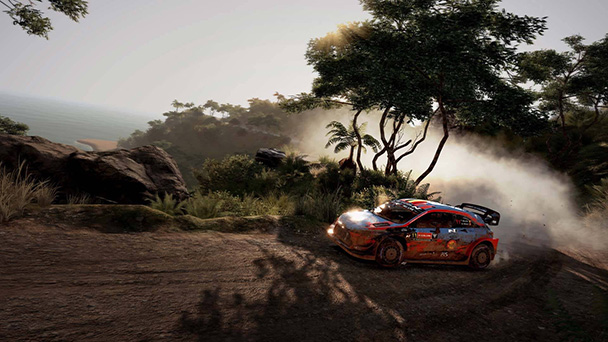 Gliding up the Ranks
Otherwise, the title's trek from Junior WRC or WRC2 to the World Rally Championship stays the same. Here you'll tackle trainings, rallies, manufacturer tryouts, in addition to team office responsibilities like scheduling, financing, upgrades, research and development and personnel management. Given the sheer amount of substance, with over 100 different stages, 52 teams across the Junior, WRC 2, WRC 3, and WRC 3 tiers, there's bound to be a few blemishes.
At present, AI is notably erratic, posting leisurely times on one stage then then boasting breakneck performance the next. Twice, my co-driver's medication seemed to kick in, and he began calling out pacenotes in a delayed fashion. Warnings are a bit overzealous. WRC 9 will threaten you with a reset even when you're unmistakably on the track. Occasionally, accidently swerving off the course incurs a double penalty, which can spoil feel punitive. Although the game's interface looks great, functionality isn't as adept. Occasionally, I had to switch between controller and mouse and keyboard input to get things accomplished.
Other elements, like the lack of licensing for Subaru Imprezas and Mitsubishi Evos are remarkable, given the substantial presence of both models in rally. But at least this is offset by the presence of fifteen legendary cars, permitting players to take out the Lancia Stratos and Citröen C3 and compare them to the performance of contemporary vehicles.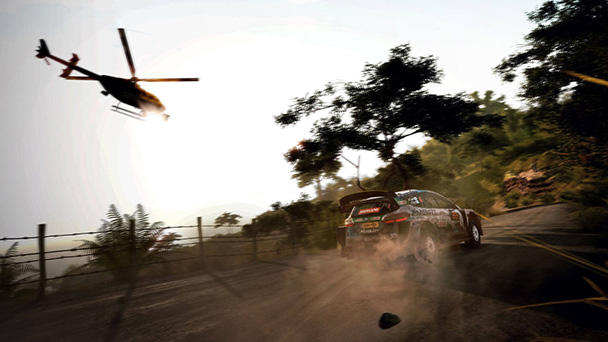 Tearing Across the Continents
While the inclusion of Kenya, New Zealand, and Japan might seem like little more than compulsory supplements, each adds something special to the game. Kenya's winding stages will border on villages before opening to wide trails across the savannah, where giraffes can be seen grazing. New Zealand brings its own ardent delights, as you speed through lush jungles. Japan's addition are narrow, asphalt-dominant stages. Here, it's all too easy to get distracted by the natural beauty of Shitara and flub a tight hairpin.
Club mode is an outstanding feature, especially during the pandemic. This permits players to create their own asynchronous competitions, with customizable course locations, events times, weather conditions, and tier types. Members can join and try to upload their best times, capturing the spirit of WRC rivalries. I do wish the game had a dedicated space for a communication between members, however. The upside here, is there's no need to visit a website to set things up. Codies, take note.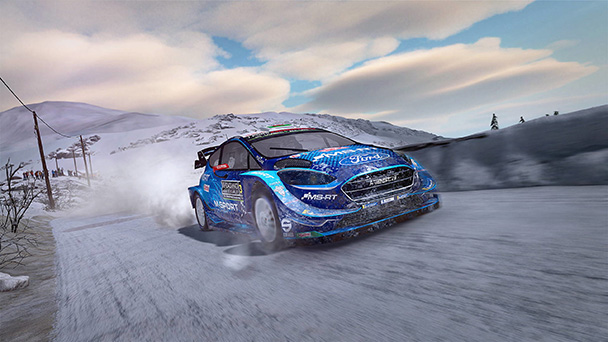 Conclusion
Visually and aurally, WRC 9 shines with it's high-poly cars and stunning environments. Sure, you can spy a bit of pop-in, and cars aren't quite as throaty as they should sound, but these are all minor transgressions. Look past the game's intermittent imperfections and there's a lot of intense enjoyment to be found. Any game where a test area holds my interest for hours has undoubtedly captured the thrill of motorsporting. Pivot to one of the game's stages, and those thrills grow exponentially, with the menace that even a slight miscalculation can undue an otherwise prodigious performance. That's the spirit or rally and its abundant in WRC 9, making this essential for fans of the sport.
WRC 9 FIA World Rally Championship was played
on PC with review code provided by the publisher. 
Review Overview
Summary : Across the last few years, WRC FIA World Rally Championship has risen through the ranks, moving from underdog to dominant force. With the release of the ninth iteration, Kylotonn Games takes top honors, narrowly beating the competition. While the quality of racing is neck and neck with DIRT Rally 2.0, a wealth of courses in the base game, a reduced online component, and simplified club creation give WRC 9 the edge.