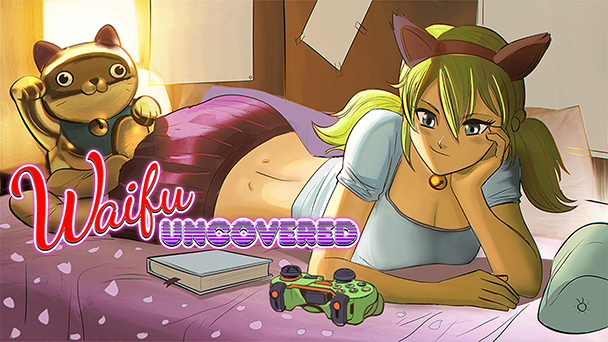 Waifu Uncovered tasks players with shooting toxic germs that have infected the clothing of nubile girls. Succeed and the clothes come off, offering a mix of Space Invaders and strip poker. Unfortunately, it's not as fun as either of these recreations.
Waifu Uncovered
Platform:
Switch, Previous on PC
Developer:
One Hand Free Studios
Publisher:
Eastasiasoft
Release date:
July 16th, 2020
Price:
$5.59 via digital download, regular price $6.99
Availability:
Nintendo eShop
Within minutes, it's clear that Waifu Uncovered isn't your typical Switch game. Sure, the title screen of a girl lying on her bed, clad in cat-ears and a crop top, is slightly suggestive. But it's hardly explicit enough to raise suspicion. No, the first sign you might be venturing into something more lascivious arrives on the splash screen. Here, developer One Hand Free Studios' logo is a hand wrapped provocatively around an outstretched joystick.
After making a few decisions about play mode, the use of on-line leaderboards, ship type, and girl, you'll head right into the action. Unfortunately, Uncovered isn't too forthright with instruction, beyond telling you to grab the purple shuriken dropped by defeated enemies. Instead, One Hand Free assumes you'll know what do with those idle wrists.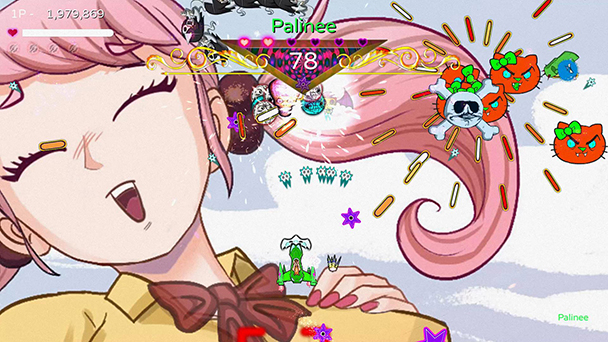 Clothes Call
Each girl delivers seven stages of play: six rounds where you gun down subordinates followed by a boss fight. After each round, she'll lose one of those contaminated pieces of clothing. Initially, her modesty will be protected by things like splashes of paint or a stuffed rabbit. But persevere and you'll unlock 'Uncensored' mode, which rewards your dexterity with cartoon nipples. Some might be disappointed that the girls' nether regions are covered by odd objects. Me? I found it oddly comical that a rocket was strategically placed to hide vajayjay.
Unlike most shooters that end after a certain number of foes are exterminated, Waifu Uncovered's stages last until you collect enough throwing stars. Perhaps there's a bit of strategy in determining to go after a giant size one or a cluster of smaller ones. But that's about as deep as the game gets. Often, the best strategy is to focus on vertical sections of the screen where the most enemies are, allowing shuriken and power-ups to cascade onto your ship. Save for the occasionally Galaga or Centipede-like movement of enemy formations, Uncovered's adversaries often just linger about, occasionally pushing out streams of projectiles.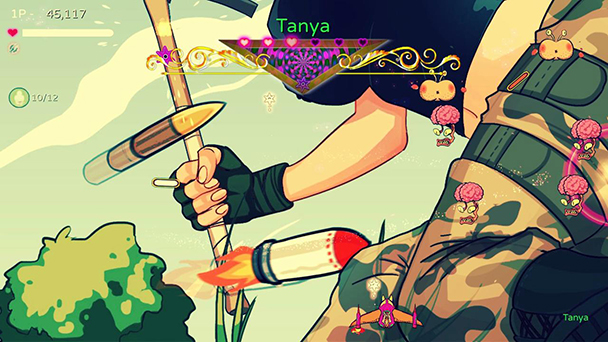 What Am I Shooting At?
While opponents don't demonstrate much in the way of animation, there are quite a few peculiar types. From flying anuses to something like looks like an amalgam of Hello Kitty and the Black Cat Fireworks mascot, eccentricity abounds. Unfortunately, boss battles don't intensify this unconventionality. Instead, adversaries typically bobble around the top of the screen, sporadically releasing a steam of bullets, spawning subordinates, or just trying to ram into players. Did I mention there's intermittent slowdown, too?
Courteously, Waifu Uncovered isn't restrained with its power-ups and you'll likely earn new ones every half minute or so. These provide assists like boosting shot power, adding lasers, rapid-fire, or provide your ship with force field. They're cumulative, so save for the red power-down one, you'll want to grab as many as possible and you persevere across the game's collection of eight different waifu. They also add variability to each play. While some bosses were dispatched in about a minute, an auspicious gathering of power-up let me take down an adversary in a few seconds.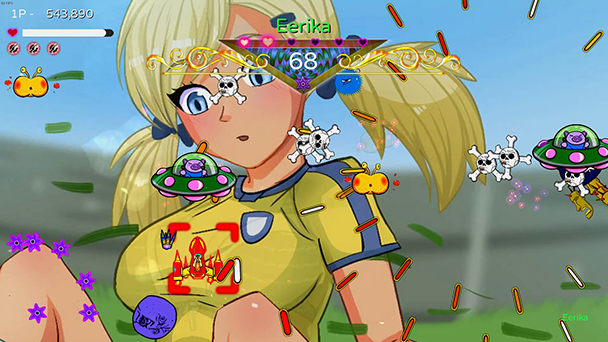 Play on Normal mode, and you'll probably breeze through Waifu Uncovered with breaking a sweat. Arcade mode escalates the difficulty to provide a challenge, while adding the game's cover star to the succession of ladies that need liberation from their attire. Then there's also one finger mode, which lets you control the game by using a single digit on the touchscreen, if that's your thing. But you'll need to unlock the variation first. And once again, Waifu Uncovered is a bit indistinct, with scant information about how things are unlocked. After several plays, I was surprised to find I had already unlocked every ship in the game. Another blemish is found in the game's sense of progression. Although you're ship has a health meter, fail and you'll face a 'game over' with no continue option. This can feel a bit punitive on the game's concluding stages.
Conclusion
Take away the nudity, and Waifu Uncovered is a rather lackluster shoot 'em up. So, if you have little interest in anime tiddies, you'll want to exercise your trigger finger elsewhere. Instead, Uncovered's low price and undistinguished design lend itself to players who seeking a good lascivious laugh, as clothes disappear from the model. But at least this paves the way for the possibility of a Crawlco Block Knockers Switch port.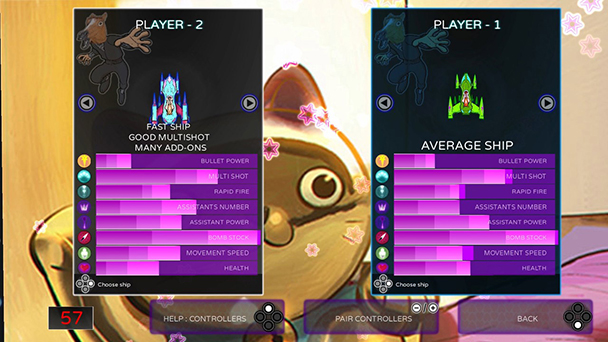 Waifu Uncovered was played on Switch, with both hands,
with review code provided by the publisher. 
Review Overview
Summary : With the arrival of Waifu Uncovered, (Western) eroge has landed on Switch. As a game it's not all that sexy and the shooting is rather middling, but at least it's affordable and slightly comical.