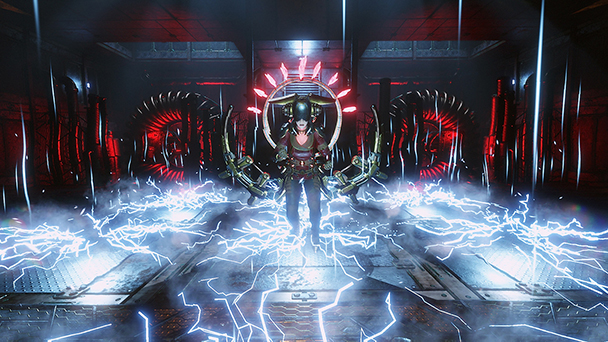 Across its three-decade long history, the three-dimensional dungeon crawler has been surprisingly resistant to change. Take a look back at 1989's Dungeon Master or 1991's Eye of the Beholder, and you'll find a framework that shares quite a bit with modern titles like Legend of Grimrock or Stranger of Sword City. Sure, visual quality might have improved and sophistication has undoubtedly increased, but there's still a wealth of convention when skulking these kinds of subterranean spaces.
Straddling the space between tradition and innovation is the release of Vaporum on Switch. Although many of the dungeon crawling tenets are there, an extended playtime, a steampunk theme, and a single-person adventuring party means you'll find a few divergences in Slovakian developer Fatbot Games' inaugural effort.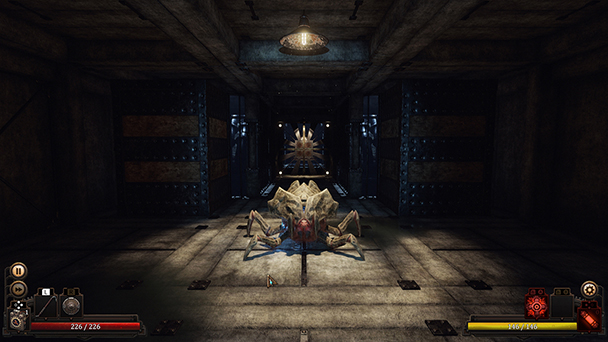 The game's prologue opens with an animated image reminiscent of Hokusai's The Great Wave off Kanagawa. But the ukiyo-e influence proves short-lived, as narration by an unnamed protagonist is delivered in an English accent. What lies ahead resembles a sprawling, derelict setting reminiscent of BioShock's underwater city of Rapture.
Shipwrecked and suffering from amnesia, the character is drawn within the towering spire, by both a desire for shelter and an inexplicable fascination with the structure. Discovery, unsurprisingly, is found within. Uncovered notes and audio logs left by those who worked in the facility form the bulk of exposition. While the plotline becomes foreseeable before the end of the fifteen-hour trek, the storytelling is largely serviceable thanks to proficient voice work from the lead.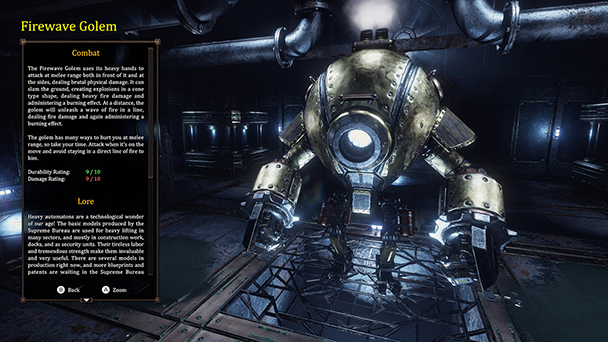 Upon entering the structure, players are given a selection of different exo rigs to wear during exploration. Whether you select the all-around Combat Exoskeleton, the technological-oriented Thauma, the hard-hitting Assault suit, or defense-minded Heavy Rig, each is tailored to a specific playstyle. Largely, these influence your base stats, but the choice also impacts elements like dual-wielding precision, critical chances, and what type of circuits you can improve, which are Vaporum's take on skill trees.
For better or worse, there's little exclusivity in your exo choice, with all types of rigs able to use ranged, one- and two-handed weapons. Vaporum favors real-time combat, offering a Stop Time mode that's similar to Superhot's signature mechanic. Like the exo rig system, there's a lot of flexibility baked in. If you want to lower the difficulty setting, you can bash your way out of corners without much care. But if you're yearning for more tactical encounters, you can the environment to split up enemies or take advantage of elemental weaknesses. You'll need to prioritize targets as well, noting that hovering drones and robotic spiders can make their way across pools of acid without harm.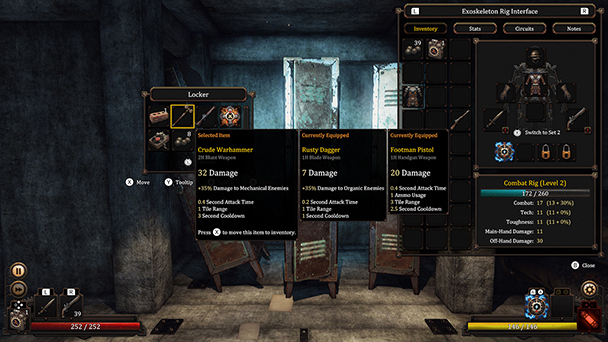 Naturally, there's the typical assortment of crate pushing, level pulling, and key finding during exploration. Mercifully, checking for interactive items is initiated by a tap of the right trigger, with Vaporum clearly revealing if there are any switches, buttons, or items. On the Switch relatively small screen, undocked pixel hunts would have sullied the entire experience. In keeping with dungeon crawling logic, the presence of many of these riddles doesn't make a whole lot of sense, but compassionately lock and key are rarely too far removed from one another.
While Vaporum is worthwhile, especially for fans of the genre, there are a few issues. Both enemy variety and environmental assets are restrained. For stretches of the game, you'll encounter the reuse of both tarnishing the sense of progression. Originally a PC game, the Switch port sporadically divulges its roots. Button mapping could be more context-sensitive, it's a bit unwieldly to use a press of an analog stick to gather items. When played in handheld mode, the game's font size is quite small. Luckily, there's not a lot of text onscreen. On the upside, performance is great with the game running at a fluid thirty frames-per-second, while transitions from one grid point to the next are smooth.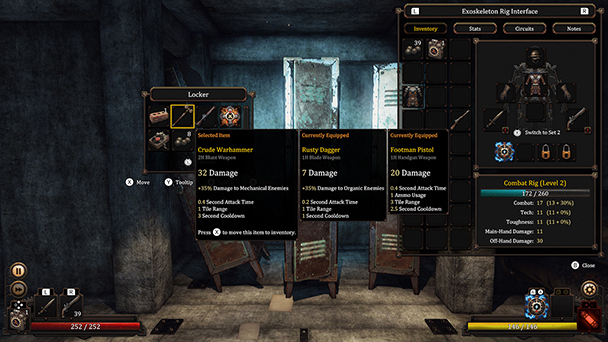 For dungeon crawling enthusiasts, Vaporum is a malleable experience, catering to a multitude of skill levels and load-out preferences. While there's a bit of redundancy in enemy and environment, there's still enjoyment to be mined from exploration and extermination. Given the relatively small number of genre entries on the Switch, Vaporum is certainly one of the better selections.
Vaporum was played on Switch with review code provided by the publisher.
Review Overview
Summary : Although the port of Switch is a bit fiddly, Vaporum is an immersive and enjoyable dungeon crawl that offers an few interesting tweaks on convention.