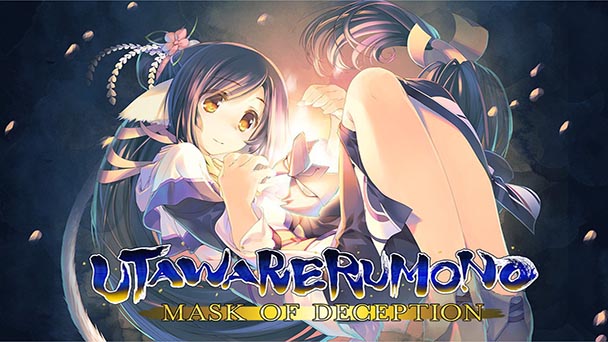 Released in 2002 for Windows-based machines, Utawarerumono resonated with the Japanese public, spurring two radio dramas, a trio of manga and an anime adaptation, as well as a PS2 port developed by Sting. But save for the emergence of fan translations and six characters in Aquapazza: Aquaplus Dream Match, stateside gamers may not be well acquainted with the title. That's poised to change with the release of Utawarerumono: Mask of Deception, a follow-up which brings the first half of a duology to the West.
Admittedly, Mask of Deception doesn't make a good first impression. Following the now-conventional prologue where disembodied voices speak in enigmatic phrases, the title places the amnesiac protagonist in a snowy environment, clad in a flimsy hospital gown. A hulking insectoid-like creature attacks, only to be outmatched by an even larger an amorphous beast, and finally that monster is subdued by an interloper with a hand grenade. Obviously, the game is trying to recreate the rollicking thrills of an action film, but without any kind of context for the events, things don't begin to gel until after the stunningly animated opening sequence.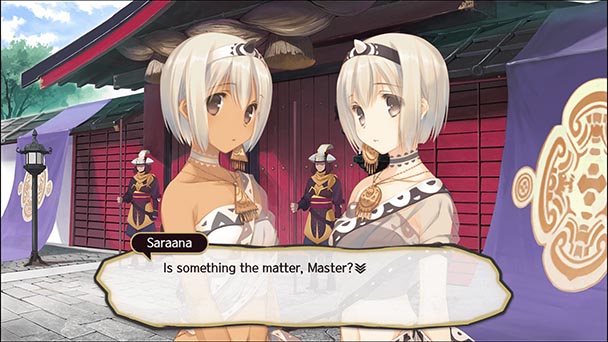 Here, Deception abandons its attempt at a breakneck cadence, falling into the protracted pace of most visual novels. Interaction with your rescuer, a black-haired girl with a lustrous tail and cat-like ears named Kuon, signals some of the amusing interchanges in store. Comedy ensues when the protagonist attempts to dress himself the typical attire of the local village, putting on his pants backwards when he assumes that an opening designed for a tail is a fly. What follows is a bit of embarrassment and shock for Kuon, as the lead's pants accidentally fall.
But this incident also signals Mask of Deception's lascivious nature. Although the title shirks the sexual explicitness of the original eroge, the game is teaming with mild titillation. In many ways, the stance echoes George R. R. Martin departure from the chivalrous, squeaky-clean world of Tolkien. Utawarerumono's incorporation of kemonomimi (there more than just catgirls, with genders exhibiting dog and bird-like qualities as well) isn't just to represent playful mischievousness. These creatures are unabashedly often unabashedly sexual, generating a plethora of humorous situations. While it may not make much sense for a civilized society to assess one another on physical merits, with an animalistic cast, the choice seems natural.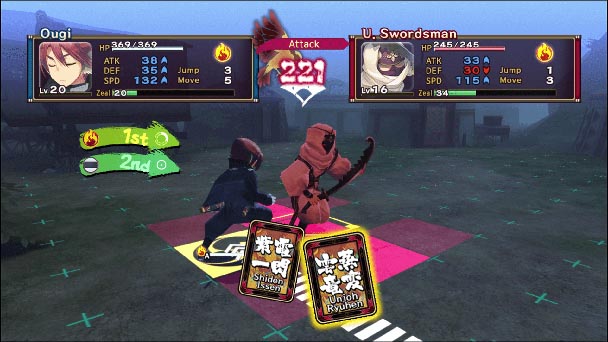 After given the name "Haku" by his rescuer, much of Mask of Deception's early game is fueled by the 'fish out of water' trope. During this period, he's a bit of indefinite, mostly used as a comic foil for interactions with a growing roster of side characters. But eventually, Haku comes into his own, which shouldn't be a spoiler given a literal translation of the game's title. For much of the game, the real stars are Deception's secondaries, with many displaying a gratifying character arc.
The majority of your time with be spent with exposition, where a button press advances text and the sporadic decision doesn't have much of an effect on your path. But intermittently, Haku and his party will be called to battle fierce opponents, offering a pleasing suspension from the plotline. Here, Mask of Deception extends mechanics based on strategy role-playing tenets, with a time line dedicating when party members can move and take action.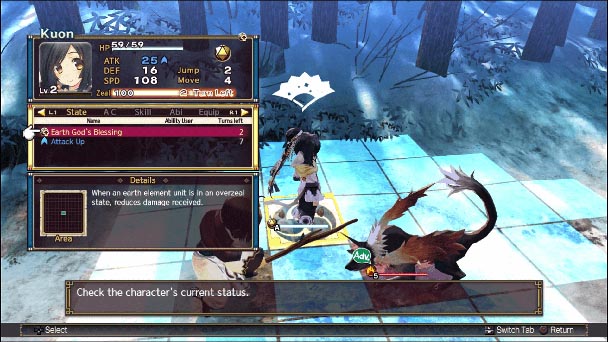 Distinction is rooted in Utawarerumono's incorporation of Action Chains, allowing leveled-up party members to bolster their attacking, healing, and countering abilities. These show as two types of rings on screen, prompting players to submit a timely button press when in conjunction with a shrinking or charging ring. Gradually, successful Action Chains gain an attribute called Zeal. If adventurers have reached a high level and the max out their Zeal count, they can execution a character-specific assault called the Final Strike that has the potential to humble the toughest of opponents.
Play Mask of Deception on the normal difficulty setting and you'll likely triumph without worry of elemental attributes, where each character has a particular strength and weakness. However, on the game's harder setting, these variables matter, making combat a bit harder. But mercifully, Deception allows players to rewind turns, allowing for some experimental strategizing. And whereas most SRPG extend a deficiency of mission types, Utawarerumono excels with an agreeable variety of win states. After playing games where you're incessantly tasked with overwhelming the opposition, the occasional defensive encounter can feel refreshing. But on the downside, Mask of Deception's battles arrive with sluggish frequency in the first half on the game, picking up as you head toward the game's cliffhanger.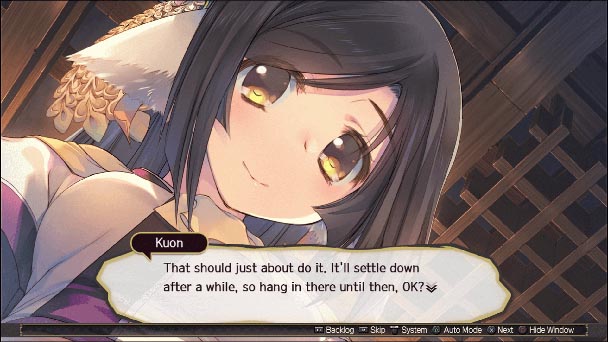 Yes, that mean that players who invest in Mask of Deception are obligated to purchase next September's Mask of Truth to achieve closure. Even then, there's the nagging feeling that this effort references the first Utawarerumono, which might be off-putting to some. But beyond that issue, Atlus' localization team should be commended for not offering the type of direct localization that can feel overly sterile. Instead, the team endowed Deception with a bit of puckishness. While the rare pop-culture reference might not sit well with purists, those who value humor will have a rollicking good time. Pleasingly, the storyline isn't just about cultivating laughs, as a number of dramatic moments and surprises contribute gravitas.
The game's painterly aesthetic and use of subtle visual effects are bound to charm gamers. On the PS Vita, character designs are adept, while backdrops like concisely beautiful and full of detail. Moving to the battlefield swaps sprites for polygons and while there's a loss of graphic fidelity, each adventurer is easily distinguished. Awash in bright hues with plenty of on-screen statistical data, Mask of Deception looks right at home on the Vita's diminutive screen.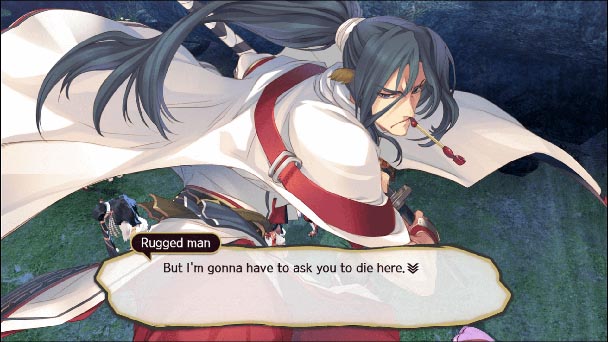 While boxart and promotional screenshots might seem to indicate that Utawarerumono: Mask of Deception is primarily a strategy role-playing game, that isn't the case. The title is first and foremost a visual novel- with battles that may occur too infrequently for ardent tacticians.  But players who favor play over plot are poised to have an enjoyable time with Deception.
Utawarerumono: Mask of Deception was played on the
PS Vita with review code provided by the publisher. 
Utawarerumono: Mask of Deception
Platform: PS Vita, PlayStation 4
Developer: Aquaplus
Publisher: Atlus
Release date: May 23rd, 2017 (US)
Price: $39.99 (Vita), $49.99 (PS4) Available via retail and PS Store

Utawarerumono: Mask of Deception review
Review Overview
Gameplay - 75%
Story - 80%
Aesthetics - 90%
Content - 90%
Accessibility - 75%
82
82%
GOOD
Summary : The first entry of a duology, Utawarerumono: Mask of Deception makes for a commendable visual novel. Just don't be surprised if you find yourself clamoring for more combat.

User Rating:

4.43 ( 4 votes)