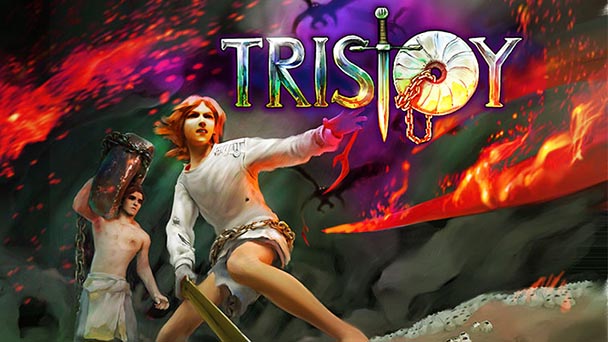 Over the last decade, indie games have seen an unprecedented growth in both demand and popularity. This is partly due to the fact independent software houses are more likely to take risks, either by reviving old genres thought to unprofitable by larger studios, or spicing up old formulas in a way which may or may not appeal to a general audience.
Developer, Uniworlds Game Studios chose the latter as it attempted to combine action-platforming with non-linear storyline and co-op gameplay. Unfortunately, this ambitious design is marred by technical issues and poor execution.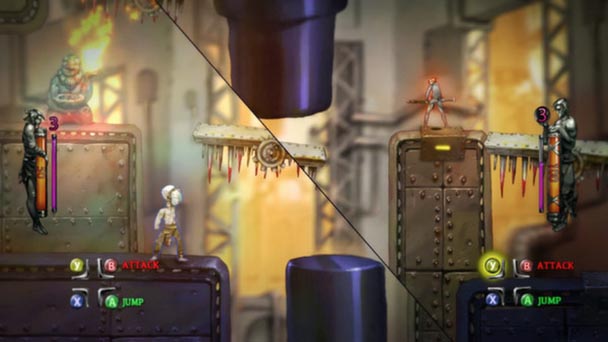 It should be noted Tristoy does not feature a singleplayer mode. Every playthrough must be done either with a friend or through matchmaking, though try as I might, I could never find any players using the latter. To offset this issue, each Steam purchase comes with two keys, and though this helps greatly, it ensures Tristoy play sections will always be limited to a schedule organized by both players.
Gameplay is officially described as 'Metroidvania-style' and though it does share some similarities, Trine would be a more apt comparison as Tristoy follows a linear path with additional power ups being handed as part of the plot. Puzzles are also one of Tristoy's mainstays, most requiring one player to stand on a platform while the other manipulates it in some way or form. In fact, challenges are often handled by limiting one character, some enemies for example can only be killed if they are weakened first by a specific player with the other providing a finishing blow. This also applies to dying with some characters being vulnerable or immune to specific threats. Despite this being a sound concept, the hit detection is less than ideal with many hits often going through their intended targets without damaging them.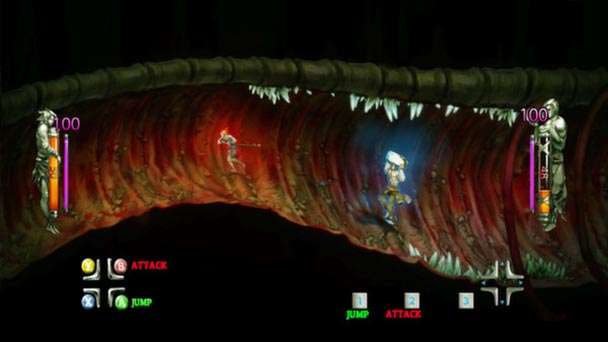 In theory, Tristoy's innovations could potentially revolutionize the genre. However, more often than not, these are poorly handled by its designers. Throughout my experience, lag and rubber-banding was a constant hassle, to make matters worse, your partner's movement often shakes the camera making for a disorienting ordeal. Moreover, the game often fails at introducing mechanics, harmful obstacles from differentiating background/foreground decorations and at times even defies its own internal logic. At one point, Robert's character fell through a massive chasm and left it unscathed, only to then be killed by a 6' pit.
Puzzles are often solved by Interacting with the environment, but doing so is needlessly frustrating. Often times, raising/lowering bridges required several attempts simply because of how unresponsive the control mechanisms were.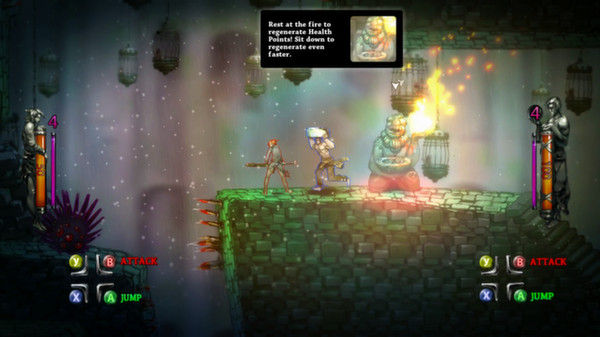 As players progress, several dialog instances appear some of which are optional. Each character is allowed to pick a line which will change future or past events in the story, for example, if you state a certain character is dead then this creates an event which took place in the past. On the other hand, if it's stated that person is alive, then that becomes cannon and influences their motivations. This is an ingenious story-telling method, one which I would love to see further explored in more titles, unfortunately in Tristoy's case, it's undermined by terrible voice-acting.
Tristoy allows for three control methods; controller, smartphone and keyboard though I would not recommend the latter. Keyboard controls have combat, platforming and context sensitive actions mapped to the 'H', 'J' and 'K' keys. With no apparent way to change this uncomfortable layout I would sooner recommend the use of a controller instead.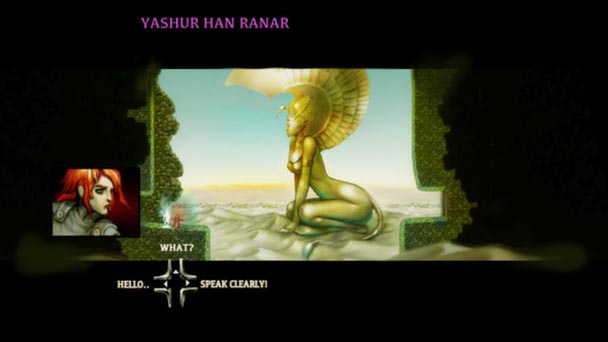 It's disheartening to see a title ripe with potential bursting at the seams with flaws, bugs and generally poorly implemented concept. Tristoy features a slew of groundbreaking concepts, few of which are properly implemented. The game as a whole may fall flat, but I would still love to see a possible sequel with all its issues worked out. The path to innovation often requires experimentation and Tristoy needs to spend a little more time in the lab.
Tristoy was played on the PC with a review code provided by the publisher.
Tristoy
Platform: PC
Developer: Uniworlds Game Studios 
Publishers: Merge Games, Headup Games
Release date: January 15th, 2015 (US)
Price: $19.99 via Steam
Review Overview
Summary : Tristoy is a co-op action-platform puzzle game filled with groundbreaking but poorly executed ideas and concepts whose moments of brilliance leave me hopeful for an improved sequel.