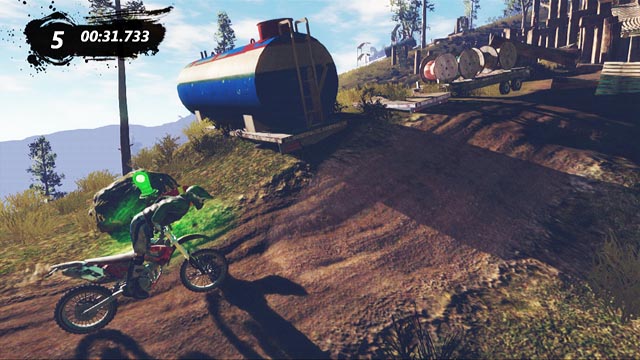 What is the concept? Although the Xbox Live Arcade has served up a share of challenging games- from the control-clenching platforming of 'Splosion Man and Super Meat Boy to the maniac dodge-and-shoot action of Bangai-O HD Missile Fury and Ikaruga, few downloadable titles have offered opposition as overpowering as 2009's Trials HD. Grounded by an remarkably simple premise, the game tasked players with guiding a motorcycle- jockeying protagonist through a succession of increasingly elaborate and demanding levels. While the first few runs presented an average level of adversity, soon stages demanded a masochistic level of mastery, often requiring players to repeat the same single-wheel balances and bunny-hops hundreds of times.
While the concluding moments of Trials Evolution still reach the same punishing plateaus, average skilled players will likely mine their money's worth before the game reaches swear-inducing status. Shrewdly, developer RedLynx amended the trajectory of the single-player campaign with both skill-building license tests and a tier system which helps gamers from reaching a game- deserting stopgap.  Yet, thanks to the game's impeccable control scheme- with players only adjusting rider position as well as acceleration, Trials Evolution persistently conveys the perception that each of the game's sixty core levels can be conquered, given enough practice and dogged perseverance.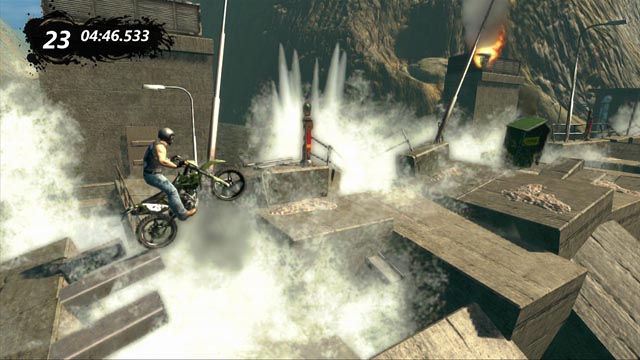 What are the game's strengths? Whereas Trials HD was set in a sterile, soulless warehouse, the sequel transports its physics-based challenges to an ever-changing list of locales. From desert environments to sprawling locations which unite the urban with the pastoral, the title's selection of backdrops is as conspicuous as its far-flung draw-distance and fluid framerate. Save for the comical ragdoll wipeouts, Evolution's predecessor was a fairly straight-laced game. Now, a sly sense of humor permeates each level, whether stages are punctuated with falling objects pelting your hapless rider, or players are showboating across the Czech Hedgehogs in an Omaha-beach inspired stage.
Beyond the game's career mode, RedLynx also hands over the entire toolset to players, delivering an editor capable of constructing any of the game's stages. While both the basic and advanced construction sets compel a bit of experimentation before generating virtuous results, the developers allow players to tweak any of the title's prebuilt levels, offering an implicit tutorial for the dedicated. Pleasingly, Evolution's stage-sharing abilities have been overhauled, allowing gamers to easily download up-voted tracks and even the developer's personal picks. Hopefully, an enthusiastic community will keep the title relevant through a steady infusion of imaginative track ideas.
For competitive-minded players, up to four local or online riders can vie for supremacy on Supercross courses which recall the Excitebike's spirited sprints across jumps and whoops. Cleverly, these events are more than just simple racers, exhibiting a scoring system which also rewards stunts while penalizing each reckless wipeout. Meanwhile, the title's Motocross contests mirror the tighter perspective single-player game, with other cyclists appear as innocuous ghosts as contestants vie for the finish line.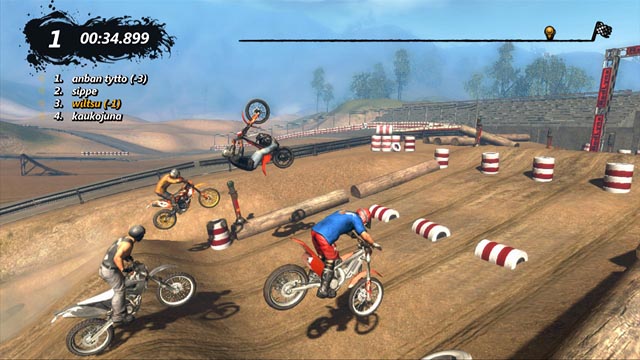 What are the game's weaknesses? Trials Evolutions' online multiplayer events are consistently lag-free and even offer visual indication of the quality of each participant's net connection. Yet, the title's matchmaking system can be sluggish, with waits up to a minute before jumping into a Quick Match. Additionally, matches were sporadically cancelled just as an eager quartet of riders was rounded up, forcing players to start the process anew. Hopefully, a patch will allow gamers to spend more time on the courses than in the cues.
Evolution's currency system feels like a missed opportunity. With each bronze, silver, gold, and platinum medal earned, paying out correlated dividends, players are able to customize the color of their riders' clothing and safety equipment. However, once a suitable look for your avatar is selected from the game's selection of common gear, money begins to begin to be stockpiled. Ideally, the title would have offered another incentive, such as special stages or avatar pics which denote serious progress through Trials. Pleasingly, owners of the first game are given a few perks based on how well they performed.
Is it worth the money? Considering the collection of engaging single player stages, multiplayer heats, and ability to download an inexhaustible number of supplemental tracks through the game's level editor, Trials Evolution's fifteen dollar price is wholly reasonable. Although Trials HD veterans may still be suffering from shell-shock incurred by a nearly insurmountable difficulty level, this follow-up  demonstrates a gentler side, offer much more content for players cursed with the motor skills of an common mortal.