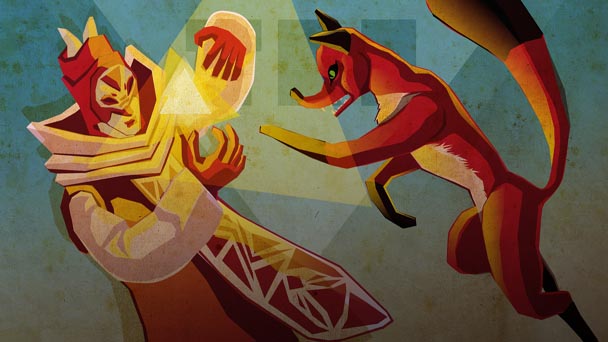 Robert's Take: Successful puzzle games allow the seemingly impossible to be accomplished, leading players down a path of nearly imperceptible path of breadcrumbs. The genre's most prestigious titles are able to perform this feat with an exceptionally lean toolset, crafting a progression of challenges from every conceivable combination of abilities. In essence, it's the formula that has allowed celebrated games like Lemmings, The Lost Vikings, and the Portal series to earn a spot in the pantheon of puzzlers.
And while a few blemishes prohibit the recent release of TRI: Of Friendship and Madness from joining that elevated echelon, the PC title exhibits an adept mastery of elements, uniting brisk exploration with a rapid succession of navigational dilemmas. What's more, developer Rat King demonstrates a deft command at level design, playfully giving players a glimpse of their core objective, but forcing them to get their through an elaborate gauntlet of challenges.
Following a brief cinematic which sets up a sets-up a dialectical tension between two differently hued foxes, TRI's opening stage imparts the basics of navigation. Beyond using a traditional mouse and input scheme to move through the level, the developers deliver a few concessions to make the game's first-person platforming a bit less awkward. Additions like being able to clinging to the edge of a platform by holding down the jump button might see humdrum at first, but once TRI reveals its passion for verticality, players will be thankful for its inclusion.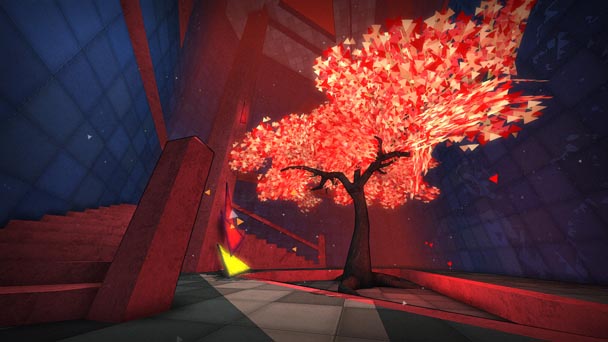 Every stage tasks players with collecting three fox statues and bringing them to an altar. While players can roam freely, discovering a wealth of additional collectables is every alcove, oblique guidance is always available, with a key press showing the general direction of each figurine. As such, TRI offers a pleasing balance, with levels that feel substantial and complex, but aren't so big that gamers will become hopelessly lost.
The game's second stage grants gamers the ability to construct a seemingly endless number of three-sided platforms. Here, players create a triangle by defining three points in front of them. Once the third vertice has been selected, the polygon is filled with color. If it's yellow, that means the triangle can be traversed, while a red figure is too steep to be negotiated. As such, right-clicking the crimson colored triangle removes the figure from the environment.
Building makeshift walkways (and later, gravity-defying footpaths) out of three-sided figures isn't easy at first. Expect your provisional ladders and platforms to have the occasional fissure which can send you back to square, or rather, triangle one. Construction can also be a bit fiddly. While the game does superimpose translucent build markers on-screen, occasionally the game automatically designates the third vertice, which isn't always where you might want it.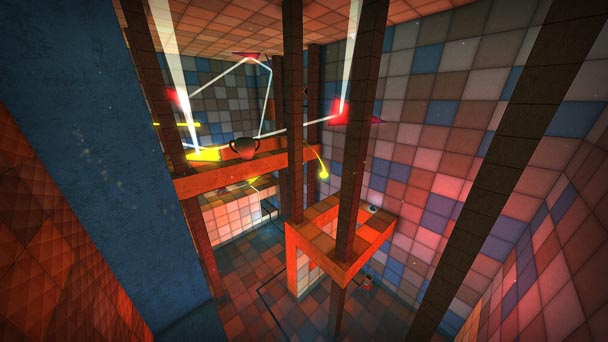 But any small frustrations with level traversal are offset by TRI's autonomous nature. Stages are devoid of enemies, so players won't have to worry about foes meddling with your construction efforts. Although the end of level displays your competition time (as well as the number of Tri's created), there's no mechanic to artificially goad gamers along. As such, Of Friendship and Madness often conveys a serene, Zen-like demeanor which mirrors its aesthetic choices.
Just don't assume the game's relaxed vibe means that TRI doesn't offer an engaging game experience. While each of the game's sixteen stages can usually be completed in about half an hour, each level's succession of traversal challenges, switch-based puzzles, trap doors, and other conundrums makes playthroughs seem about than half as long as they really are. Paradoxically, this kind of misperception of time is a fairly reliable indicator of the quality of a game. Certainly, TRI: Of Friendship and Madness is a superb way to fill your free moments.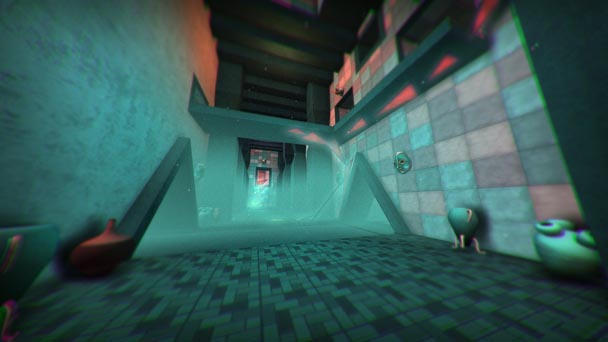 Gonçalo's Take: Valve's Portal games have been instrumental in popularizing the first person puzzler genre during these last few years. We've now seen various studios attempting to further evolve this style of gameplay but none seem to have been able to strike a chord as the original Aperture Science trials did.
Of all these entries, Rat King's Tri is perhaps the first game to have provided me with the same style of experimental glee I felt when I first got my hands on a portal gun. The story is kept vague if heavily inspired by Japanese folklore.
Players are presented with a tale of the fox Gods; two innocent and playful spirits who have been mysteriously separated. A silent protagonist simply known as the acolyte serves as our avatar, who is then tasked with finding and reuniting the fox Gods.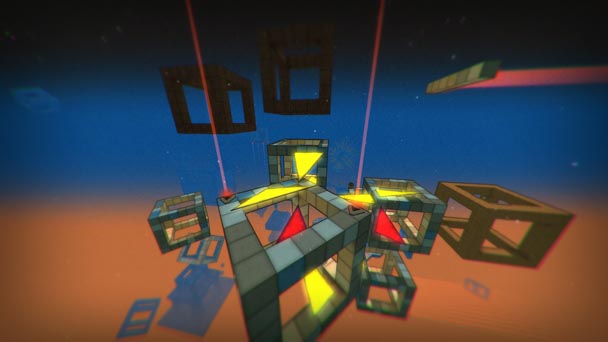 With the exception of the tutorial area, Tri's action takes place in temples, each serving as a level to explore. Scattered throughout these locations are fox icons which must be collected by the acolyte. The first level has players reaching these through a mix of 3D platforming, puzzle solving and spatial recognition, which serves as a nice introduction to Tri's basic control scheme.
The game's ingenious gameplay really gets going when you acquire the power of Tri, an ability that lets you draw triangles out of thin air. These can be used as platform or bridges but require some time to master their use. Triangles need three solid points like walls, floors or other triangles and must be created at an angle that allows your character to walk on top of it without slipping.
More abilities are unlocked later such as the ability to walk on walls or reflecting light, but the game places a heavy focus on its triangle-creating feature and with good reason too; it's incredibly fun. Most maps are relatively small in size, but hide many secrets and pathways to players with enough imagination and curiosity.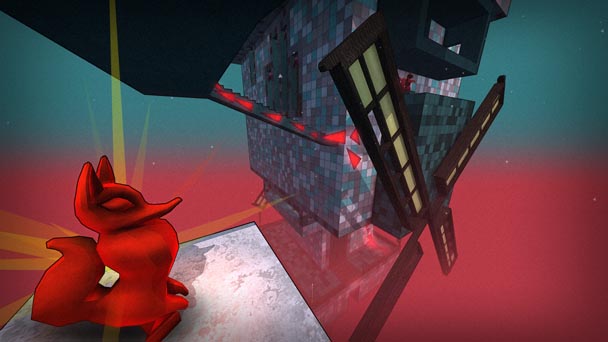 At one point I found myself staring at the ceiling of a temple, wondering if I could build bridge. There was no in-game motivation for me to do so, I simply did it for the personal challenge. As I reached the top I uncovered a hidden easter egg left by the developers, it was at this point I realized how meticulously every map was designed. They function as a playground for Tri's abilities and encourage players to use imagination with the powers they are given.
Gamers who require in-game rewards for trailing off the beaten path will be glad to know every stage features several optional tanuki idols which once collected, unlock making-of images, developer's commentary and more.
Story segments are occasionally presented as players progress through each temple. These are presented either through both in-game dialogue and motion-comic cutscenes. I found the latter especially impressive due to its unique artstyle, mixing a Japanese inspired look with the triangle motif. This even expands to the in-game engine as dust particles, leaves and other miniscule objects are all in fact, triangles drawn to resemble their real world counterparts.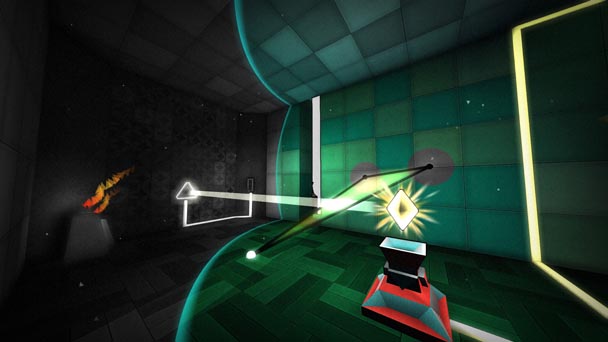 In fact, the game features an appealing and colorful if minimalistic look. Much like the structures we explore, every visual detail seems to have been carefully woven by the developers. Even the soundtrack is unique, mixing western and eastern instruments as well as styles to creating a rare musical blend with a hint of humor thrown in for good measure.
Tri is definitely one of the most memorable entries in its genre. From the abilities you are given to its sounds, art style and even how gameplay flows, Tri provides a very surreal, almost dreamlike experience. All of its stages are meticulously designed to promote exploration and lateral thinking without ever feeling unfair or frustrating. Whether you enjoy solving puzzles or just playing around with imaginative abilities, TRI is a game truly worth experiencing.
TRI: Of Friendship and Madness was played on the PC with review code provided by the publisher.
TRI: Of Friendship and Madness 
Platform: PC
Developer: Rat King Entertainment 
Publisher: Rising Star Games
Release date: October 9th, 2014
Price: $13.49 until October 16th, $14.99 thereafter
Languages: English audio/English, German, French, Spanish, Russian text
Review Overview
Summary : A unique, first-person puzzler that offers a near-perfectly balance between exploration and experimentation. While other developers have tried to replicate the success of Portal, TRI: Of Friendship and Madness truly succeeds.