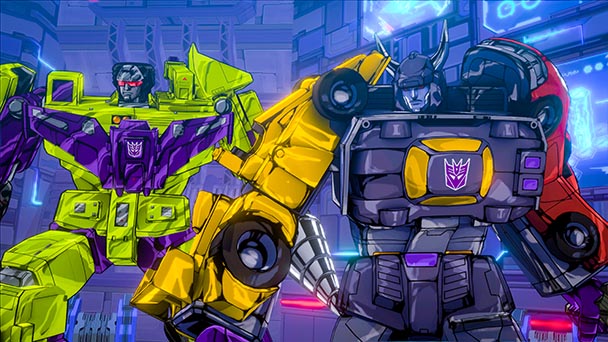 Platinum Game's output should probably be bundled with a trial size tube of IcyHot. Pick up Vanquish, Metal Gear Rising: Revengeance, or either Bayonetta title, and you'll find your hands instinctively locked on the controller, as if a vice-like grip could provide just the slightest edge against an onslaught of lightning-fast enemy attacks. Yet, the boa-like squeeze never produces dividends. Only by digging in and studying enemy attack patterns can players hope to persevere to the next level boss.
The recent release of Transformers: Devastation for the PlayStation 4, Xbox One, and PC, reveals the Osaka-based studio staying true to formula, potentially inducing another global pandemic of tender, aching hands. While the protagonists might have shifted from suited agents, cyborgs, and sexy witches to a quintet of intrepid Autobots, the hectic action remains rooted in Platinum rudiments. Save for an underdeveloped loot system and an abbreviated playtime, Devastation is thoroughly entertaining, narrowly trumping Melbourne House's and High Moon Studios' admirable attempts at transforming the IP into a interactive experience.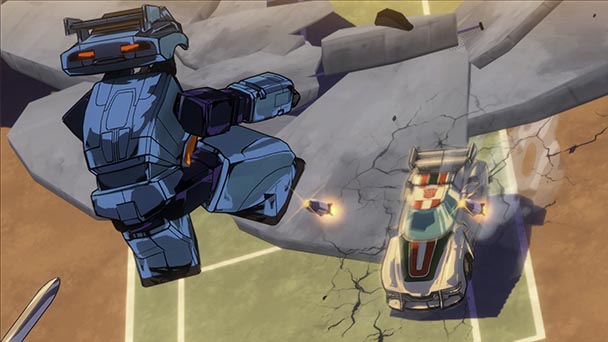 Recalling the type of plotline that once propelled the '80s television program, the game's prologue and premise focus on the Decepticons' scheme to ravage the Earth for their own egotistical provocations. Naturally, that means that a team of protagonists- Optimus Prime, Bumblebee, Sideswipe, Wheeljack and Grimlock are faced with bringing an end to these nefarious plans, but also pummeling the Deceptions into a pile of scrap. Compared with most contemporary game narratives, Devastation's set-up might seem mundane, but the scenario stays faithful to G1 storytelling and keeps the quick cutscenes from breaking the momentum of the game's action. Indulgingly, Transformers' original voice talent delivers the game's delightfully hammy dialog, with Peter Cullen, Dan Gilvezan, and Frank Welker seamlessly returning to their renowned roles, and sounding like their having a great time in front of the mic.
No matter what Autobot you control (players are able to select from all five after the first 45 minutes of play), each Transformer delivers a punishing procession of light and heavy attacks. Pleasingly, chains emerge instinctively, with little of the forced combos common to many brawlers. Being a Platinum-developed title, there's the obligatory slow-motion sequences. Here, they're activated after a precisely-timed dodge, bestowing an opportunity to pummel unfortunate foes without the same advantage.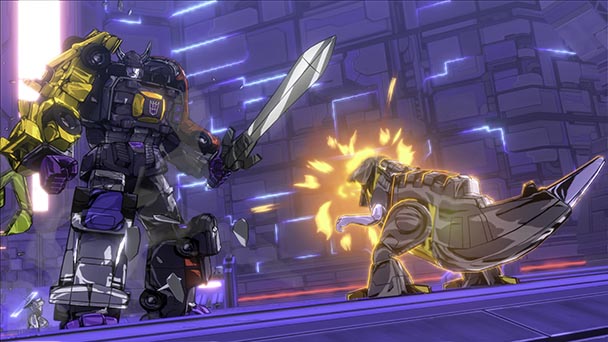 Complementing melee strikes, protagonists also have a number of ranged attacks that are linked to a consumable munition supply. During play, Devastation typically offers a few flying enemies as well as adversaries that have a propensity to snipe from rooftops. While dropping these distant targets offers a nice break from delivering strings of contiguous strikes, players will also find some of their ranged weapons effective against mid and end-level bosses. Although you won't be able to dispatch the game's bigger baddies with just a flamethrower, it's gratifying to see gargantuans who aren't completely immune to the most powerful devices in your toolbox.
Transforming comes into play during two circumstances. After successfully performing a string of strikes, the game will prompt players to press a shoulder button. Executing that action during a split-second window of opportunity, will cause your Autobot to change forms, delivering a brutal assault on an enemy, such as when Optimus' shifts into semi mode and performs donuts on vulnerable villains. Transforming at any time is also available with an extended button press. Although Autobots deliver most damage in upright form, changing is occasionally necessary. Sporadically, shielded enemies can only be stunned by crashing into them at top speed, while Devastation occasionally throwing in a vehicular chase sequence for variety's sake.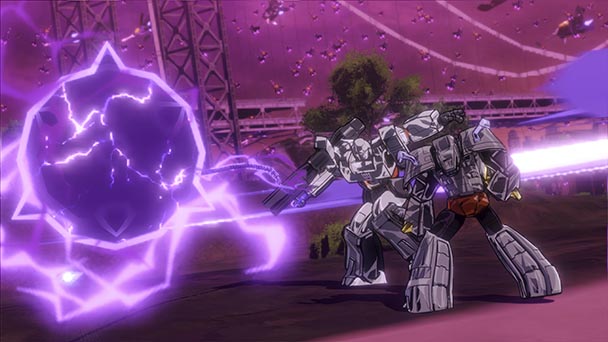 Like Platinum's previous efforts, there's a discernable cadence to the game. Players enter arenas, opponents materialize in ever increasing numbers, synchronized with the ferocity of searing guitar licks, before a performance grade is used. While the tactic is used to encourage gamers to replay and master stages, that goal is made redundant by the inclusion of a Challenge Mode, which largely replicates these tests across a complication of fifty, contracted, stages. Don't get me wrong- combat is fun and wonderfully frantic, but by the end of the six hour excursion, you've seen everything Devastation has to offer. Sure, the addition of a Decepticon-driven campaign would have been pleasing- but only if it offered divergent gameplay.
Transformers: Devastation's progression system is cordial in concept, but cold in execution. Most defeated foes drop power-up, which can be taken back to The Ark, where the game's divulges each item's statistical endowments. But most of the time, they'll be used as raw material that's consumed when augmenting the most powerful weapon in your arsenal. Unfortunately, the process is excessively slow, with a senseless pause before giving a miniscule increase in ability. Since, collected weapons are shared Devastation favors powering up a single Autobot rather than strengthening the entire team. I doubt Optimus Prime would approve of the selfish approach.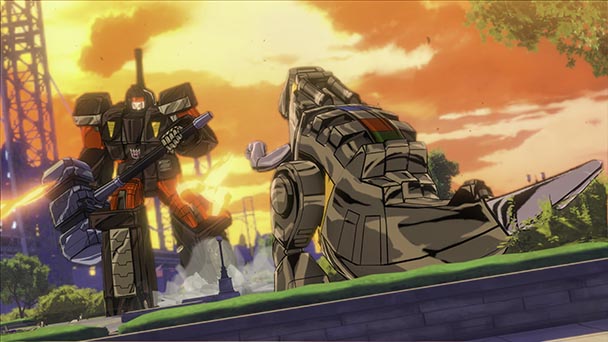 Gamers might criticize Transformers: Devastation for its six-hour playtime. But in execution, the game's duration is perfect for giving players a dose of pugilistic pleasure, while not wearing out its welcome. Instead, fault the game's fifty dollars MSRP, which considering the lack of any multiplayer complement, should probably have been dropped at least another fifteen dollars. It's hard to shake the sentiment that Devastation feels more like a really stellar downloadable title, rather than a full-fledged, boxed product.
Transformers: Devastation was played on the PC with review code provided by the publisher.
Transformers: Devastation
Platform:
PlayStation 4, Xbox One, and PC
Developer:
Platinum Games
Publisher:
Activision
Release date:
October 6th, 2015
Price:
$49.99 via retail, PSN, XGS, and
Steam
Review Overview
Summary : While Transformers: Devastation, developer Platinum Games applies their maniac mechanics to the G1-era rivals, serving up a title that offers a fast, frantic, serving of gameplay. The elevated menu price is the only impediment to enjoyment.