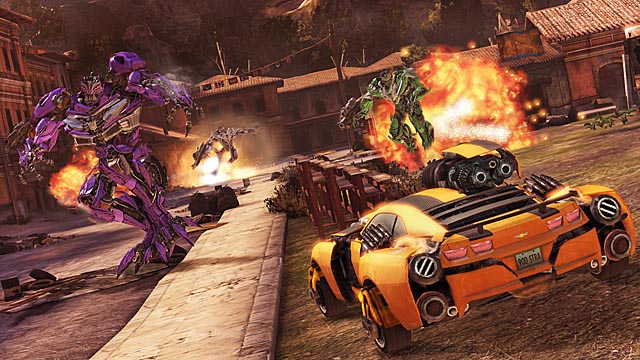 Savvy gamers know that licensed games should be approached with prudence- as the bulk of film, television, and comic adaptations turn out to be unrepentant clunkers. Within the past year, we've seen a mass of misfires- from Battle: Los Angeles, Deadliest Catch: Sea of Chaos, and Thor: God of Thunder, each tempting players with reenacting the thrills of a popular property. Aptly, Activision's last two installments in the Transformer series have sidestepped this tenet, delivering a serviceable recreation of the popular toy and film franchise. While movie tie-in Transformers: Dark of the Moon permits participants to wreck havoc with the famous squads of shape-shifting robots once more,  the game is the odd sequel which fails to top its predecessor.
Most of the title's failings aren't found in its updated play mechanics, where players now have fully regenerative health systems and no longer have to scour environments for ammunition. Now, members in the rival Autobot and Decepticon factions are each outfitted with an endless supply of offensive ballistics, which is consistent with traditional Transformer lore. The lone game component where some will find fault is in the incorporation of Stealth Force, a midstate between giant robot and vehicle. While in this form, each machine is noticeably sturdier and much more mobile, reducing bipedal Transformers to little more than glorified gate openers, unless players are shooting for sky-high scores (The game fails to mention that robust combos are acquired through melee kills).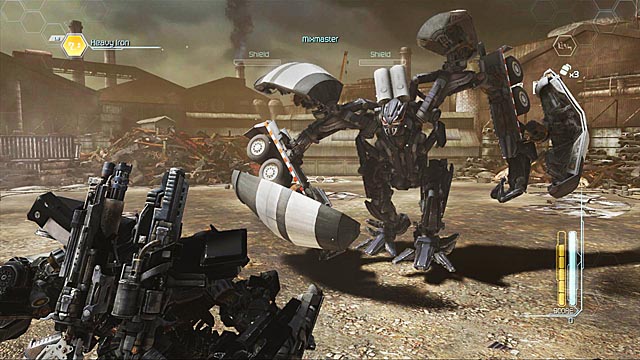 Of course, many of the habitually linear levels don't seem designed for Stealth Force's wide turning radius, forcing players to alternate between drift-ready transport and the new robot/vehicle hybrid. Although the game seems to aspire to be a cover-based shooter, the limited amount of protective obstacles and instances of high ground seem to belie these aspirations. Yet, when Dark of the Moon provides the periodic corner to poke around and launch a salvo of projectiles at enemies, the game feels provisionally satisfying. It's unfortunate that most levels are dominated by successions of zones where the game pitches a procession of foes at players.
The game's campaign flows through the Transformer roster, giving players access to Bumblebee, arrogant Ironhide, and stealthy Mirage before allowing control of the Decepticon's malicious members. Skillfully, developer High Moon Studio articulates each robots personality through its unique loadouts and intermittently amusing dialog. The one quandary here lay with Optimus Prime, who seems uncharacteristically antagonistic and is unplayable for all but a brief section. Considering he's the cover star, I expected more playtime with the Autobot leader.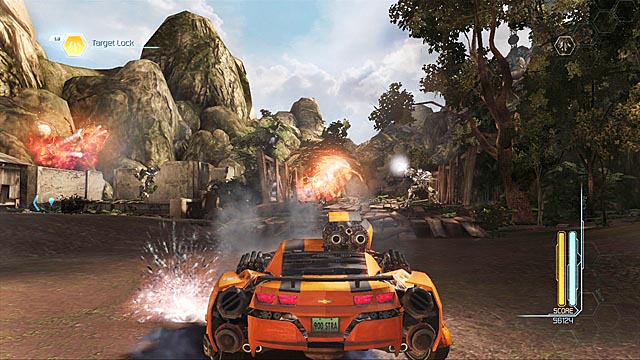 Outside of Dark of the Moon's single-player excursion (sadly, co-op has been excised)  the title offers a multiplayer mode, which regretfully has  received only middling changes since its appearance in War for Cyberton. Beyond five new maps, and new monikers for each of the four classes, players are locked into the deathmatch, team deathmatch, and a conquest mode variants. The game's experience system remains, allowing combatants to customize their arsenals and abilities, hitting the level cap occurs far too swiftly. Still, for players who haven't delved into the online competitions found on previous Transformers disks, Dark of the Moon's riotous rivalries stand out from the archetypical multiplayer tussle.
Visually, Dark of the Moon's Terra Firma based environments are both varied and well articulated, shuffling players through city interiors, industrial mills, and woodsy outposts. Transformers are drawn with a pleasing amount of detail, and when changing forms, are faithful to Michael Bay's interpretation. Although the title doesn't attempt to assemble all of the voice talent from the film (with Fred Tatasciore managing to make Megatron, Bumblebee, Ratchet, and Sideswipe all sound distinct), Jess Harnell's delight when vocalizing Ironhide's careless collateral damage is delightfully infectious.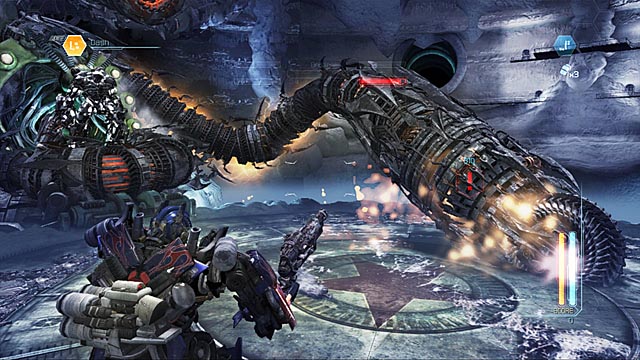 As licensed games go, Transformers: Dark of the Moon is an agreeable adaptation, giving gamers the chance to helm the heavy hardware of the upcoming film. Yet, the title is also the atypical sequel which doesn't improve on its precursor- ditching some of the elements which elevated War for Cybertron. As such it's a tricky title to recommend as a full-price purchase; all but the most fervent Transformer fans should wait for the inevitable sale.