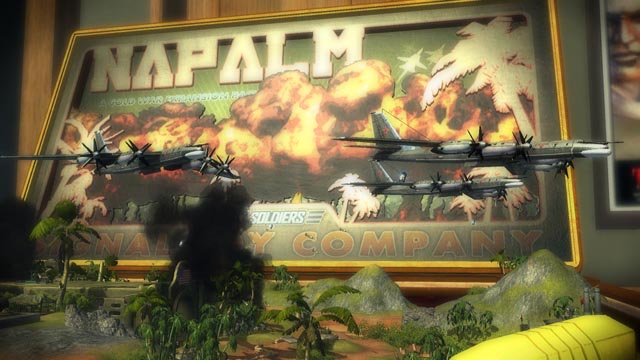 In the nine months since the release of Signal Studio's Toy Soldiers: Cold War, it's likely that dedicated gamers have obtained each platinum medal challenge and earned every last decoration.  Hoping to reinvigorate interest in the title, the developer recently released a pair of DLC packages- each one extending the title with a three stage campaign, additional mini-game, as well as additional survival modes and maps. While the inventory for each 400 Microsoft Point pack sounds compelling, pennywise players might find themselves blowing through the content faster than a M134 Minigun can slice through a platoon of infantryman.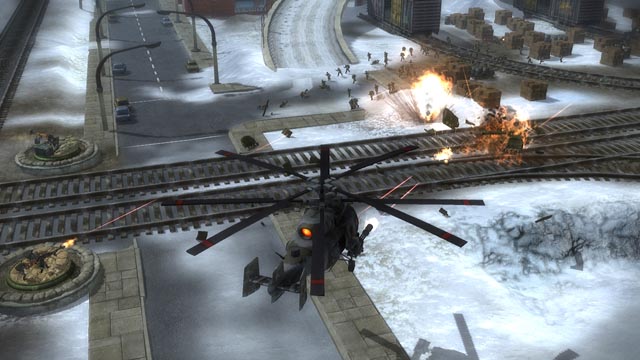 Evil Empire
Downloading the Evil Empire set, allows players to turn the tables, as they step into the snow boots of Ivan, the Russian Commander. Set amidst contentious locales such as Korea, Cuba and a concluding stage in Volgograd, the Soviet forces are required to repel unremitting waves of American forces. Although this isn't much of a departure from Cold War's principal gameplay, the pack does give players a new arsenal to control, as well as new dialog for the game's Russian CCCP commando. The highlights here are flying The Hormone, a new chopper with twin chain guns capable of carving through enemy vehicles and the Orbital Laser, a satellite-based barrage which rains down fiery fury.
Evil Empire's new survival mode- entitled Trauma, endows the game with a speck of strategy, as building each new turret pilfers a bit of health from your toy box. As such, players can't dispatch defenses with wild abandon, and must juggle wealth and weaponry against the wellbeing of their stronghold. Slightly less successful is "Pop-a-Pig", which pits an anti-tank turret against a barrage of porcine capitalists, time-increasing clocks, as well as friendly matryoshka dolls. While enjoyable for a few rounds, the diversion quickly loses its appeal before long.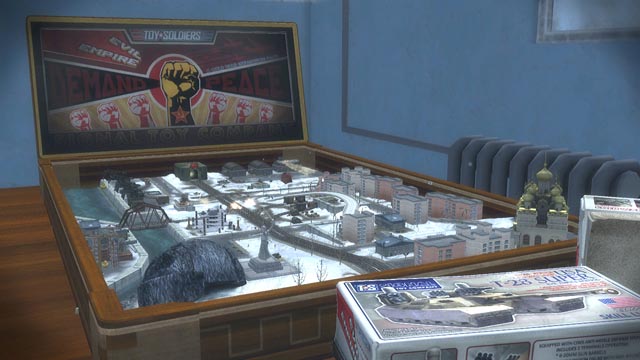 Napalm
Conversely, the Napalm package offers one of Cold War's most compelling mini-games. Hang Time plays homage to Choplifter, requiring players to pluck POW and return them to safety, while dodging a persistent barrage of enemy AA fire. Like Evil Empire, the download offers a three-level campaign, yet the requirement to protect multiple toy boxes keeps Napalm's intensity level consistently high. Between the inclusion of a formidable laser tank and a new barrage- Fast Mover's capable of dropping lanes of flaming goo, the pack can certainly satiate a yearning for destruction.
Napalm's main flaw is its survival modifier, which shirks the game's turret commandeering for a turn as the Rambo-esque commando. While this variation allows Toy Soldiers' action-oriented mechanics to shine, it's clear that the title wasn't made to be played by controlling a single soldier. With waves of enemies coming from multiple directions, defeating encroaching infantry while taking potshots a buzzing aircraft can be overwhelming for the combatant.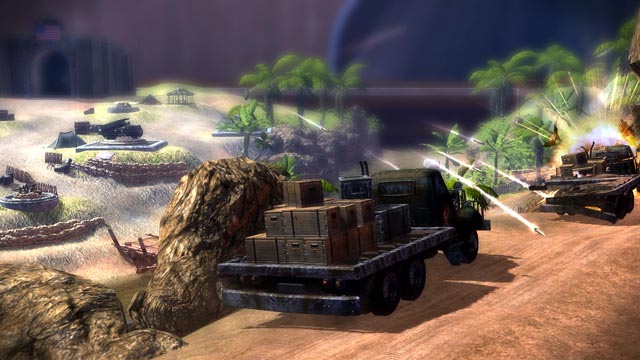 Since both packs can ramp up the amount of on-screen carnage to hyperbolic level, Cold War's framerate drops to levels not seen in the main game. Likewise, a few blemishes were offered with both packs- from being nagged to perform a title update after the game received the most recent patch (forcing a reinstallation of the 1 GB game) to having vehicles get trapped on their charging stations. Even booting the game leads to a fifteen-second blank screen which can lead impatient gamers to believe their Xbox 360 has crashed. Ideally, Signal Studios should have smoothed some of these kinks before the retail release.
With these two DLC packs for Toy Soldiers: Cold War are undeniably ambitious, offering an unprecedented level of gratuitous destruction, they also reveal their elite elements far too soon. Most gamers will be able to see all of Evil Empire and Napalm's goodies within a short span, with only achievements and medals to drive players past the two hour mark. With only three new campaign levels per pack, Cold Wars' supplementary struggles are over far too quickly. Although some players will bemoan Signal's splitting the content into two symmetrical packages, note that the studio allows players with the basic game to preview many of the new additional through multiplayer matches. Glasnost, indeed.