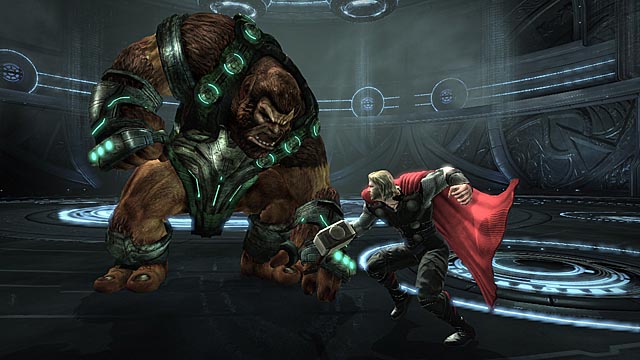 By now, you may have already heard that Thor: God of Thunder is a horrendous pile. I received the game a little late, and figured that, since I was given the opportunity to see the movie before playing the game, I might have a unique perspective on the title. Despite my brief history with the film and comics, the end result is pretty much the same.
So let me get this out of the way- Thor: God of Thunder is woefully incomplete. To say the game lacks polish is to say a 4th grader lacks a Masters degree – it was simply never given the chance to attain any level of  "polish." Ordinarily, this is the part of the paragraph where I would list out the poor framerate, the hideous character models, the uninspired kill-box level design, the difficult controls even within the menus, etcetera, etcetera. The trouble is that eventually, I find myself listing every core element of a game and just checking off my inventory of synonyms for "sub-standard" or "bad." That doesn't make for a particularly compelling article, especially a week after the fact. If you were waiting for my particular opinion of Thor before making your purchase decision, then I could tell you now to save your money and be done with it. Instead I'd like to be candid about my frustrations with this title (and tie-ins in general) in regards to its development timeline.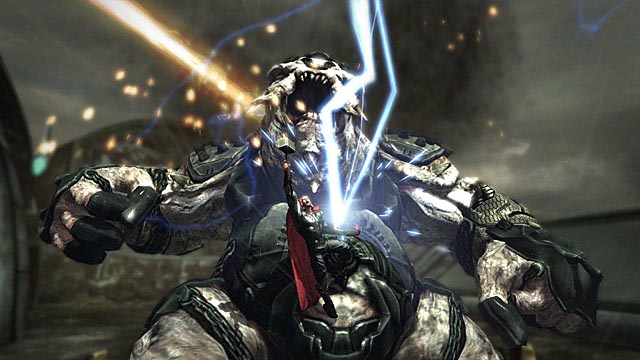 See, the problem with Thor: God of Thunder – and this echoes for SEGA's previous movie tie-ins  is that every component of the game is obviously rushed. The entire time I played the game, I imagined a PR manager looking over my shoulder, reminding me that this was an early alpha build, and that the final product would be much smoother, but this was the final product – I had an open retail package in front of me. A package that thousands of people spent $60 on, and that is unacceptable. As both a fan of comics and a fan of video games, I felt ashamed and insulted while I ham-fistedly guided a spastic Thor through the mundane courts of Asguard and Jotunheim. I understand that the idea behind tie-in games; that it acts as more of a marketing tool than an actual product, and I've heard the theory that people are expected leave the theater pumped up on Thor-love and make a bee-line for GameStop to pick up a copy, but honestly: who does that?! Wouldn't it make more sense to release the game at the same time as the DVD? Give the developers a few more months to make a game rather than a tech-demo? From a consumer standpoint, I feel like I'd be much more likely to buy a game at the same time as a DVD than I would walking out of a theater, and I'd feel a lot more confident with my purchase decisions if it had a few more months in the hopper.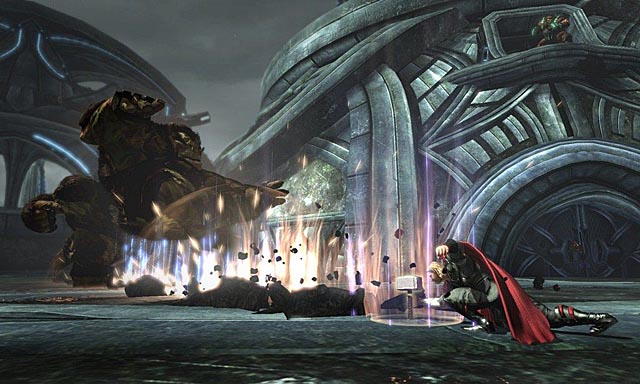 I can only imagine the sort of insane schedule and split budget Liquid Entertainment had to develop Thor. The final product is buggy, ugly and felt cobbled together, because it was – it had to be. Say what you will about God of War Clones, but the core concept behind Thor was not inherently bad. The time allotted to develop an HD game based on a film that is simultaneously in development is just not enough. I would have loved to take hold of Mjölnir while cutting down countless Frost Giants as Thor – who knows, maybe I would have run into my idol, Captain America. The comic-nerdgasm I would have had would have been enough for me to gloss over the derivative nature of the proposed gameplay, but the sloppy, hurried, broken architecture that surrounded the core made it impossible to feign any enjoyment out of the game.
Although I was incredibly disappointed in Thor, I am still hopeful for Captain America: Super Soldier's release in July.  Pre-release buzz looks promising, and Next Level Games' track record is much more storied than either of the teams who have been relegated to making Marvel Movie games, but SEGA's pitching 0 for 3 now, and I'm not sure how much faith I have left.