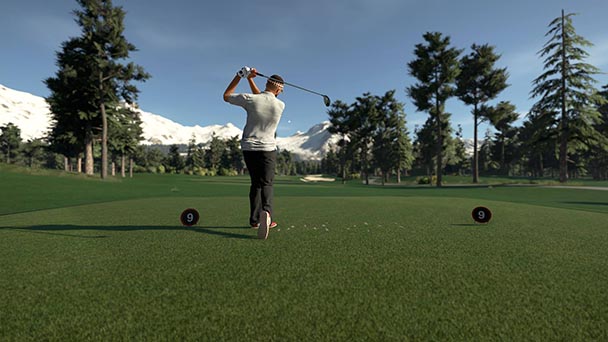 When it comes to golf simulations, there are a relatively small number of requisite experiences. While Links 2004 didn't pioneer the analog swing system (1997's Front Page Sports: Golf deserves credit here), it thoroughly refined the input method, capturing the nuances of driving from an actual tee. Certainly, the Tiger Woods series deserves credit adding elements like mid-flight spin control. Sure, it wasn't realistic, but it helped to articulate the proficiency its cover star had over the dimpled sphere.
With a notable lack of competition, the release of The Golf Club 2019 on PlayStation 4, Xbox One, and PC effortlessly earns a spot on the leaderboards, with ambitions that outmatch any rivals released across the last few years. And while it's just shy of being an obligatory title, there's just enough content and refinement to warrant a purchase, especially those who took a chance with 2015's Rory McIlroy PGA Tour. Due to a marketing strategy that simultaneously announced and released the game on the same day, the effort feels like its missing a few minor details.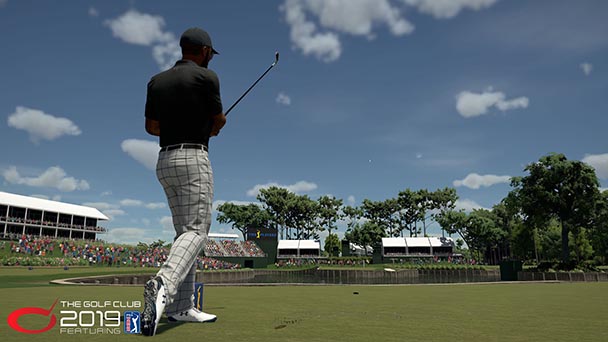 Certainly, few will find fault in Golf Club 2019's long game. The game's tutorial escorts players to the driving range, where they'll have the chance to select between swinging with either analog stick on a controller or using a mouse and keyboard combo. Those who played the original Golf Club might recall the aspiration for realism at the tees, permitting only a restrained survey of the hole from the golfer's perspective. 2019 opts for traditional golf game leniency, extending a bird-eye view of the path to the hole, eliminating the need to study the topography of courses.
Whether you opt to use a controller or a mouse, Golf Club 2019 delivers the necessary data on your swing. Both control methods demand accuracy in both movement and speed. The former is evaluated by a line graph which shows any deviations from perfect form. Keep your movement perfectly straight and you'll see a vertical white stripe that represents Ben Hogan-like precision. But introduce a bit of sway into the swing and you'll witness the inaccuracy in both the line and the trajectory of the ball. The transition from back- to downswing is also important. Take things too slow and you'll forgo power, while hastiness can amplify and aberrations, pushing you from the comforts of the fairway. And if you're playing with a mouse, you might want to adjust the DPI settings on your device if you're consistently shanking the ball.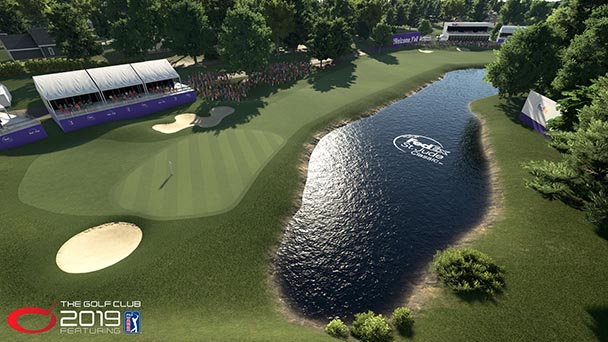 Fundamentally, power is controlled by the amount of backswing. Withhold from a full tug on the stick or perform a shortened yank on your mouse, and you hit the ball with full force, which can be very useful on a par three with a recessed green. Pleasingly, The Golf Club's bag is filled with all of the tools a pro would need, with chip shots, draws, fades, flops, and punches all waiting to be mastered. Largely, you the way to the green is satisfying, as there's a healthy amount of assistance when determining your shot power.
But the short game is significantly tougher. Sure, you can read by zooming in on the cup or analyzing a grips that superimposed over the terrain. But controlling the amount of power on your shot is a lot tougher, making it easy to under- or overshoot. Another disconcerting factor is the slickness of the greens. Even in the clearest weather conditions, expect plenty of travel even on the flattest of surfaces.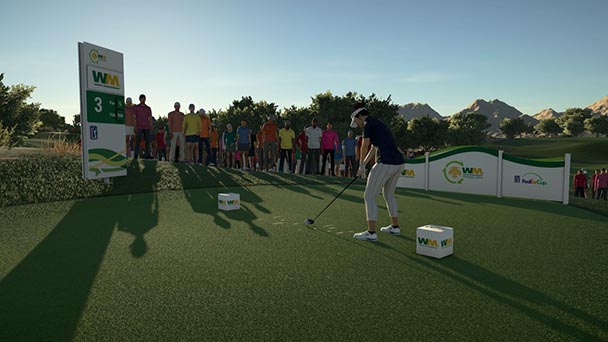 Apparently, EA lost the PGA license (with Rory McIlroy PGA being pulled from digital marketplaces), permitting publisher 2K Games to use the names and layouts of actual courses in the game. Right now, there are only six licensed venues in the games. So, while you'll tee off at Boston, Deere Run, Scottsdale, Southwind, Summerlin, and Sawgrass, tournaments will also take on a large number of fantasy courses as well. While many of these are impeccably designed, they lack the authenticity of actual Tournament Players Club courses. A lack of licensing also extends to the game's roster, so you won't be able to chase Dustin Johnson, Jordan Spieth, Tiger Woods, or even Francesco Molinari on the leaderboards.
Instead, you'll compete with rivals crafted by The Golf Club 2019 expanded character creation suite.  While the creator doesn't have quite the flexibility that elevated the Tiger Woods franchise, you'll likely be able to create a reasonable likeness of yourself by tweaking the game's facial and body features. While it would have been agreeable if HB Studios permitted players to create and share their own PGA players (potentially offering Pro-Celebrity matches), there's a promising foundation laid out for future iterations. Pleasing, progress through the title's PGA Tour campaign is incentive with unlockables from real-world manufactures.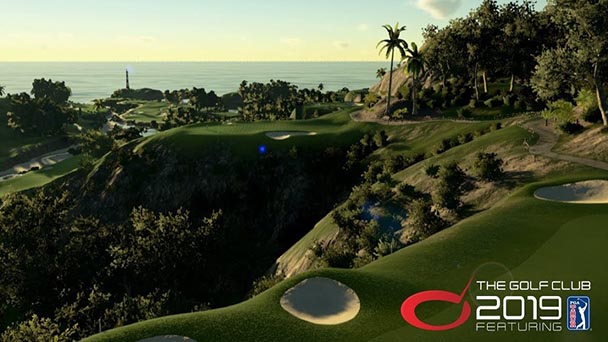 Like previous outings, you are able to create and share your own courses. And it's here that The Golf Club has always outperformed the competition, who habitually charged money for additional venues. And given the course development component in now in its third revision, HB Studios has truly found the balance between accessibility and power. While picking an environment and adjusting a few sliders is able to create a makeshift eighteen-hole destination. But most will want to dig in, plunking down everything from lighthouses, concession tents, to wildlife.  With the ability to sculpt terrain, add bodies of water as well as multitude of flora, it's quite possible to recreate local courses, and I was able to reconstruct some of the holes at two nearby venues without too much effort.
Two days after launch, The Golf Club 2019's online community is rather lonely. But if it does pick up you'll be able to create your own Society- the game's take on a clubhouse. From deciding on an emblem and colors, you can even charge a membership fee with associates can pay with in-game winnings. You can set minimum and maximum handicaps to make things a bit more exclusive, and of course make your club open the public, or private, requiring your permission for entry.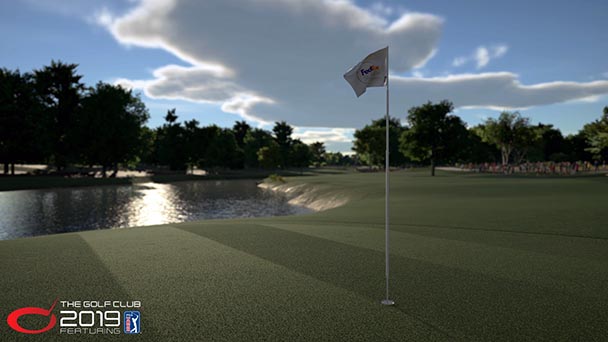 On a robust PC, The Golf Club can show off some of the capabilities of the Unity engine, with some nimble framerate and morning or twilight lighting that is almost lifelike. When viewed from away, courses look quite sophisticated, extending enough assets to make things look organic. But when the game's camera takes a closer look at things, realism fades. The surface of a fairway is an obvious texture, player hair can look unsettling and there's the occasional bit of pop-in during a hole preview. Likewise, John McCarthy's commentary has it charms as he offers quips and straightforward observations. But largely those two remember the interplay between Gary McCord and David Feherty during the old Tiger Woods games might be a bit disappointed.
With remarkably few modern competitors, The Golf Club 2019 will certainly tempt those seeking for a fresh take on the pastime. In many ways, the game will satisfy, with core mechanics that capture the complexity of a swing and the tension when you're trying to drop a twenty-one footer to make par. But with the lack of real players and a shortage of real-life courses, PGA properties feel like an eleventh-hour acquisition that squeezed it to make the release window. If you a fervent fan, buy now. But the most prudent thing would be to wait to see what HB and 2K do with next year's iteration.
The Golf Club 2019 was played with review code provided by the publisher
Review Overview
Summary : The Golf Club is gradually taking over the reign once held by Electronic Arts. This year's version doesn't feel complete, but it's obvious that the developers are making some serious headway.