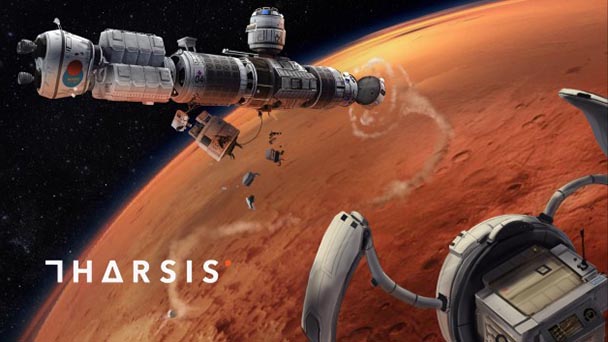 Undoubtedly, Tharsis is a novel concept, extending a simulation within a simulation. On one level, the game articulates the story of the ill-fated Iktomi, the vessel tasked with the first manned mission to Mars. Midway through the expedition, tragedy strikes, killing two crewmembers and leaving one of the ship's modules damaged by micrometeoroids. The cluster of debris starts a chain of unforeseen events that plunges the Iktomi on a course for catastrophe, with survival of an injured crew hinging on the integrity of an enfeebled hull and ruined food supplies. Unlike the typical Hollywood disaster film where rescue is a requirement of the third act, Tharsis grows progressively grim with each passing moment, and disaster feels fated.
Beyond this reproduction of deep-space live or death struggle, Tharsis also simulates a board game, exhibiting dice rolls over dioramas of the Iktomi. It's an interesting decision, and once that offers a persistent reminder that survival hinges on preparing for random events. Just making prudent decisions won't get you through Tharsis ten-turn ordeal. Instead, you'll have to find ways to mitigate chance, and mostly likely endure through a trek that grows progressively grim. Persevere from every mounting defeat, shun discouragement, and maybe you'll see why the presumably uninhabited red planet is putting out a distress call.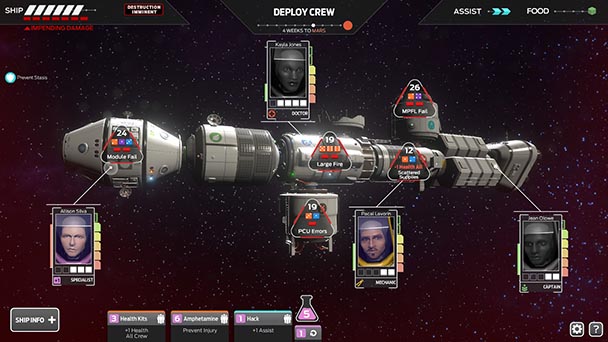 Play begins with the selection of your preliminary quartet of crewmates. Initially, players have little room for choice, but progress across multiple playthroughs gradually unlocks five additional alternates. Pleasingly, characters are given distinction through CG-modeled faces that display an elevated sense of fear as the proceedings grow gradually worse. Each teammate also has a specialization, permitting players to heal with the physician or gain an extra reroll with the ship's specialist.
Each turn represents seven days of passing time. At the start of the each week, mishaps unfold, driving the crew into action before these events result in the death of your team. Across a model of the Iktomi, you'll see succinct descriptions with a number overhead. Assigning a crew member to the location of the problem prompts a dice roll, where the value of each die can be applied. Reduce the quotient to zero and the problem is remedied, and damage to ship or crew is subverted. Naturally, troubles happen simultaneously, and some problems will begin carrying over to your next turn.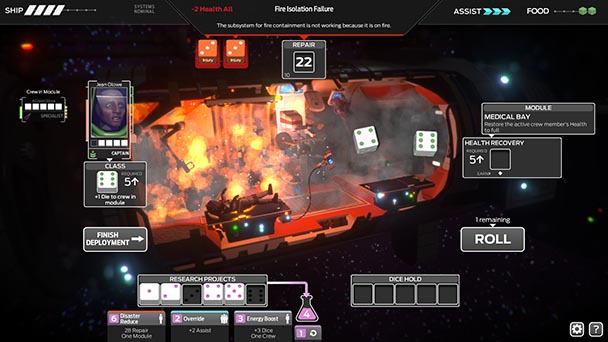 Ship-based tribulations aren't the only resource you can feed dice points into. Modules allow for mechanics like using matching dice to do things like grow additional food, while slotting a dice with a value of five or higher allowing players to unlock a class ability. Alternatively, gamers can use die values to fill in the spots toward a research project or even hold particular values in a tray. While there's a solid amount of nuance to the proceedings, Tharsis is never impenetrable- and there's an interactive tutorial as well as a video that explains the basic tenets.
Complicating issues are the risk associated with each roll. Certain numbers can injure characters, lock values preventing a re-roll, and potentially removing the die from play. The one upshot is rolling an assist, automatically applied protective measures that can protect you from the game's harmful status effects. One of the biggest dangers comes from the dwindling supply of dice- each time a character is deployed to a module you lose one of these resources. While cultivating additional food can replenish them, more than likely players will have to resort to salvaging the corpses of their fallen comrades. Yes, Tharsis has the option for cannibalism, but no without consequence. Not only will you receive an end-of-game score penalty, but your dice will be stained with the blood of your brethren.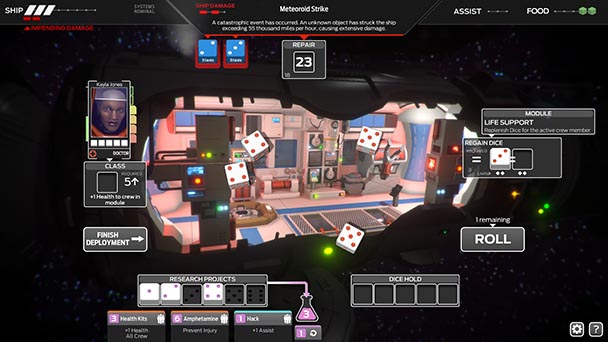 There's no shortage of subordinate worries either. Beyond fretting over the health of each crew member, you'll also have to be concerned about their stress level. While it's definitely a secondary concern, tension does have a noticeable effect on the selection of side missions that are offered at the end of each turn.
Undoubtedly, Tharsis' demoralizing excursion won't appeal to all players. Many might find aggravation in the fact that they not every game is winnable. When a cluster of concurrent calamities happen and dice rolls are low, failure is inevitable. Some might argue that's the developers' intent- inducing a sense of hopelessness wouldn't be possible if Tharsis was easily won. But intermittently, the random number generator will feel pity, constraining the level of adversity, and making victory seem a bit hollow. The game's other point of contention centers around its pressure to commit. Usually, taking back a move is an impossibility when journeying to Mars.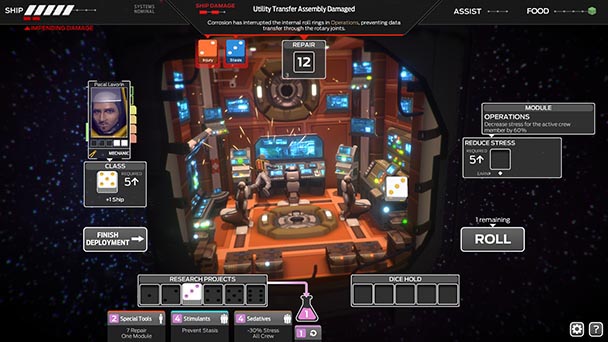 Beyond the aforementioned sentiment displayed by small portraits of the ill-omened crew, Tharsis has a number of other visual attributes. Credit should be given to the game's impression of futurism, where '70s science fiction has been mixed with more modern aesthetics. Undeniably, the best work in the game is the cutaway view of the modules, where protagonists are depicted in precarious duty. Intriguingly, the game's soundtrack doesn't always deliver the minimalist Moog-drived dirges one might expect, with the occasional increase in tempo when an event in cleared.
A strong reliance on randomization might turn off some, but Tharsis' speedy playtimes mean that repeated failures don't feel too punitive. Despite continually killing off your crew, there's the faintest glimmer of hope that next time, if the dice allow, you will be able to prolong the life of a team member of two. It's a brilliantly bleak premise and one that separates Tharsis from a stockpile of feel-good diversions.
Tharsis was played on the PC with review code provided by the publisher.
Tharsis
Platform:
PC, PlayStation 4
Developer:
Choice Provisions 
Publisher:
 Choice Provisions
Release date:
January 11th, 2016
Price:
$9.89 via Steam through 1-18, regular price $14.99 (PC) $14.99, $11.99 PS+ via PSN, PS4
Review Overview
Summary : Tharsis is far removed from the plucky spirit of the Bit.Trip series. It's gratifying to see developer Choice Provisions take chance, even if the end result is poised to be polemical. As the game shrewdly demonstrates, calculated risks are often the best way to go.