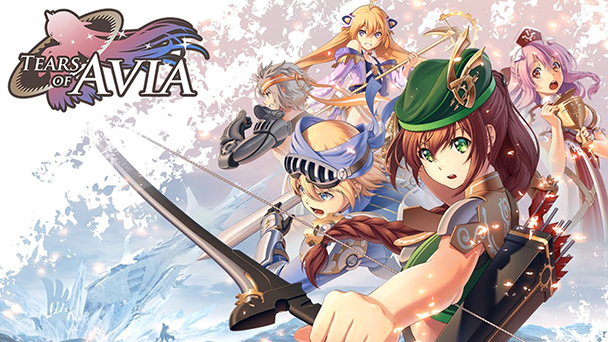 Held back by a few balancing issues and other minor transgressions, Tears of Avia could have benefitted a bit more playtesting. But what's here is probably pleasant enough to attract SRPG fans- on at least one of the game's platforms.
Tears of Avia
Platform:
PC
Developer:
CooCooSqueaky Games
Publisher:
PQube Limited
Release date:
October 15th, 2020
Price:
$19.99 via digital download
Availability:
Steam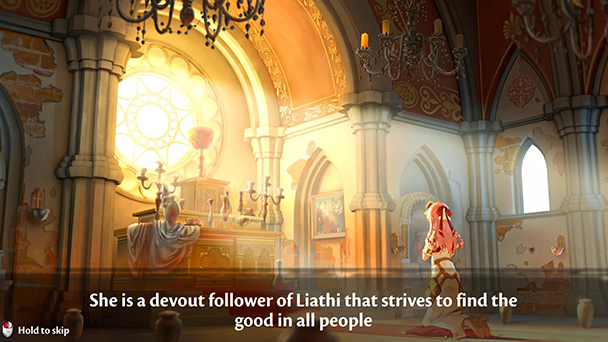 Role-playing games habitually push us to cheer for the underdog. As such, it's hard not to admire CooCooSqueaky Games' Tears of Avia. Despite an unsuccessful crowdsourcing campaign in 2015, the plucky development team pressed onward, mirroring the indefatigable journey of many game protagonists. Certainly, the odds seem stacked against the UK-based developer. Strategy role-playing games are often epic affairs and built upon a myriad of moving parts. As such, obtaining a sense of balance is an extremely thorny undertaking and seemingly unfeasible for a diminutively sized team.
But Tears of Avia shows a mastery of many of the fundamentals. Instead of the loquacious exposition found in many genre entries, the title is quite concise in its storytelling. You'll probably find that Avia is more like a table-top board game with succinct pieces of plot doled out at a rapid pace. Some of that hinges on the incorporation of adventuring archetypes, with the beginning of the game offering a selection from a cast that includes a Brawler, Mage, Priest, Ranger, and Warrior.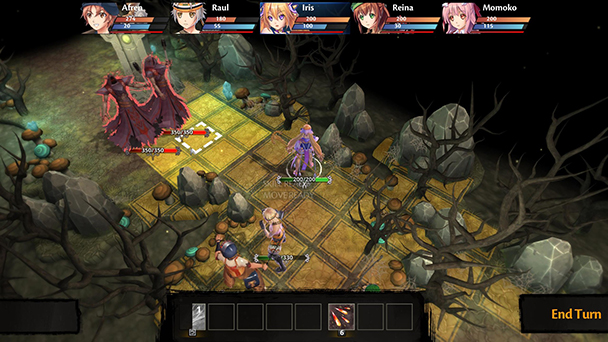 Standard Difficulty is a Pushover
Whoever you choose, the story unfolds the same way, although the dialog reflects your character choice and periodically offers branching paths. Immediately after character selection, you'll arrive in a sleepy hamlet besieged by the undead. You'll eventually discover that zombie onslaught is a sign of a much more threatening situation and be pressed into the collection of the eponymous objects. You'll soon form a party with the unlucky playables who weren't chosen, which can make your team feel a bit like a bunch of scrappy castoffs. With is exacerbated by early battles which force you to put at least one adventurer on the sidelines.
Although there's a bit of playful bickering between your party members, these individuals aren't inept, especially on the game's Standard difficulty. Battle is more challenging on Hardcore, but it's still possible to wipe out a stage-full on enemies while sacrificing a modicum of health. Sure, the challenge ramps up as enemy numbers escalate in intensity, but even SRPG novices should be able to shame the game's rather predictable AI.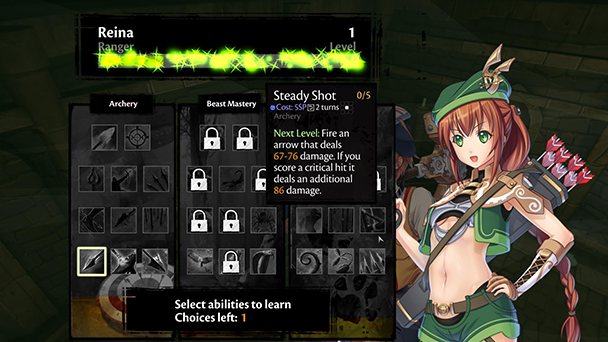 Grid-based Battles Keep it Simple
Play feels like a simplified version of Disgaea, with playable summoning characters from a portal who venture out to eliminate enemies. Like Nippon Ichi Software's series, it's all turn based, with each character able to move, issue basic attacks, or spend SP toward abilities like devastating onslaughts that cover large areas of effect. And while the game lacks nuances like combo attacks, you're treated to some invigorating animations for many of the larger assaults. While Tears of Avia has a few battlefield gimmicks, like stat-tweaking obelisks, largely these theatres of war are a bit too austere.
Combat is streamlined, so you won't have to worry about variables like unit direction or elevation. But that's not to say it's briskly paced. Between the staccato attack animations and damage readouts and watching enemies lumber about, Avia rarely feels like a tightly-tuned experience. But that's not to say there's enjoyment to be found. Some party attacks are augmented against burning foes, so being efficient about turn order and exploiting vulnerabilities feels gratifying.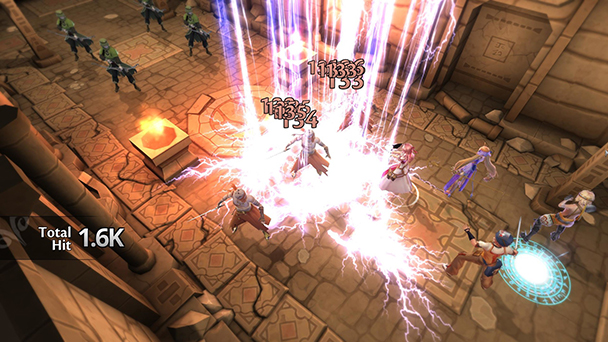 Grow Your Own Way
One of the game's most defining features is the speed of character growth. It's exceedingly possible for characters to level up after a stage, resulting in a few points that can be spend on some elaborate tech trees. Although characters have access to a limited number of skills, you'll unlock new active, passive, and boosting abilities that gradually turn your formidable teammates into offensive powerhouses and support systems.
The downside is there's a perceptible lack of balancing. If we assume Standard difficulty is geared toward SRPG newcomers, Hardcore demonstrates adversity that oscillates rather that gradually increases. But on the upside, Aria eludes having that vexing puzzle-like play, where only a certain type of build will be successful. While the basic role-playing archetypes are present and accounted for with melee, ranged, magic, and support types, the game extends a healthy amount of flexibility through skill trees.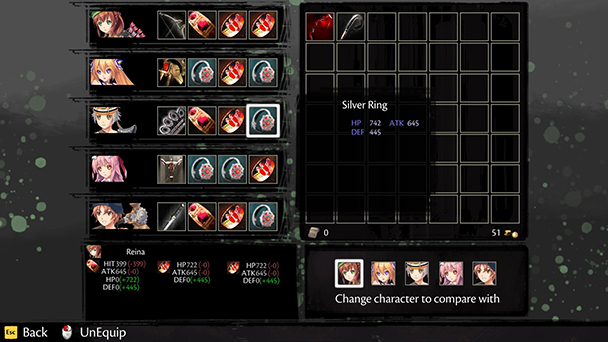 Conclusion
Certainly, there's little fault in the game's aesthetics. Employing Japanese voiceovers over for dialog helps capture the feeling of traditional strategy role-playing, with the writers and actors doing an amazing job of bringing each character to life. Yes, you're encounter every member of the cast before, but their zeal and amiability are persistently infectious. Likewise, the game's portrait art, three-dimensional models and hub are all attractively rendered. Ideally, enemies would be as distinctive, but they're a bit generic.
On PC, Tears of Avia arrives on a thoroughly fortified battlefield. Alongside the Disgaea series, there's also Hyperdevotion Noire: Goddess Black Heart, Fell Seal: Arbiter's Mark, Fae Tactics, and Banner of the Maid. A such, Avia can only be recommended after thoroughly exploring most of the aforementioned titles. But in Microsoft's ecosystem, SRPGs are a bit rarer, with Xbox owners often relying on Kemco's slipshod output. With less competition, Tears of Avia's minor shortcomings are a bit easier to accept.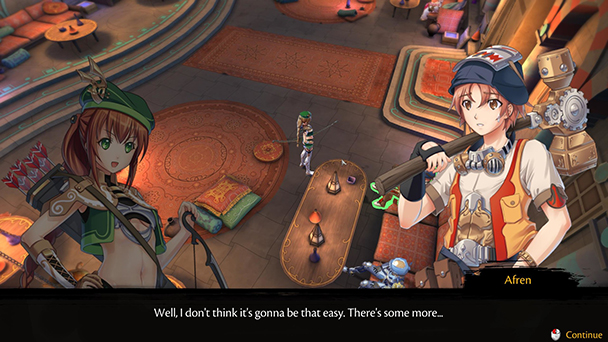 Tears of Avia was played on PC with review code provided by the publisher. 
Review Overview
Summary : Beyond accelerated leveling up, there's little innovation here. But that's OK, as commanding a team of powerful party members has its virtues. With skillful Japanese voice acting, and manga-style art, Tears of Avia feels like an ambitious doujin crafted by a small team of diehard SRPG fans.